Last updated on June 21st, 2023 by Alex Praytor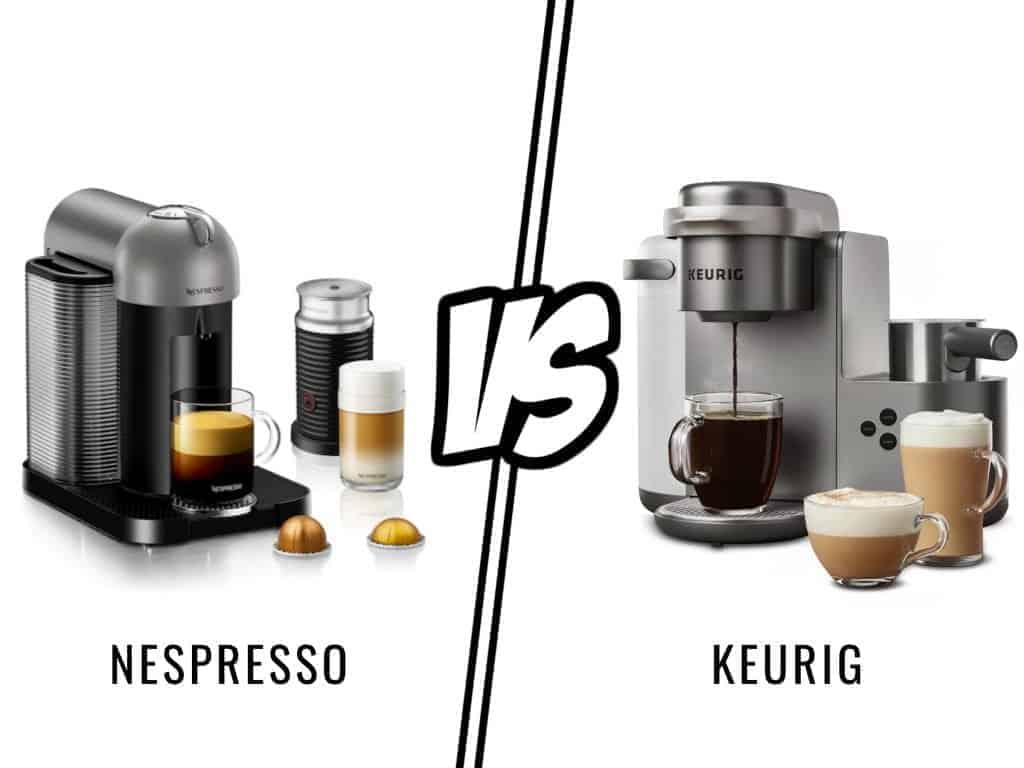 If you didn't know anything about coffee, most likely these 2 brands would be the first words you would hear. And for good reason. Keurig and Nespresso are two of the top brands in the market for single cup coffee brewers. Both of these 2 brands offer a product that people love… a quick and easy way to brew a great-tasting, reliable cup of coffee. 
Nespresso vs Keurig is a fierce competition between both brands to be voted as the "most-popular" brew machine in modern households. They have captured the hearts of many with a revolutionizing concept–the coffee pod. But each brand has left their own unique mark on their coffee machines worth considering.
In this article, just to make it simple, we will take two of their flagship models: the Nespresso Vertuoline and the Keurig K-Cafe and see how they compare. This review and buying guide will help you decide which powerhouse coffee maker is the best fit for your style and needs.
Want a quick summary?
The Keurig K-Cafe is a great choice for those who value convenience and are in search for an all-in-one coffee machine, with ample flavor choices, that can brew a beverage and steam the milk. For those who are looking for a more authentic espresso for the base of their coffee drinks (or to drink on its own!) with higher end quality, consistency and efficiency, the Nespresso Vertuoline may be the best choice. 
Keurig K-Cafe
The Keurig K-Cafe brews multiple sizes of coffee and 2 oz. espresso shots with built in frother to make convenient specialty beverages.
Last update on 2023-09-20
Sale
Nespresso Vertuo
The Nespresso Vertuo brews delicious coffee or espresso using easy to use pods on an affordable price, making it a great overall pick.
Last update on 2023-09-20
---
Making the Case for Keurig
Keurig's name is derived from a dutch word meaning "excellence." Keurig has been in the coffee business since the early 1990's and was begun by a few college guys in search of an excellent cup of coffee. They developed their brand with Green Mountain Coffee Roasters and began testing out their innovative K-Cup design in the business sector. Keurig developed relationships with many other popular coffee brands such as Starbucks, Dunkin Donuts, Tully's and many others along the way.  
The ease and efficiency of a single-serve Keurig coffee was such a success that Keurig began finding ways to make this revolutionary machine an affordable option for the home. Keurig fans enjoy the ability to choose from a wide variety of brands and flavors to make a quick and reliable morning cup. Keurig has come out with several models designed for home use over the years, one of the most popular currently being the Keurig K-Cafe.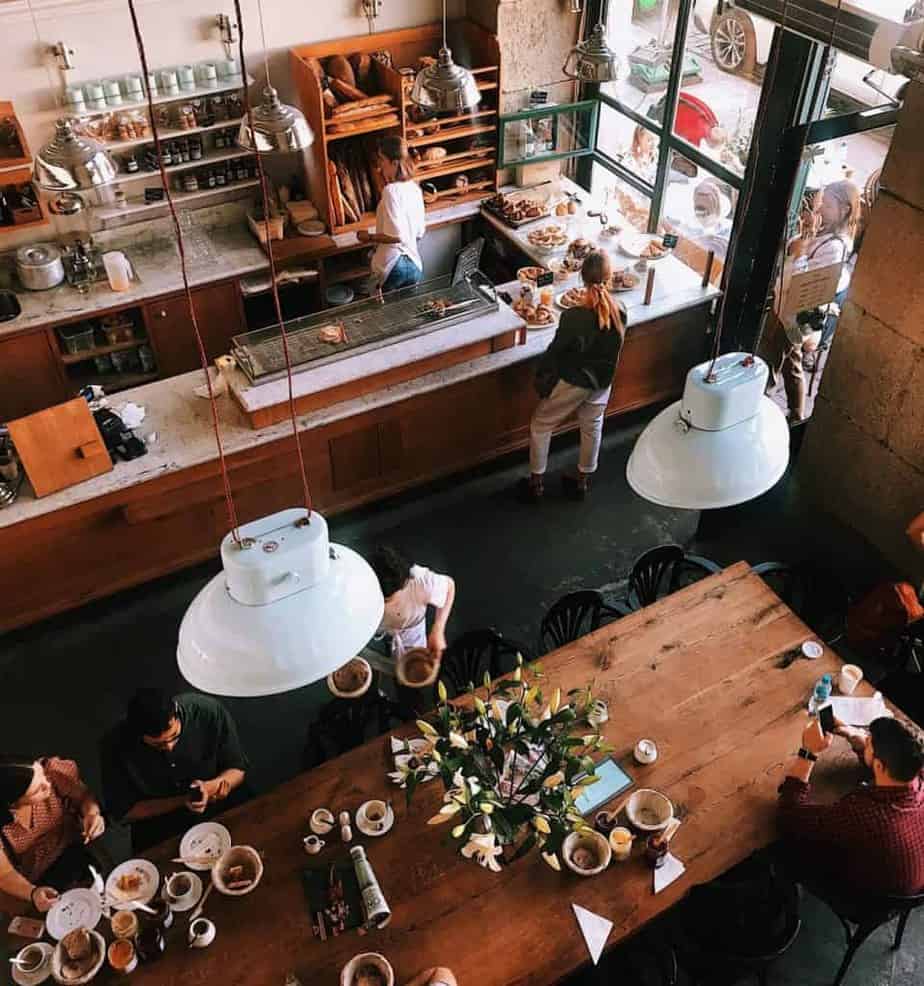 The Keurig K-Cafe
The Keurig K-Cafe puts a new shine on an already popular brand. This machine allows a coffee layman to become an at-home barista and make cafe style drinks with just the touch of a few buttons. Now we don't have to bother about time, temperature, flow rate, and coffee to water ratios. We simply give our order to the machine and voila, we can have an (almost) instant cappuccino! Let's see what features this machine has to offer.
Best Standout Features
Single-serve 
The single serve coffee maker has become a popular trend and has changed the way Americans drink coffee. The K-Cafe provides an opportunity to make several different styles of coffee in one maker. So, if several people are living in a household, this machine can serve up a strong, long brew for one and a cappuccino for another. 
Smart Start
This machine also is equipped with a Smart Start feature. No longer do coffee-drinkers have to stand waiting by the machine with a cup in hand, waiting for the machine to warm up before they can start their cup. With Smart Start you can dial in your drink, and the machine will make your order directly when it becomes ready. This new feature allows you to make every minute count when you are getting ready to rush out the door!
5 brew sizes
The Keurig K-Cafe has 4 brew sizes plus an espresso option for making lattes and other coffee drinks. The sizes range from a 2 oz shot to a full 12 oz mug of coffee. You can easily slide a 7 inch travel mug under the drip as well! These variations give coffee drinkers the chance to make their own perfect cup of coffee. So if you like to down a caffeine packed small cup, or prefer your caffeine intake to be slow and steady this machine has your option. 
Strong brew option
The strong brew option was present in many early models, then for some more updated models it disappeared. We're happy to say the strong brew option is back in the K-cafe! This option steeps coffee for up to 30 seconds longer. It can help to neutralize acidic flavors of under-extracted coffee and give you a richer, smoother brew! 
Reusable K-cup compatible
Not only does the Keurig have around 200 different K-cup options, if you have a favorite bean that is somehow not on their list, you are able to brew it in this machine. The K-Cafe is compatible with the reusable K-cup which allows you to use specialty and small-batch roasts in this machine. This is a great feature that machines (like the Nespresso) don't offer.
Built-in steamer/frother
While for many other Keurig models and brands you will need a separate milk steamer or frother, this machine has a built-in option for your fancier coffee drinks. The machine froths your milk using magnet technology and can give you hot steamed milk for either latte, frappe or cappuccino drinks. The jug and frother don't have electronics incorporated and are able to go into your dishwasher for an easy clean-up afterwards.  
Cons and Limitations
There are a lot of great features in this machine! But one of the most common complaints about this machine is that it uses a lot of amps to make your perfect cup of coffee. Some customers even said that it tripped their circuit breaker.
While some customers had issues, most of the 18,000+ people that took the time to write their thoughts about this machine only had positive things to say about their Keurig K-Cafe!
What the Keurig K-Cafe Can Do
Convenient and versatile: This machine is a one-stop shop for your regular coffee and fancy coffee drinks. So if you're like me and enjoy a regular cup to wake up, but then like to mix it up in the afternoon with frothed milk and syrups, this machine will do it all!
Multiple cup sizes available
Can use a wide variety of available coffee pod flavors or your own coffee grounds.
Easy to use: It has a simple, sleek look and it is pretty straightforward to use with a button for each drink option.
It also has a removable water reservoir, which makes for easier refills and cleaning.
What the Keurig K-Cafe Can't Do
Single serve machine limitations – While the Keurig K-Cafe has a lot of coffee sizes and drinks to choose from, it doesn't have a carafe brew option or an iced coffee option. As a single-serve machine, it also doesn't have a warming plate. It makes your coffee directly into your cup to drink while it is hot! 
Also, to make an authentic espresso, the coffee should be brewed using pressure which results in that yummy "crema" on top. The espresso this machine makes does not use pressure and is essentially just an incredibly concentrated coffee packed into 2 oz. While I personally wouldn't recommend drinking this shot on its own, if you are using it to make lattes and cappuccinos, it should serve you well and make a delicious coffee drink. 
Making the Case for Nespresso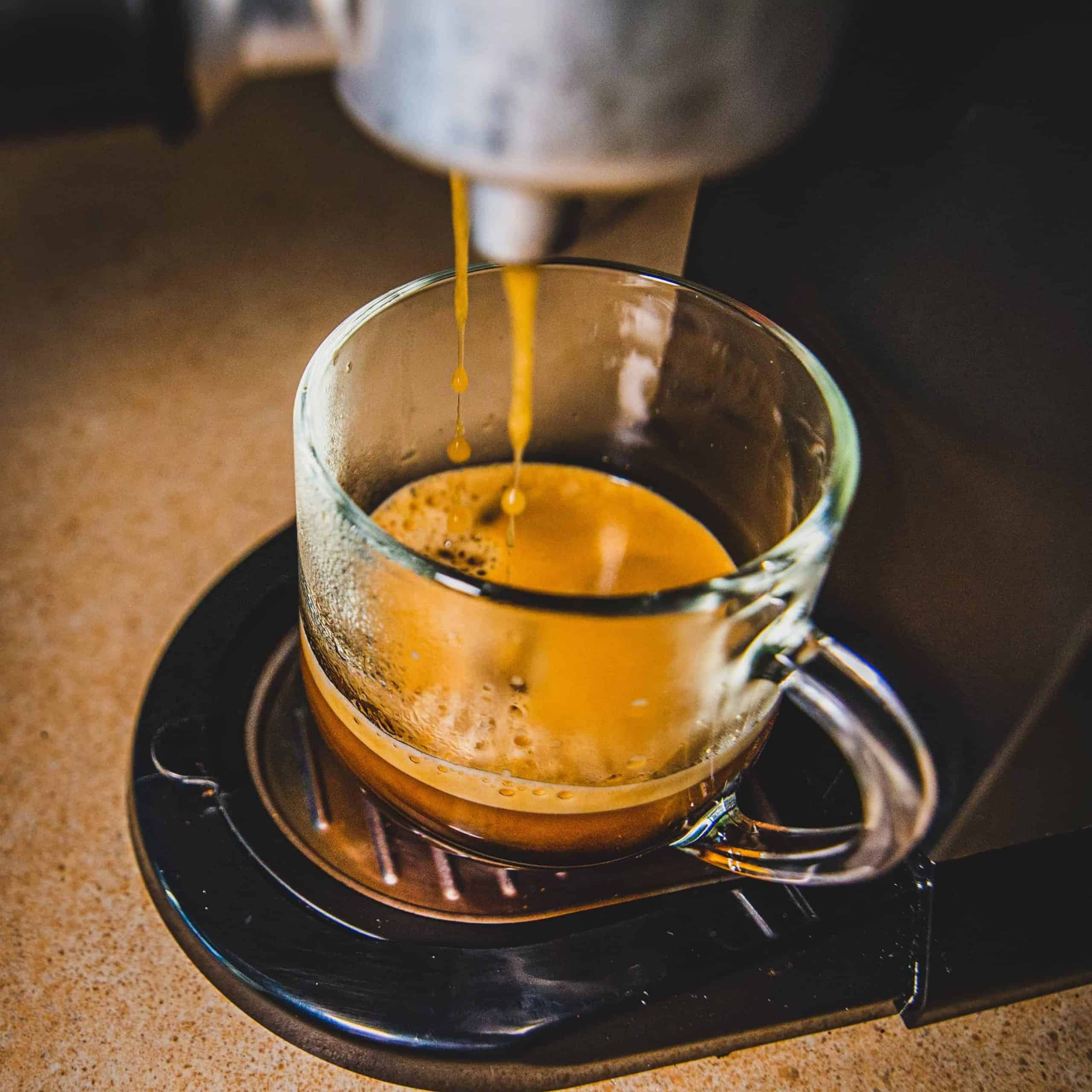 The Nespresso brand name comes from a combination of the brand "Nestle" and the word "espresso." Nespresso is known for their straightforward machines and high-quality brews. The founder of the brand, Favre, patented the coffee pod invention in the 1970s… about a decade before founding his brand. Favre's coffee pods would not hit the markets, though, until the early 1990's.
Nespresso brought their coffee pods to the European market, while Keurig brought their design almost simultaneously to a mostly American audience. 
The Nespresso brand puts a great deal of emphasis on sustainability and is part of the bean's process from the farm to the pod. Nespresso also has a wide assortment of flavors ready for consumers…though not nearly as many as Keurig. Many Nespresso fans enjoy this brand for the quality taste of their coffees. 
The Nespresso Vertuoline
The Nespresso Vertuoline is one of Nespresso's top of the line machines. In fact its their newest line of coffee espresso makers. When we say "Vertuoline" it really refers to their "line" of Vertuo machines, but we'll refer to them as one group in this article. They can can also be made by a variety of manufactures such such De'Longhi and Breville with slight differences in design.
But in general, these machines are compact and well-loved for their ease of use! Nespresso prides themselves on producing quality over quantity and it shows in this high-performing machine. Let's see what Nespresso's Vertuoline has to offer. 
Best Standout Features
5 drink sizes
The Nespresso Vertuoline also has the option to make 5 different sizes of coffee… a long and short espresso and then 3 regular coffee cup sizes that range from 5 to 14 oz. These options let just about everyone have the size and strength that they need to get going in the morning.
Centrifusion extraction technology
This machine makes its espresso by using centrifusion extraction technology. Essentially this design spins the coffee at high speeds which generates some pressure and leaves coffee foam on top. This foam is a close cousin to the "crema" you would find on an espresso from an expensive espresso maker. While coffee aficionados are quick to point out that this method strays from the classic espresso pressure method, this technique will come much closer in smoothness and taste to an espresso than Keurig's concentrated 2 oz shot will.
One-touch brewing system
Many consumers love that the Vertuoline is so easy to use! This machine literally makes a coffee with one touch of a button! The Vertuoline is programmed to read the barcode on each pod and make it according to specifications. So once you put the pod in the machine, you simply press a button and watch as your personal brew preference comes streaming out into your pre-warmed mug.
Fast heat-up
Unlike other models which take a few minutes to warm up, the Vertuoline is ready to go in a matter of seconds… 15 to be exact. So when you are in a rush to get out the door, this single serve machine has got your back!
Automatic shut off
Unlike the Keurig which waits for 2 hours before deciding to go off-duty, and tends to hog the amps, the Vertuoline saves energy by shutting off automatically after 9 minutes of inactivity. This feature can also make a long term difference by possibly extending the life of your machine.
Cons and Limitations
One downside of this machine is many customers had issues with their coffee coming out only warm and not hot. A hack suggested to fix this issue was to heat a mug beforehand with hot water. This should help to keep coffee from becoming too cool too quickly. 
This machine comes with a separate frother for milk as opposed to a built-in option. Also, the Aeroccino unfortunately doesn't provide a steamed milk option.
Another issue for some may be the price of the machine and the pods. The Vertuoline is considered a "luxury" coffee maker and is reflected in the price. When you compare Nespresso vs Keurig, it runs almost $100 more than its Keurig counterpart. Also, the pods are often harder to find in stores than the Keurig pods.
But for many, the positive aspects of the Nespresso Vertuoline definitely outweigh the negatives!  Nespresso converts say the taste of the coffee is the reason they stay hooked.
What the Nespresso Vertuoline Can Do
High end performance: The Nespresso Vertuoline prides itself on its high-performance, high durability machines and high-quality beverages.
Uses Centrifusion technology: It makes a solid espresso-like drink and its pods are known for their great flavors. After use, the Nespresso pods recycle well.
Multiple cup sizes available
Easy to use one touch brewing
Energy efficient: This machine is one of the most efficient machines on the market for saving energy and your personal time! 
What the Nespresso Vertuoline Can't Do
This machine does not have an iced brew option, or warming plate (since it is a single-brew!)
No milk steamer. But it does come usually packaged with an Aeroccino milk frother
But the most common "lack" found with the Vertuoline is that it is not compatible with the much more readily available K-cups. This causes a bit of a cramp in style for many as on the one hand, they bought a machine that is incredibly easy to use, but then they have to work much harder to find a store that carries its brew. 
How the Keurig K-Cafe and Nespresso Vertuoline Compare
The Keurig K-Cafe and the Nespresso Vertuoline are both top-notch machines that provide a product specific to their consumer base. 
The Keurig K-Cafe appeals to the average Joe that likes a good, reliable cup of coffee, and sometimes a fancier coffee drink, but who doesn't want to invest a lot of money or time. The Keurig can save space on the kitchen counter because all of its features are built into one machine. Keurig capsules provide a wide assortment of brands and flavors that we know and love. Also, we can brew them to the size we want. 
And while the K-Cafe doesn't apply, many Keurig machines can be plumbed with a water line for automatic water reservoir refilling.
The Nespresso Vertuoline is concerned with quality items and knows that an espresso should be made a certain way. They came up with their own design to add some pressure to the espresso brew to provide a more accessible and affordable option than an actual espresso machine. The Nespresso Vertuoline is for coffee drinkers who are a bit more serious when it comes to their coffee, but who still like the ease of a pod machine.
Nespressso vs. Keurig: Our Pick
This was a tough call when choosing our best pick because both the Keurig K-Cafe and the Nespresso Vertuoline have so many great features! We love the built-in steamer and frother on the K-Cafe. This makes even the fancier coffee drinks more accessible and time efficient. But overall (and if you have the extra $100 to throw down on the machine!) our best pick would have to go to the Vertuoline. 
The main features that helped the Vertuoline take the winner's stand are its:
More authentic espresso
One-touch design
Recyclable coffee pods
Energy efficiency
Final Thoughts
The Nespresso vs Keurig debate is a tough one. Both the Keurig K-Cafe and the Nespresso Vertuoline are solid machines that have won over the hearts of many coffee lovers! Whether you decide to go with the machine that steams your milk for your cappuccino, or gives you the crema on your espresso, we hope this review can help you decide on the machine that will make your next perfect cup!
For more info on the Nespresso Evoluo coffee maker, the base version of Nespresso's Vertuo line, check out our full review here. If you want to learn more about the Keurig classic machines (which we still have at home and use!) check out this K50 vs K55 review. For a look at Keurig's dual single cup brewer and batch coffee option, check out this article for the latest.
Coffee Has Never Read This Good!
Sign up for a FREE newsletter to the best home brewing tips and guides
Thank you for subscribing to The Cup Coffee House Crew! There's a surprise in your Inbox 🙂
Something went wrong.
About the Author
Latest Posts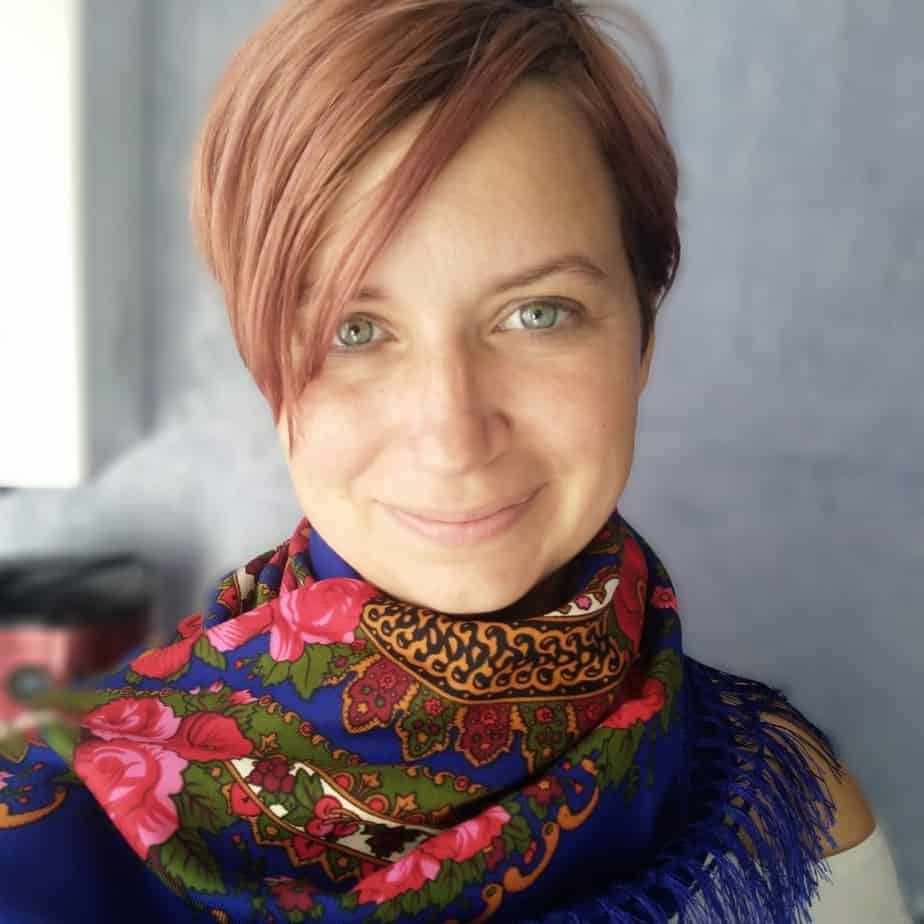 Alex Praytor worked her first job as a barista, finished college, and then took a tour to the other side of the globe. She fell in love with espresso and her would-be husband in Europe. She spends her spare time visiting native Texas landmarks, ancient castles, and all the coffee shops she finds along the way. At home, she is a mom, ESL teacher, and writer, who hones her coffee-making skills daily. She enjoys passing on her coffee findings to fellow caffeine addicts in search of the perfect cup.
Chief Editor