Last updated on July 16th, 2023 by Alex Praytor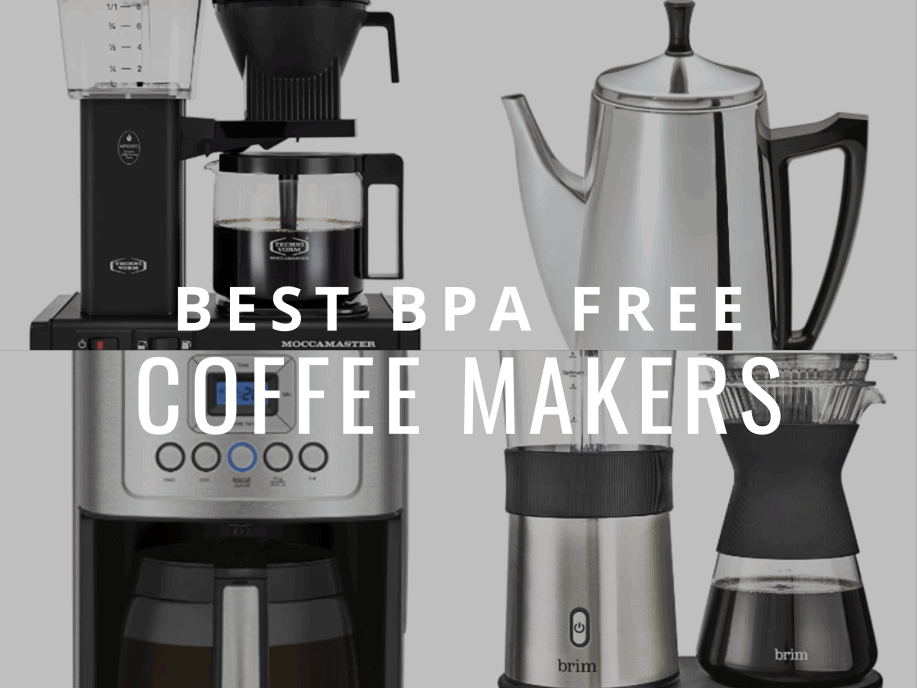 When you're on the hunt for the best coffee maker to fit your needs, you probably go in with a list of wants and needs. However, we think the biggest factor on that list is taste. If we were sure we could get that clean taste and perfect cuppa by buying this coffee maker, our decision would be so much simpler! 
While there is no yellow pointing sign that says "pick this one," there are a few things to look for to find the cleanest-tasting coffee. A big criterion in the area of flavor (and health!) is to choose a coffee maker that is BPA free. 
BPA has been a part of many plastic materials since the 1960s. BPA was meant to make a sturdier, prettier plastic, but studies have shown that it can be very detrimental to your health. In 2012 the FDA began limiting the use of BPA. While materials such as stainless steel and glass are the most natural, BPA-free plastic is also considered safe for food and drinks.
In our 30+ hours of research, we found many BPA free coffee makers and even some that eliminate the use of plastic altogether. So whether you're in the mood for a great tasting pour over, creamy espresso, or classic drip, this list has something help you find the best BPA free coffee maker that will give you a cleaner tasting (and healthier!) cup of coffee.
Want the quick summary? Our overall pick for best BPA free coffee maker is the Presto 02811 Coffee Maker. It steers away from plastic completely and is made instead, from stainless steel. This BPA free percolator coffee maker is easy to use and makes a rich-flavored brew. You will have no plastic overtones to taint the taste of your coffee with this brew machine. This non toxic coffee maker is perfect for someone who values taste, ease of use, and overall value.
---
What is BPA and Why Do We Avoid It?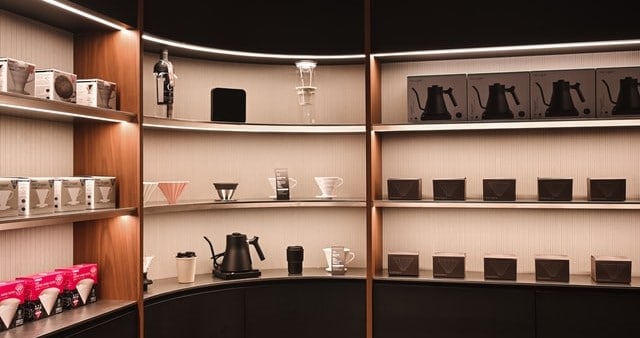 We've been trained to look for BPA free items whether we are looking to purchase a bottle of water or buy a coffee maker. But, what exactly is BPA and why do we avoid it? 
The Reason for BPA 
BPA is short for bisphenol-A. This is a substance that has been used in many plastics, including soda and water bottles, canned food linings, and other packaging types since the 1960s. 
Originally, BPA was used in plastic and other packaging products because it allowed bottles to be shatterproof and clear at the same time. It also provided a protective barrier so cans wouldn't corrode as quickly and cause food contamination. 
These perks sound pretty good if BPA just stayed in its place and did its job. The problem is that it doesn't just stay behind the scenes. 
The Problems with BPA
BPA has been known to leak out of the packaging and into your food or drink. A study by Scott Belcher, an endocrine biologist at the University of Cincinnati, showed that hot liquids will leach out BPA 55 times faster than usual. That statistic is a bit of a "yikes" factor when we start discussing coffee. 
While I am sure that BPA sounded like a good idea at the beginning, it came with a long list of side effects. According to Cohen Medical Associates, BPA has been known to cause an imbalance in the endocrine system. Over a decade of testing has shown that asthma, diabetes, cardiovascular disease, high blood pressure, obesity, and even some cancers can be connected to BPA along with other disorders. 
As a result, it's probably a good idea to stay from BPA as much as possible. Even though most brew coffee makers will contain some amount of plastic, we can at least opt for BPA free plastic coffee makers.
How to Choose the Right BPA Free Coffee Maker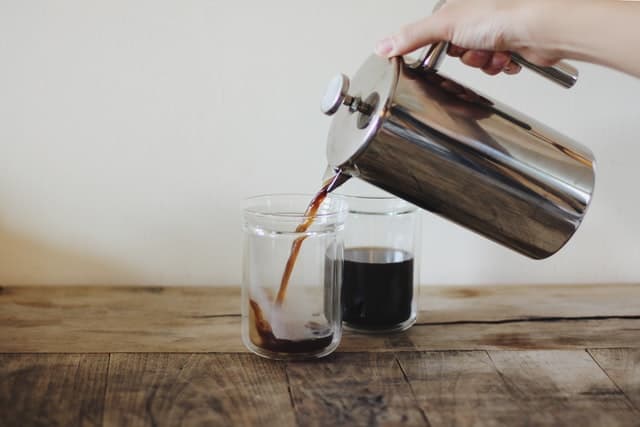 We searched through several coffee machines that were clearly marked " BPA free" to find the best out there. We found a lot of unique coffee makers (and some fun colors, too!). 
When deciding how to rank these coffee makers, we looked at the following criteria:
1. Is it BPA-free?
This, of course, was the first consideration. All the coffee makers on our list have taken the vow of being BPA-free. We don't want our daily dosage of hot caffeine to come along with 55 times the BPA! No thank you.
2. Does it come with plastic or stainless steel parts?
There are some coffee makers on the market that contain plastic but the kind of plastic used is BPA-free. So, while not all the coffee makers on this list are plastic free, the ones that do use BPA free plastics. We did give a preference to plastic free coffee makers or ones that had fewer plastic parts and more stainless steel parts. This is because stainless steel will almost always give a cleaner taste to a cup of coffee.
Looking for other methods to brew coffee with minimum and safe materials? Read How to Make Coffee Without a Coffee Maker: 8 Easy Methods That Work.
3. What extra features does it have to offer? 
We like brew coffee makers that have enough features to make brewing coffee smooth and effortless. Some coffee makers try a little too hard and have so much going on that our job becomes harder. So we looked for those BPA free coffee makers that had the basics like how much coffee it makes and user-friendliness. Then we looked for great features such as a programable timer, auto shut-off, large water tank, pause and pour, and others. 
4. What have other customers experienced with this coffee maker?
We also looked at real customer experiences and reviews with the BPA free coffee makers we chose. If a coffee maker got a lot of solid reviews from other serious coffee drinkers, we ranked it higher on our list. 
5. Is it worth the price?
Everyone wants a quality coffee maker that brews flavorful hot coffee while saving money in the process. We weighed the value of each BPA free coffee maker against the cost and factored this into our ranking. Usually plastic is cheaper than stainless steel coffee makers. So in this case, we focused on flavor first, price next. 
How We Determined the Best BPA Free Coffee Maker
Researching this list of best BPA free coffee makers was actually a lot of fun! There are several unique models and some that will make a nice accent piece on your kitchen countertop. Top brands are represented, and we brought a few more modest models into the light as well. We chose a mix of different brewing styles to satisfy a variety of coffee tastes. Let us introduce our top 7 BPA free coffee makers.
Standout Features: 
Stainless steel
User-friendly
Strong brew flavor
Brews 2-12 cups
Fast Brew
Easy to clean
Price
This friendly percolator brews coffee just like your grandmother used to do. It got the number one spot on our list for its high percentage of stainless steel. Even the coffee filter basket and perk tube inside this coffee maker are stainless steel! 
Things we like:
The stainless steel pieces lead to great flavor. Even BPA free plastic coffee makers are still susceptible to tainting your coffee with a slightly plastic taste when they come in contact with hot water.
The Presto is pretty user-friendly. It is simple to plug in and brew. When it's done, it gives you a signal light to let you know it's ready. 
This BPA free coffee maker also gets points for great flavor. If you are a coffee drinker who looks for the "strong brew" button on a coffee maker, you will be an instant fan of perked coffee. This coffee maker runs water through the grounds a few times to get a full-flavored brew. 
The Presto also boasts of perking up 1 cup per minute. That's a pretty nice turnaround for a coffee brewer!
We also like that it has a few simple pieces that you can access easily and thoroughly clean. The cord is removable to make cleaning and storing easier. (Just don't submerge the base in water.)
Besides the other perks, this percolator also comes at a decent price. You can find it on Amazon in the neighborhood of $50.
Things we don't like:
One thing to look out for is over brewing the coffee. It is usually a good idea to unplug the Presto after it is done brewing coffee, so your coffee doesn't get too strong. If you leave it plugged in, it may continue to perk through the grounds. 
Customer Reviews: Most customers had a lot of great things to say about the flavorful coffee that you get with the Presto. Many said that you will need to use a coarser grind for this coffee maker than drip coffee machines so the coffee grounds will stay in the filter. The biggest complaint with the Presto percolator had to do with a bolt at the bottom of the coffee maker. Many consumers said that this bolt was aluminum and tends to wear over time. Still, overall the Presto came away with about 13,000 positive reviews from coffee lovers on Amazon.
Final Thoughts: We're fans of stainless steel coffee makers like the Presto. The Presto makes and keeps your coffee hot, and rich-tasting in a relatively short period of time. We love that no plastic is coming in contact with your coffee when you are brewing up a fresh cup. This leads to clean, flavorful coffee. Also, with this brew method, you can avoid paper filters since it has its own reusable basket.
This plastic free coffee maker takes a step up from its competition with a coffee filter basket and perk tube that are made out of stainless steel instead of aluminum. Perked coffee comes with great flavor, and the Presto comes at a pretty nice price. This non toxic coffee maker gets points in our book for taste, ease of use, and overall value. Sometimes keeping it simple is the way to go! 
For more percolator coffee pots, check out our full guides on the Best Camping and Stovetop Percolators.
Standout Features: 
Stainless steel parts
Steam wand
15 bars of pressure
1 Liter water tank
Automatic shut-off
Removable drip tray
Style
Smeg is an Italian-based brand that combines retro-style with modern convenience. You can become an in-house barista with this espresso machine and serve fancy coffee drinks to your friends.
Things we like:
This BPA free coffee maker has stainless steel parts like the filter holder that come in contact with your coffee. This gives you a rich, yummy espresso, with no plastic overtones.
If you want to steam milk for your cappuccino or dispense hot water, you can use the built-in steam wand. 
The Smeg uses the proper 15 bars of pressure to pump out your espresso. This results in that yummy layer of crema in your demitasse. It also allows you the surface tension to build an impressive milk foam design on top. 
This tank holds one liter of water. Since espressos don't take that much water to start with, this tank can last you a nice amount of time.
This espresso maker comes with a style that will make you want to shell out the $500+ just to see it on your countertop! It comes in several different retro pastel shades, as well as classic colors.
Things we don't like:
The price is a bit steep for this machine. But you may find it worth it for the quality and style it delivers!
Customer Reviews: Most customers were happy with the Smeg and the quality of the espresso it makes. Some took issue with plastic parts used to construct this coffee maker, such as the handle of the portafilter. 
Final Thoughts: As an espresso lover, I am a fan of this BPA free espresso maker. It uses 15 bars of pressure to make an authentic espresso and uses stainless steel parts to make your cuppa. Also, the built-in steam wand is a nice feature for making coffee-shop-worthy drinks like a cappuccino. It has a clean, compact design that will look stunning in your kitchen. I love the way it looks and its compact footprint. I love what I see, but I would like to see a few more customer reviews stack up for this espresso machine before spending the money.
Standout Features:
Bold coffee option
24-hour programmable preset option
Self-clean
14 cups, glass carafe
Small batch option
Auto shutoff (0-4 hours)
Adjustable warming plate 
Gold-tone, commercial-style permanent filter
The Cuisinart coffee maker gets the most popular award since it has the biggest number of positive reviews (over 30,000).
Things we like: 
This BPA free coffee maker offers some nice features but continues to be user-friendly. Its options are laid out in a simple, straightforward way and each button is clearly labeled.
The Cuisinart offers a bold or regular option for your brew. I like being able to tailor my coffee to my taste buds! These flavor options allow you to get the taste you want from your coffee pot.
The Cuisinart can make up to 14 cups, but you also have the option to brew a small batch. The small-batch option allows you to brew 4 or less cups of coffee without compromising its taste. 
If you are wanting to move away from paper filters, this coffee maker comes with a gold-tone commercial quality permanent filter. This saves you the need to buy filters and also creates less waste.
In addition, the Cuisinart also offers perks like a 24-hour preset, self-clean, an auto-shutoff, and an adjustable warming plate. These features can be time-savers if you run a busy schedule.
Things we don't like:
Since this article is about plastic… I'll just say, I wish it didn't have so much on the inside. Still, the Cuisinart has the average amount for a drip coffee maker. Also, it is BPA free plastic, which checks the box for our main goal for a non toxic option.
Customer Reviews: Customers gave the Cuisinart a lot of great reviews. One recurring praise for this coffee maker was the amount of quality you get for the price range. This is definitely the most popular BPA free coffee maker on this list!
Final thoughts: The Cuisinart is a solid coffee maker that gives you a lot of nice options without making it complicated. We feel it has some nice flavor choices as well with the strong/regular button and the small-batch option. Also, it is usually priced under $150, which is not a bad price for what it has to offer. If you are in the market for a new BPA free drip coffee maker, this one would be in the running for the flavor and features it offers in its price bracket.
Standout Features:
Rotating base and swing-out brew basket
Programmable coffee maker
12 cup capacity, glass carafe
Bold, regular, brewing options
Small Batch option
Pause and pour
This Hamilton Beach Coffee Maker has a compact under-cabinet design that is perfect for small spaces. This coffee maker looks pretty unpretentious, but it has several helpful features that will make your life easier. Here are our thoughts:
Things we like:
The Hamilton Beach Coffee Maker has a rotating base so you can get to the water tank without having to take it out from under the cabinet. It also has a swing-out brew basket so you can easily add grounds as well. 
This undercabinet model has a 12 cup brewing capacity and it also offers a small-batch option so you can brew coffee for one or 2 people without compromising on flavor. 
It also offers you the choice between a bold or regular brew, and it will pause for you to grab a cup while it is still brewing. 
Things we don't like:
This non toxic coffee maker has a lot of plastic parts, but at least it is still BPA free plastics. 
A replacement glass carafe can be a little difficult to find
Customer Reviews: The overall customer response to the Hamilton seemed to be that it is a good value (nice hot cup of coffee) for its price (between $50 and $100).
Final Thoughts: We appreciate that the Hamilton coffee maker is compact and fits under the cabinet, which is a feature Hamilton Beach is known well for (ie. Brewstation models). Although this BPA free coffee maker has some great features, it seems the that the swivel base and swing basket would be the biggest selling points of the Hamilton Beach 46205 for someone looking for a non toxic space saving coffee maker.
Standout Features:
One-switch brew
Brew half or full carafes
10 cups, glass carafe
Auto shut off
Pause and Pour
Adjustable brew speed
Full flavor extraction
The Moccamaster was originally made with BPA materials (back in the day!). But now any Moccamaster made after April 2011 is built with BPA free plastic parts. 
Things we like:
We like the simplicity of this coffee maker and how easy it is to use. The Moccamaster has one switch to turn the coffee maker on or off. You can also choose whether you want to make half carafe or a full carafe. 
The auto shut-off feature turns off the coffee maker and burner after 100 minutes. This is a helpful safety feature and can put your mind at ease when you are at work wondering whether or not you turned off the pot. It will also shut off if it runs out of water before the cycle is finished. You don't have to worry about burning out your machine either! 
The Moccamaster mimics a pour over brew. It showers your coffee grounds with a metal showerhead and then lets the coffee grounds steep in the basket for 4-6 minutes for full flavor extraction. 
It also comes in a variety of fun colors to liven up your kitchen space.
Things we don't like:
This drip coffee maker runs around $350, which seems a little steep. 
Customer Reviews: Most customers agreed that while the Moccamaster is not fancy, it does a good job of making your daily cup of coffee hot.
Final Thoughts: We like the look of the Technivorm Moccamaster and its simplicity. If you're looking for a BPA free coffee maker with pour over style built in, that is also SCA certified, this may be a good option. While the price seems to be a bit steep for a basic model, it also comes with a 5-year warranty to balance out the price equation a bit.
For a more indepth look, check out the hands on testing we did in this Technivorm Moccamaster review.
Standout Features:
Reusable metal filter basket
Automatic pour-over method
SCA certified temp and brew settings
8 cup glass carafe
Showerhead for pulse blooming
The Brim 8 cup Pour Over coffee maker is a pretty unique setup. It's a bit of a lazy man's way of making a pour-over brew. Let's take a look at the pros and cons of this coffee maker.
Things we like:
The Brim Pour-Over Coffee Kit is a BPA free coffee maker and we like that it includes a lot of non toxic glass and metal in its construction. 
For this cross-over coffee maker, the metal coffee filter basket rests inside a plastic stand which then rests inside the glass carafe. I like the fact that the coffee is being filtered directly into the glass carafe, but it would be nice to get rid of the plastic middle-man as it seems its main purpose is just to hold the metal filter in place.
The Brim has a user-friendly and transparent design. You can see pretty much everything that is going on with your coffee while it is being made. 
It also has a nice aesthetic with the glass carafe. If you were wanting to add something to the presentation of your coffee when guests are over, this pot has an unassuming elegance to it.
Things we don't like:
While this drip coffee maker moves away from plastic in many areas, it then seems to bring plastic back in odd ways. The water is not heated in plastic, but you don't really steer away from it any more than you would with a regular drip coffee maker. Nevertheless, the plastic used is BPA free.
Replacement 8 cup glass carafes can be difficult to find. But if you can find any carafe that is 10 inches high (to reduce splatter from the hot water) and no more than 4.5 inches wide at the bottom, it should work.
Customer Review:: Customers seemed to like the design of the Brim coffee maker. The main complaint was that the plastic smelled a bit in the first use or two of the coffee maker.
Final Thoughts: So it's a bit humorous that the Brim automatic pour over coffee maker is essentially making hand-poured coffee with an automatic coffee maker… but at the same time, we kind of like it! We like the full glass carafe and the reusable metal filter, and if all went as planned, it actually may be a bit of a step up from the classic drip coffee machines. However, if the plastic parts start affecting your flavor, you could always just use the glass carafe to hand-pour a cuppa.
Standout Features:
BPA-free water tank and piercing needle
Single-serve pod
Brews directly into a mug
Safe-lock brewer lid
Keurig-compatible
User-friendly
Lightweight and travel friendly
Fun color options
Things we like:
We like that this single serve coffee maker is small and compact so it can fit in small kitchens, or even travel with you on a vacation.
The Chulux uses single-serve pods and is compatible with the Keurig brand. So, if you are a fan of the abundant Keurig options, you are in luck! In less than 3 minutes, your favorite cup of brewed coffee is ready!
It can even use refillable pods if you have your own coffee grounds.
This BPA free pod coffee maker is easy to use and gives you a reliable coffee flavor. It comes with a removable drip tray, so you can brew coffee directly into any size mug or travel mug.
While it has plastic built on the outside, the Chulux is stainless steel inside, which is a big plus. Plus, we love the fun color options this coffee maker comes in!
Things we don't like:
If you are looking to get away from plastic, altogether, you won't get very far with this pod coffee maker since you have to brew coffee through plastic, eventually. While the K-cups are BPA-free, they are still plastic and unfortunately these cups are not recyclable.

Also, this single serve coffee maker will brew as much water that's in the coffee maker if you let it. To stop the flow of water, Chulux recommends turning the coffee maker off when your cup is full.
Customer Review: Customers were pleased overall with the quality of the Chulux BPA free single serve coffee maker and the customer service when there was a problem. Some even said they liked it better than their Keurig coffee maker.
Final Thoughts: Stainless steel and glass products for coffee brewers are more natural materials than plastic pods. Still, if you love the convenience of a pod coffee maker, the Chulux BPA free machine looks like a pretty solid reliable drip coffee maker with its stainless steel parts on the inside. It also is the cheapest coffee maker on our list in the $30-$50 range.
BPA Free Coffee Maker FAQ's
1. What are more natural coffee filter choices?
Some experts say that bleached coffee filters have so little bleach that they are not a health risk. If you are looking for natural options, however, you can buy unbleached paper filters, permanent stainless steel filters, or you can even buy reusable organic cotton filters that can be washed and dried. Reusable filters create less waste and also are usually made of more natural materials.
2. What material is considered the safest to drink out of?
Glass is considered one of the most natural materials you can use to drink from. It is a non-permeable, natural source which means that it won't give off any flavor or break-down in your water. 
3. Was BPA banned by the FDA?
By 2012, FDA followed the lead of 11 states and began to restrict the use of BPA. While FDA did not ban the complete use of BPA, they did ban the use of BPA in baby bottles and sippy cups. Some brew coffee makers also began to make the switch to BPA-free coffee makers in this timeframe.
4. How do you know if there's BPA in a coffee maker?
At first glance it can be very difficult. To confirm, try looking at the bottom of the coffee maker reservoir or carafe. If you see a triangle with a number 3 or 7, then it's safe to assume the item is made of plastic. And if there's no outright claim that the coffee maker is BPA free, it mostly likely contains BPA. You can also check with the manufacturer to confirm. If still not sure, your best bet is to fall back on glass or stainless steel.
Final Verdict: The Best BPA Free Coffee Maker
We ran into a lot of great brew machines in our search for the best BPA free coffee makers. Unfortunately, we couldn't include them all so we chose models that stood out for their excellence or uniqueness. Our overall best non toxic coffee maker in the BPA free category would have to be the Presto 02811. 
The Presto is a classic design that includes stainless steel pieces even in the filter area. This allows you to get a hot, clean, rich taste that is untainted by plastic flavors, or BPA. Perked coffee offers a strong flavor, and we love this model's handy pour spout. This classic coffee maker is a winner in its category.
Final Thoughts
Nothing beats a fresh, clean-tasting cup of morning coffee, especially when you know that you are cutting out some of the toxins by getting a BPA free coffee maker! 
If you want to brew coffee that tastes great and is clean, we hope this list of coffee machines helps you find what you are looking for… whether it be a percolator, an espresso machine, a pour-over, a pod machine, or a tried-and-true drip coffee maker.
For other high quality brew coffee makers known to use BPA free plastic (but always confirm), you can check out Ninja and their line of drip/specialty coffee makers. You can also fall back on good stainless steel coffee makers like the French press coffee maker or a Moka pot.
Want more brew styles? For a full list of the best coffee makers to choose from, see our Guide on the Top Coffee Machines for Beginners.
Coffee Has Never Read This Good!
Sign up for a FREE newsletter to the best home brewing tips and guides
Thank you for subscribing to The Cup Coffee House Crew! There's a surprise in your Inbox 🙂
Something went wrong.
About the Author
Latest Posts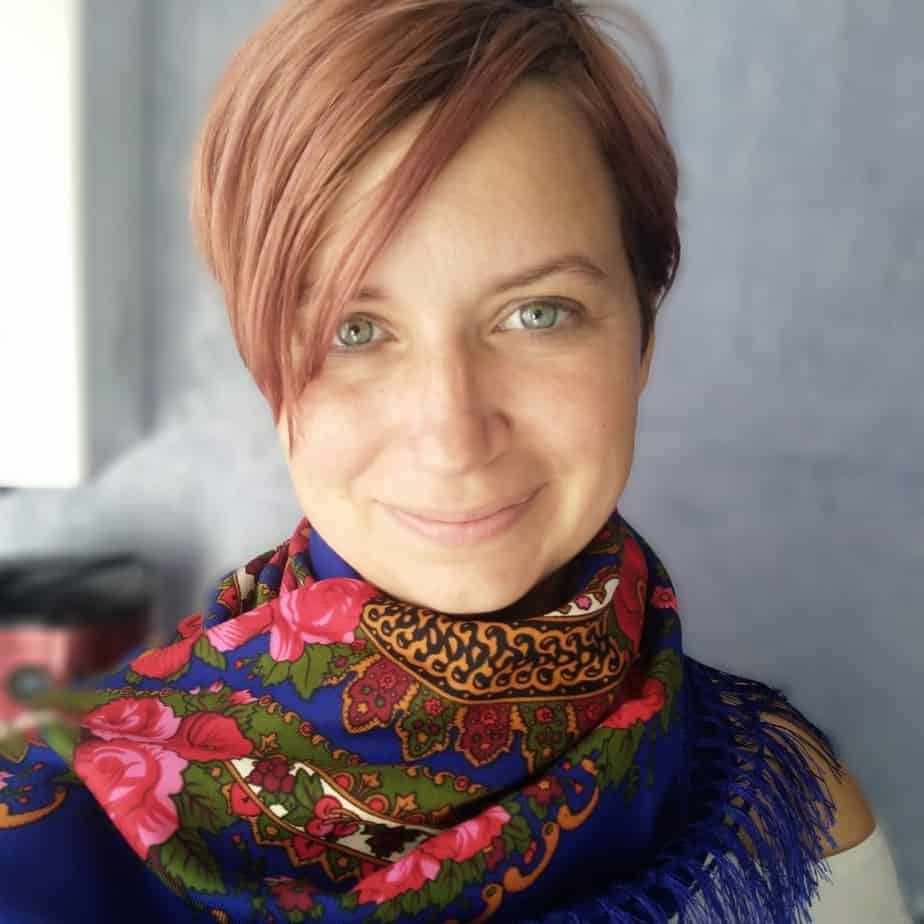 Alex Praytor worked her first job as a barista, finished college, and then took a tour to the other side of the globe. She fell in love with espresso and her would-be husband in Europe. She spends her spare time visiting native Texas landmarks, ancient castles, and all the coffee shops she finds along the way. At home, she is a mom, ESL teacher, and writer, who hones her coffee-making skills daily. She enjoys passing on her coffee findings to fellow caffeine addicts in search of the perfect cup.
Chief Editor