Last updated on May 12th, 2023 by Alex Praytor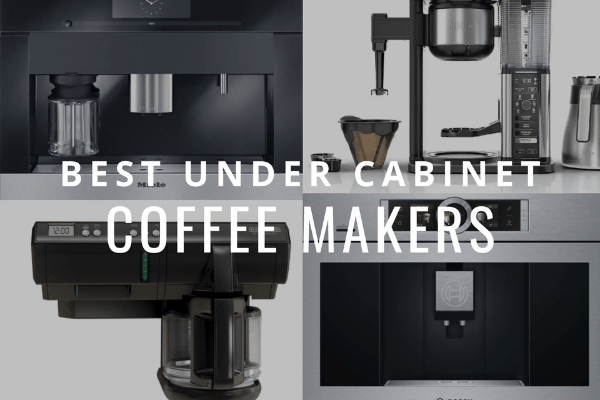 If you are living in a small space, RV or small apartment, you know how important it is to make every nook and cranny count! The under cabinet coffee maker was designed with small spaces in mind. Most coffee makers take up a fair share of your counter space and are top-access which requires you to pull them out from under cabinets to add your water and coffee grinds.
The mountable under cabinet design was both easily accessible, and also freed up some room on your countertop. While this idea was intriguing, some of the logistics needed work. 
Does Anyone Make An Under Cabinet Coffee Maker?
As of 2022, Black and Decker was one of the last brands to carry mounted under cabinet coffee makers. Unfortunately, many of their machines were recalled. It seems that the space-saving "hanging pot" design may have put too much pressure on the pot itself and there were many reported cases of burns and cuts from broken handles and shattered glass carafes.
While some models (that weren't recalled) can still be found on Amazon and Ebay, you will notice that Black and Decker and other coffee maker companies have begun to steer away from the mounted coffee maker design entirely.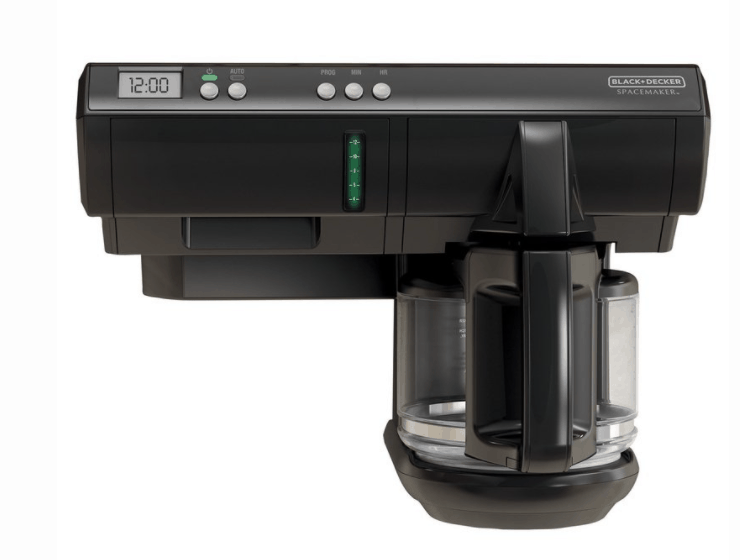 While it seems that mounted coffee makers have widely disappeared from production, our search for the best under cabinet coffee maker revealed some space-saving free-standing models that can fit nicely under your kitchen cabinet.  These machines have swivel baskets and removable water tanks so you don't have to pull them in and out every time you want to make your daily cuppa. We also found built-in machines that can be inserted into your cabinet space like an incorporated oven!
In this updated article, we will take a look at one of the last mounted models that can still be found in some markets like Amazon and Ebay for comparison's sake, and see how it lines up next to current under cabinet models, and high end built-in machines.
Want the quick summary? Our overall pick for best under cabinet coffee maker is The Ninja Specialty Coffee Maker.
We liked the versatility of the design and the many sizes and specialty drinks it offers. It can easily fit under a kitchen cabinet and also has a fold-away wand for frothing milk for specialty hot or cold drinks. With a removable reservoir, it never has to move and is perfect for space conscious coffee drinkers.
Ninja CM401 Specialty 10-Cup Coffee Maker
This 10 cup brewer has the size, ease of use, and space saving design with swing basket and removable reservoir plus delicious coffee taste for the perfect under cabinet machine.
Last update on 2023-09-17
---
---
Whats the Deal with Under Cabinet Coffee Makers?
Most kitchens give you an 18 inch clearance between your countertops and cabinets. This should be plenty of room for most coffee machines to fit underneath. But if you want to open the top of most coffee machines to add your coffee grounds and water, you may quickly realize you don't have as much space as you would like. Cut to you pulling your machine in and out from under your cabinet every morning to get your coffee started.
If you're just a tad OCD like I am, this process can drive you a little crazy. When it comes to my kitchen, I like for every appliance to have its own space, and for it to stay in that space. Also if you live in a dorm room, or traveling, a space saving coffee maker can be really convenient.
The mounted machines was supposed to give you your counter space back and keep your appliances in place. But floating hot coffee can become dangerous especially when mixed with glass. While these mounted machines are mostly retired now, some of their space saving principles have been applied to free-standing models. 
Looking for other coffee brewing methods that save space? Read How to Make Coffee Without a Coffee Maker: 8 Easy Methods That Work.
Choosing an Under Cabinet Coffee Machine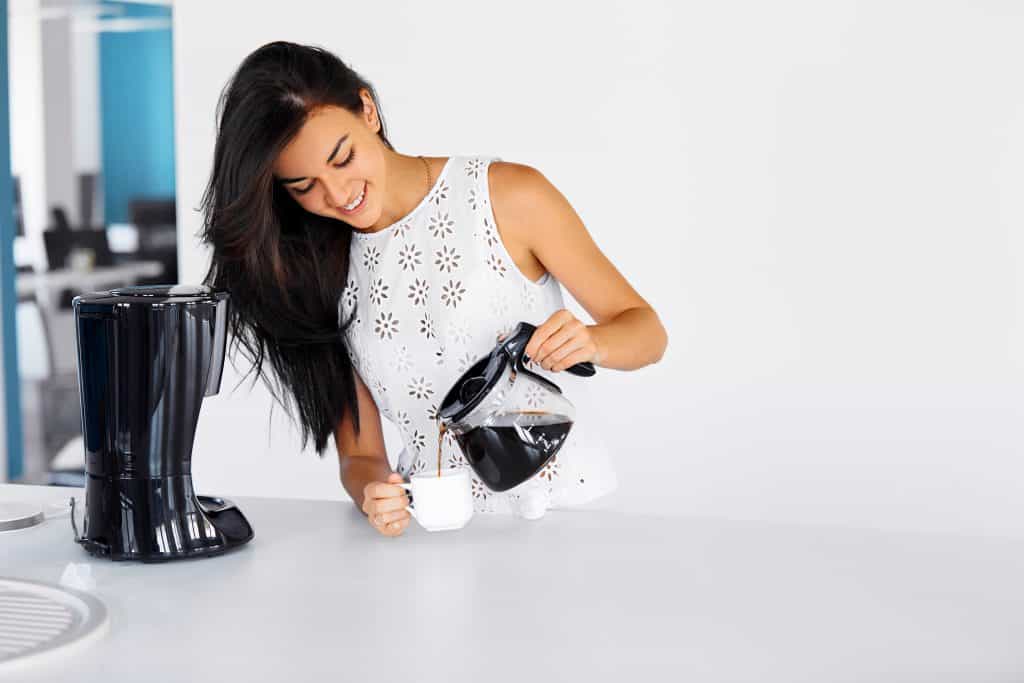 Factors you should look for in your next space saving under cabinet coffee machine include: 
A swivel filter basket
A removable water tank
Machine height
Base width
Cleaning and maintenance
The swivel filter basket and removable water tank will allow you to fit your machine under your cabinet by granting side or front-access as opposed to top-access. Check to make sure there is enough distance between the machine and the underside of your cabinets so that steam from your coffee maker will not affect your cabinets.
Also, to save counter space, you can look at the height and width of a machine. Some models are more compact than others. Taller machines will usually have less base width and use less counter space. Or if you find a squatty coffee maker, you may be able to have a top access machine that will also fit under your cabinet!
If you opt for a built in coffee maker design, then consider the size, design and if you have the available wall space. Of course cost will be another issue, but if you're thinking about the luxury of built in coffee makers then I'm sure you've already budgeted for it. But even then, you will want to consider the time and energy of cleaning and maintaining those types of machines so they stay running smoothly.
Let's take a look at the best space-saving under cabinet models that we found in our research.
How We Determined the Best Under Cabinet Coffee Maker
As we mentioned before, most of the traditional under cabinet mounted coffee makers have widely disappeared from production. But our search for the best under cabinet coffee makers revealed some space-saving free-standing models that can fit nicely under your kitchen cabinet as well as more novel built in options.
Standout Features:
12 cup
Programmable timer
"Sneak-A-Cup"
Removable water tank
Under cabinet mount
Things We Like:
This Black and Decker machine is one of the classic under cabinet mounted coffee makers. It is an older model and many versions currently sold are used or refurbished. The mountable machine was popular with customers who travel in RVs or houseboats because it saves counter space and you don't have to worry about the machine falling off the counter while on a journey.
Unlike many mounted models that featured a suspended pot, the ODC325N Spacemaker pot rests on a secure base. If you are someone who likes your coffee ready to go when you wake up in the morning, you will be pleased to find that this machine offers a programmable timer that lets you set up your pot the night before. 
The ODC325N Spacemaker is a great option for travelers and small kitchens. The pot offers 12 cups of coffee which makes it perfect for larger households… or heavy coffee drinkers! It also offers a sneak-a-cup feature that allows you to pour yourself a cuppa before the machine is finished brewing without coffee continuing to flow out onto your counter. 
Things We Don't Like:
We like many features of this model and its space-saving design. In its heyday, we feel like it would have been a viable option for many. Unfortunately this model has been on the market for quite some time and hasn't been updated recently. Also, replacement pots are difficult to find. But, this machine is a great measuring stick to see how modern space-saving designs compare!
Black & Decker ODC325N Spacemaker
This 12 cup pot is a mountable under cabinet machine perfect for larger households or those who travel in RV's or houseboats... if you can still find them.
Last update on 2023-09-17
Standout Features:
Lightweight
Removable water tank
Swivel filter basket
Permanent filter
Hot/cold milk frother
6 brew sizes
Programmable timer
Iced brew option
Things We Like:
This lightweight coffee machine has included a lot of great features in its under the cabinet design. While not mountable, this free-standing under cabinet coffee maker offers a removable water tank and a swivel filter basket to allow you to make your coffee while still in its spot under your kitchen cabinet.
You can create your own specialty drinks with a concentrated espresso-like brew option and a frothing wand that tucks into the side of the machine when not in use. For hot summer days, you can even make yourself an iced brew!
The permanent filter eliminates unnecessary paper/plastic waste. Many customers report that this filter gives a cleaner taste to the coffee than a brew made using a paper filter or pod. This pot offers a flip down shelf for a mug and allows the machine to brew directly into your cup. You can also choose to brew into a travel cup, or the machine's carafe. Many customers are very happy with this machine's efficiency, easy-to-use design, and its great tasting brew! 
Things We Don't Like:
This machine has had a great customer satisfaction response according to the reviews. There is not much we would add or change about this machine!
While this machine is mostly made of plastic parts which could be a drawback for some… the good news is its BPA free plastic. Plus this Ninja machine is more lightweight than other models! Although its design features allow it to fit nicely under a cabinet, this does not mean that this is a compact machine size-wise. This machine stands at a little over 15 inches tall, which is as tall or taller than many of its coffee machine competitors.
Still, we feel that this machine saves some space by including a compact milk wand that tucks into the side. It also allows you to brew directly into a cup which can help you cut down on your dishwashing. 
Overall this is a well-thought out design, with space saving features, and thousands of happy customers that enjoy drinking coffee made by a Ninja!
Ninja CM401 Specialty 10-Cup Coffee Maker
This 10 cup brewer has the size, ease of use, and space saving design with swing basket and removable reservoir plus delicious coffee taste for the perfect under cabinet machine.
Last update on 2023-09-17
For more info, check out this full beginners guide we did on the top Ninja coffee makers on the market.
Standout Features:
12 cup
Swing out filter basket
Swivel base
Front fill water tank
Automatic pause and serve
Programmable timer
2 hour automatic shutoff
3 brew strength options
Things We Like:
The Hamilton Beach 12-cup machine is user-friendly and fits under your kitchen cabinet. This machine makes set-up easy with its swivel base which gives you easy access to the front swing-out basket and also the front fill water reservoir. We love this unique under cabinet design! But of course, Hamilton Beach isn't a stranger to space saving designs, ie. their line of internal tank BrewStations.
The Hamilton matches consumer tastes by giving you the option of a regular, strong, or 1-4 cup. This machine makes your coffee with just the touch of a few buttons and has an adjustable warming plate to keep your coffee at the perfect temperature when done.
Like the Ninja, this Hamilton model allows you to set up your pot the night before so your coffee is ready when you wake up in the morning. This machine saves energy by automatically shutting off after 2 hours of inactivity. For those that can't wait for the pot to finish brewing, this pot will pause to let you sneak a cup mid-brew.
Things We Don't Like:
Most customers are happy with this Hamilton coffee maker. Size-wise this machine is similar to the Ninja and provides many of the same features. 
However, some customers noted that the autobrew with Alexa can be difficult to manage. Also, while the coffee filter is supposed to handle 12 cups of coffee, it may be too small and some experienced overflowing. You may have to keep it at 10 cups to be safe.
Overall, with over 17,000 reviews and 4.4 stars, the Hamilton Beach 12 cup brewer is a solid machine that makes hot delicious coffee while keeping its space footprint minimum.
Sale
Last update on 2023-09-17
Standout Features:
One Touch Control
Grab-A-Cup Auto Pause
120 min Keep-Warm Function
120 min Auto-Shut Off hot plate
Boil-Dry Protection
Dishwasher-safe filter, funnel, and glass carafe 
Swing-Out Filter Basket
Reusable Filter 
BPA-free
Things We Like:
The Gevi 4-cup coffee maker has long been on our radar as a solid 4 cup coffee maker. But one of the reasons we liked it so much is because of its perfect fit as a great under cabinet coffee maker.
For one, the Gevi is easy to use with its swing out filter basket design. Along with small half lid on the water reservoir for easy refilling, and the compact size, you get a nice space saving coffee maker that won't force you to move it from its tucked spot on your countertops.
The Gevi will also brew great tasting coffee for a small group efficiently with its one touch startup. With auto pause and auto shut off you can sneak a cup before the brew is up and then race out the door knowing it will shut down automatically for you.
Things We Don't Like:
There isn't much not to like about this Gevi small coffee maker. But of course if you are looking for a large batch machine for large families and gatherings, then this Gevi pot doesn't work. Also its pretty basic so don't expect any cutting edge pour over 3rd wave coffee features here!
But for what you get, and the higher customer ratings, this Gevi 4 cup machine is great value and dials in as a nice affordable under cabinet coffee maker.
Sale
Gevi 4 Cup Coffee Maker
This 4 cup brewer is compact, easy to use with a touch of a button, and brews great coffee for a small group on a decent budget.
Last update on 2023-09-18
Standout Features:
K-Cup pod or ground coffee
Pause and Pour
Under Cabinet Design
"Add Water" Light Reminder
Compatible with the Gold Tone Reusable Filter for Waste Saving
Space Saving Small Footprint
Things We Like:
Keurig is at the forefront of creating coffee makers for the everyday working man or woman, focusing on the combination of flavor and convenience. The Keurig K-Duo coffee maker combines the quick convenience of pod brewed coffee with the sophistication and strong flavors of drip coffee.
So depending on your situation at home, you can please anyone. If it's just you then the endless options of K cup pod flavors brewed in less than a minute can be perfect. Or if you have a crowd, then grind your own coffee beans, and brew up a full 12 cup pot. Use the auto pause if you want to get a cup early.
But the best part is its compact enough to fit under your cabinet, uses a swing basket design for the coffee grounds, and has a removable water reservoir. This makes it not only under cabinet worthy, but extremely user friendly.
Things We Don't Like:
The Keurig K-Duo does come up short in terms of timing. Some customers experienced a longer than average brew time with this machine, 20+ minutes for a full pot.
But overall if you're looking for a nice dual single serve full coffee pot option for a decent price, that fits nicely under your kitchen cabinets, the Keurig K-Duo is a strong option to consider.
Sale
Keurig K-Duo Coffee Maker
For a great combo of single serve coffee with full pot brew all in a compact space saving design, look no further than the Keurig K Duo.
Last update on 2023-09-18
For a more indepth look, check out our full Keurig K-Duo Essentials and Plus review.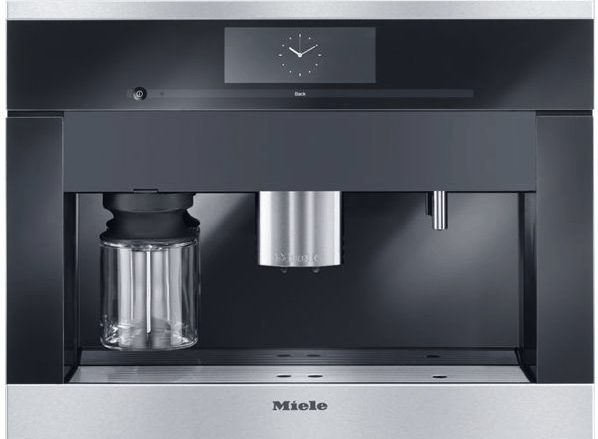 Standout Features:
Built-in
Personalized coffee settings
One touch
One touch for 2
Energy saving mode
Coffee grinder
Things We Like:
For those who are serious about their coffee, and have the funds to support their habit, the built-in design may be the way to go. This machine is like having your own in-home barista who can make you your favorite coffee drinks at any time of the day.
The Miele coffee system allows you to set personalized drinks for fast access when you need a caffeine hit. You can choose your favorite drink with a one-touch system… or you can also brew for 2 at a time! This machine also has a special mode to save energy, only warming up when you are ready to brew. The Miele built-in is a novelty piece and is sure to make your place a coffee-drinking hub for friends and family!
Things We Don't Like:
While many customers were very pleased with the taste of the coffee the Miele machine makes, a big con for this machine is the price tag. This built in model can cost around $3,500. Another common complaint was the maintenance and cleaning required after brewing your coffee. It doesn't need to be plumbed as a strict requirement, but you're definitely going to want it to so that the cleaning isn't as unbearable… which is an additional cost. Still, most customers preferred this Miele machine to the built-in Bosch.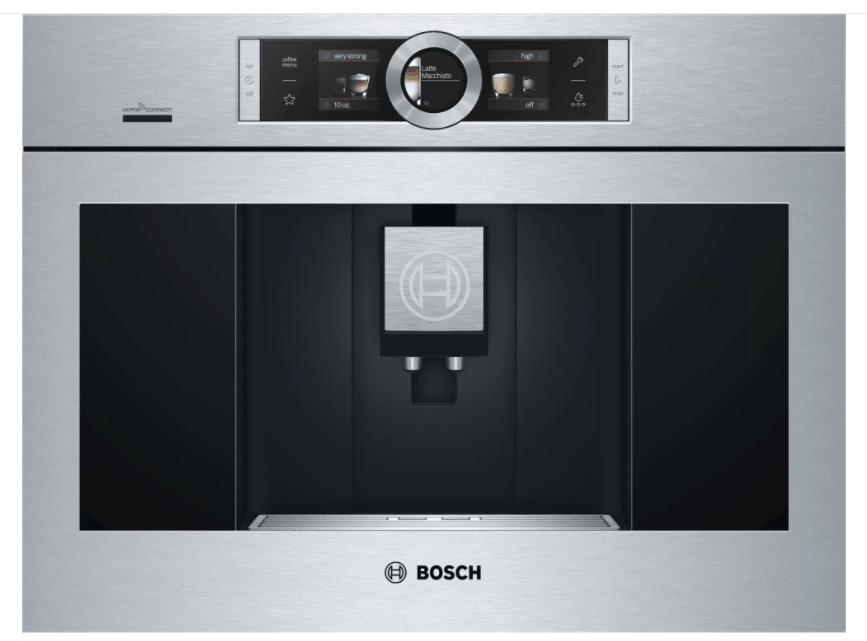 Standout Features:
Built-in
14 modes
Simple touch coffee making
Works with Nest and Amazon Alexa
Things We Like:
Bosch is known for its quality appliances… and in this case, we are taking a look at their built-in coffee machine. This incorporated machine allows you to find your favorite drinks quickly and easily with its touch screen design. It offers a wide-variety of specialty drinks including espressos, cappuccinos, lattes, and macchiato. You can also connect this coffee maker to an app so you can order your drink, or several drinks through the wi-fi on your phone! This technologically advanced machine lets you bring the coffee shop experience to the comfort of your own home! 
Things We Don't Like:
This machine costs around $3,300 and like the Miele requires cleaning maintenance. Also, the milk attachment must be stored in the refrigerator after use. Some customers noted that the coffee was not strong enough and that the milk frother works better on the Miele.
Overall, the Bosch built in coffee maker is a technically advanced machine that isn't under the cabinet but rather inside the cabinet! Either way, it provides a unique coffee making experience, for those who are able to afford such luxuries!
Our Verdict: Best Under Cabinet Coffee Maker
While each of the coffee making models we discussed have some great features, we found the Ninja Specialty Coffee Maker the most intriguing.
We loved the versatility of the design and the many sizes and specialty drinks it offers. It can easily fit under a kitchen cabinet and also has a fold-away wand for frothing milk for specialty hot or cold drinks. Although the built-ins also had some impressive features, the drawbacks to these machines is that they can be cost prohibitive and time-consuming to clean. 
Ninja CM401 Specialty 10-Cup Coffee Maker
This 10 cup brewer has the size, ease of use, and space saving design with swing basket and removable reservoir plus delicious coffee taste for the perfect under cabinet machine.
Last update on 2023-09-17
Final Thoughts
We want our coffee machine to have a spot in our kitchen that is easily accessible for daily use, but that doesn't mean it needs to hog our counter space! When you are living with a smaller than average kitchen, you want all your appliances to find… and stay… in their parameters. This is why we love the under cabinet coffee makers so much! 
These coffee machines and built-in designs allow you to hold onto as much of your space as possible and also make sure that your coffee maker has a central place in your home. If you want even more space saving opportunities, consider adding battery operated coffee makers to your arsenal or 12 volt coffee makers if you are traveling.
You can even make a great tasting espresso using a manual device no bigger than the palm of your hand!
And while it won't necessarily save you space, coffee makers with a water line can save you the headache of having to refill the reservoir constantly.
Either way, we hope these models spark some new space-saving ideas for your coffee machine and kitchen!
Coffee Has Never Read This Good!
Sign up for a FREE newsletter to the best home brewing tips and guides
Thank you for subscribing to The Cup Coffee House Crew! There's a surprise in your Inbox 🙂
Something went wrong.
About the Author
Latest Posts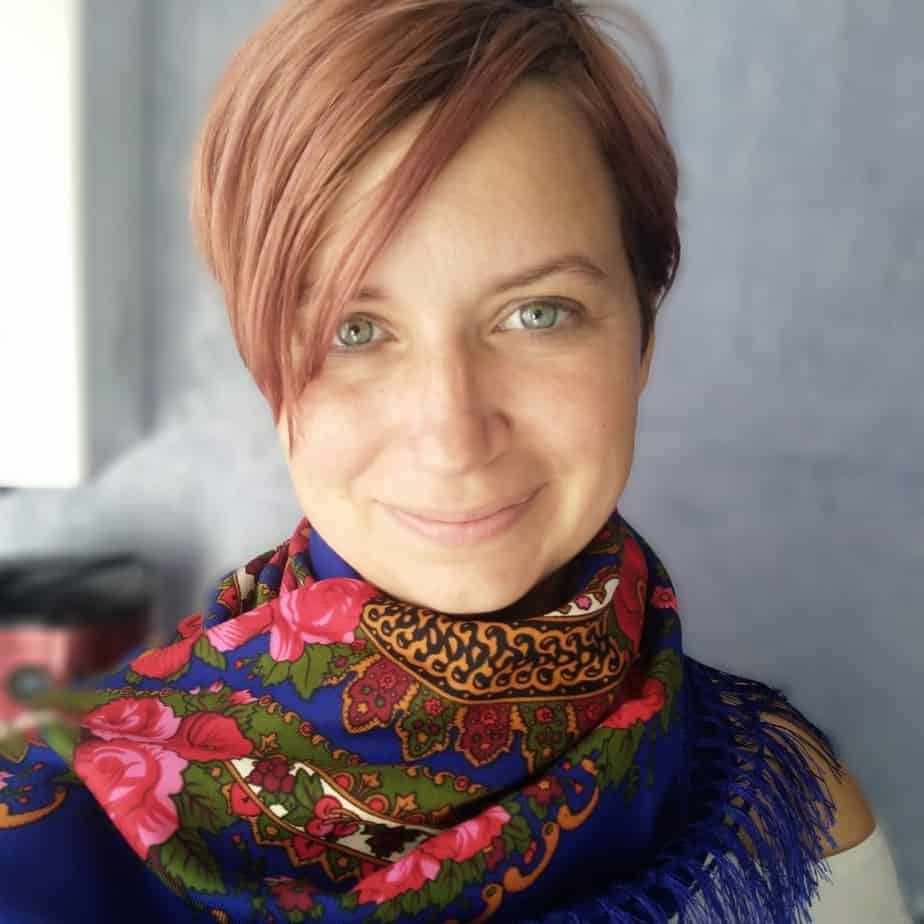 Alex Praytor worked her first job as a barista, finished college, and then took a tour to the other side of the globe. She fell in love with espresso and her would-be husband in Europe. She spends her spare time visiting native Texas landmarks, ancient castles, and all the coffee shops she finds along the way. At home, she is a mom, ESL teacher, and writer, who hones her coffee-making skills daily. She enjoys passing on her coffee findings to fellow caffeine addicts in search of the perfect cup.
Chief Editor