Last updated on August 15th, 2023 by MJ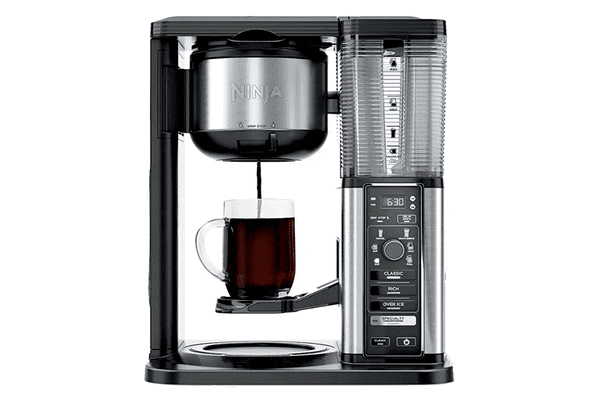 We live in Texas. And it gets HOT.
Living in the Texas heat means I have been drinking more iced coffee than ever before. So I began a search for a new coffee machine with an iced coffee option.
Ninja Specialty Coffee Maker
Performance

Ease of Use/Maintenance

Build & Quality

Design & Features

User Satisfaction
Final Verdict
The Ninja CM401 specialty coffee maker is an excellent machine for those looking for hot and cold brews within a budget. It brews single serve and coffee pot sizes, with 4 different brew methods to satisfy the whole household. While it may have a learning curve to get used to, the features you get, and delicious coffee, cappuccinos and lattes you can brew easily make it worth it.
My husband loves specialty coffees like cappuccinos and lattes so I needed something that would not only meet both of our coffee needs, but most importantly, fit our budget.
After some extensive research, I came across the Ninja CM401 Specialty Coffee Maker.
In summary: We love this Ninja! What initially drew me to this machine was the over iced feature, the fact that I could make coffee house style hot coffees, and the different brewing sizes (single cup, to travel or carafe). It was everything we were looking for under $200.
Although it is not on the list of SCAA certified coffee makers, I still wanted to try it out and gauge the quality of the coffee for myself. And it didn't disappoint, making great tasting coffee. The learning curve was a bit high, but overall worth it; Perfect machine for coffee drinkers looking to diversify their coffee beverage options without breaking the bank.
Ninja Specialty Coffee Maker
The Ninja Specialty coffee maker is a great combo of flavorful coffee with multiple brew styles including hot and cold beverages, a quality brand, and high end features for an affordable value price.
Last update on 2023-09-20
So in this quick Ninja Specialty Coffee Maker review, I will share its best features, my experience using it, and the pros and cons.
Hopefully you will learn whether or not this Ninja coffee machine is good fit for you.
---
Ninja Specialty Coffee Maker Review
Now I'm sure you have heard of the Shark Ninja brand and its lineup of products, especially in cookware and countertop appliances. I personally own several appliances from them and have used them for several years without any issues. This gave me the confidence in investing in another Ninja product since I'm familiar with their high quality.
The Ninja Specialty Coffee maker was released in 2019. Let's get down to the nitty gritty and see if this machine is still worth it.
General Specifications
Color: Black/Stainless Steel
Product Category: Drip Coffee Maker
Materials: Stainless steel, glass, plastic
Design and Features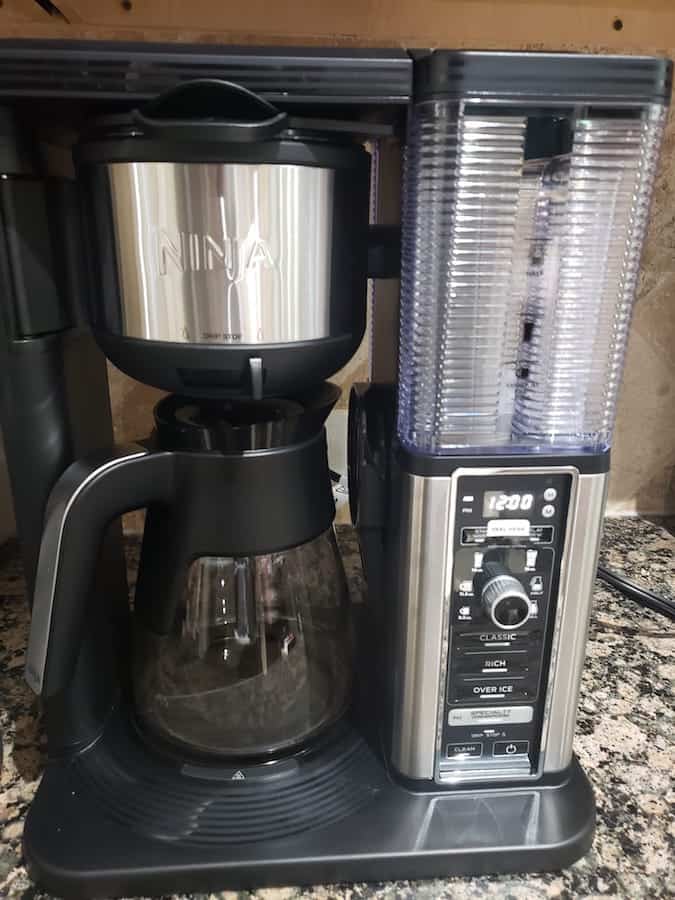 6 serving size options: Cup, XL cup, travel mug, XL multi-serve, half carafe (5 cups) & full carafe (10 cups)
4 brew styles: Classic, Rich, Over Ice, Specialty Brew (more on this below)
10 cup (50oz) Glass Carafe: perfect for hot and cold beverages, dishwasher safe
Fold away frother: turns your hot or cold milk into smooth froth.

I found it to be surprisingly sturdy. Plus the bonus that it folds away into the machine so it is easy to keep track of.
Gold tone permanent filter: reusable; preserves natural coffee oils and small coffee particles to provide a robust flavor.
Ninja smart scoop: has 2 sizes to help accurately measure for any brew size. It also includes recommendations for how many scoops for each brew size
Removable 40 oz. water reservoir: This makes it convenient to fill the water and for cleaning
Recipe inspiration guide: I loved using this to come up with some delicious drinks!
Quick start guide: easy to understand and follow for setup
Dishwasher safe parts: for easier cleaning and maintenance
Delay Brew: program to automatically brew at specific time.

This is great for those that want their coffee ready when they wake up.
Intelligent Warming Plate: to keep your coffee at the right temp

Only turns on if brewing a full or half carafe of classic or rich brew.
You can also program how long the warming plate stays on (up to 4 hours) and/or set the temperature to High or Low.
I personally wouldn't suggest keeping the plate on for a long time because it tends to burn the coffee in my opinion.
Quality and Build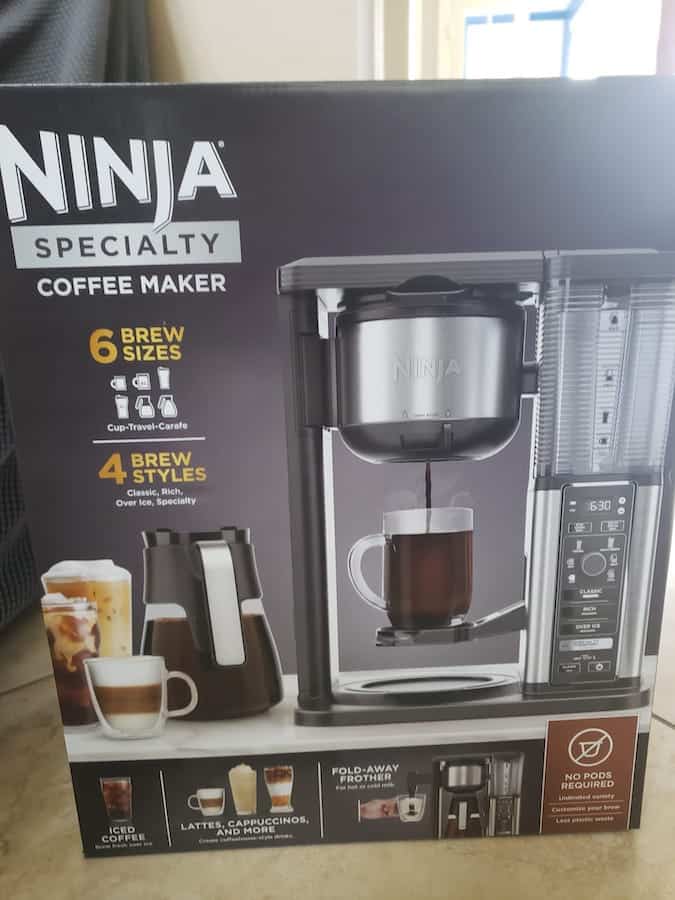 The machine arrived the next day once I ordered it on Amazon. It was packaged great with no damages.
My first impression of the machine was that it looked expensive and luxurious. It is made out of stainless steel, making it quite durable, but several of the parts are plastic.
Pricing
The Ninja CM401 Specialty Coffee Maker runs about $160.
They also have another model, the CM407, which comes with the thermal carafe but about $100 more expensive.
Ease of Use and Setup
The Ninja CM401 measures at 12″ L x 8.8″ W x 15″ H. I had already measured my cabinet size so it fit perfectly underneath.
The quick start booklet was easy to follow with pictures and clear instructions for setup. It even listed how many scoops of ground coffee were needed to make each type of drink. I kept that part easily accessible to be able to refer back to it.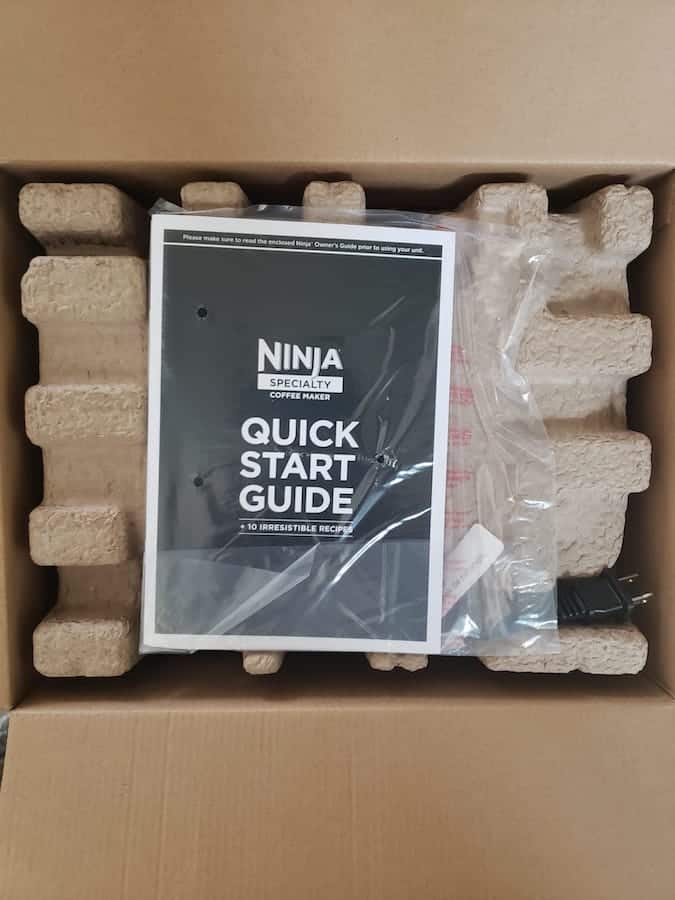 The recipe inspiration guide had some pretty tasty recipes for specialty coffees. I was excited to try some of them.
As the quick start guide indicated, the machine must be cleaned out before initial use. I filled the reservoir with fresh water to the Max Line, placed the carafe under the brew basket and selected Full Carafe and Classic Brew. This was repeated a second time to run 2 full cycles.
How to Make Coffee with the Ninja CM401 Specialty Coffee Maker (Step by Step)
Now we were ready to brew. I decided to keep it simple for my first brew and use the carafe to brew a classic cup of coffee.
Power on the unit.
Fill the water reservoir.
Measure coffee and add: I added freshly ground coffee to the filter holder using the handy Ninja smart scoop.

This helps take out the guesswork when measuring. The numbers beside the icons show the numbers of scoops recommended for each brew size.
Next, place the carafe under the brew basket.

If you are like me and like to save some money where you can, then it's great that this machine doesn't require paper filters. This will make the cleanup process longer, but it's worth it in my opinion.
However, if you wanted to use filters the preferred ones are the cone shaped No. 4 paper filters.
Select brew size: Next, I used the Multi-Serve Dial to select the brew size.

In this case I went with full carafe.
Select coffee method: I then had to select between CLASSIC, RICH or OVER ICE. I pressed classic and the brewing process began.
As the brewing begins, you will notice that the brew will begin, stop, and remain quiet for a short period of time before it begins again.

This process is used to evenly saturate the coffee grounds. Even saturation means a more uniform extraction, which means a more flavorful, balanced cup of coffee.
This drip pause can be misleading in the beginning, causing you to think your coffee is done brewing. Make sure to wait for the beep to signal a completed brew.
The time it took to brew a full carafe of classic coffee was about 10 minutes.
For RICH brew: The brew process is the same as CLASSIC.
For the OVER THE ICE brew type:

You need to fill whichever vessel you are brewing into with ice cubes before brewing. Do not add it into the water reservoir.
For SPECIALTY brew: Next, I brewed my husband a cappuccino using the specialty brew.

For SPECIALTY brew the size always yields 4 oz.
Also you want to use the big side of the smart scoop. I wish there was more flexibility in cup or carafe size for the specialty coffee, but I assume it is to keep the flavor and measurement precise for each brew.
I then frothed milk using the fold away milk frother and poured it into the concentrated cup of coffee.
You can't have a specialty coffee machine without a frother. It does not warm up the milk so consider microwaving for 45 to 60 seconds. You can easily remove the frother whisk to clean by twisting it clockwise.
Performance
All the brew methods produced nice tasting coffee. But the specialty brew was our favorite.
It produced a super rich coffee concentrate, which after adding foamed milk from the frother, created a creamy cup of cappuccino. It was delicious! It did not taste bitter or watered down either.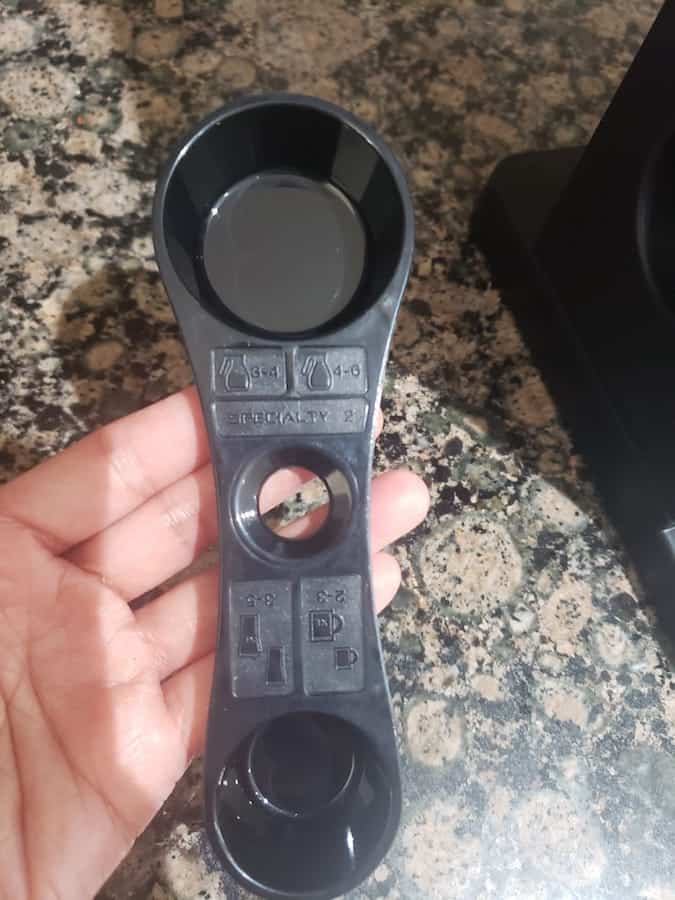 Here are more of our thoughts on each of the brew methods:
Classic Brew: smooth, well balanced flavor; nice hot cup of coffee
Rich Brew: More intense flavor than classic; will stand up to milk, cream or flavoring. It will be slightly less coffee than classic.
Over Ice: this is a great feature for those that love to drink cold coffee. You can brew fresh over ice coffee that is robust in flavor, refreshing, and doesn't taste watered down.
Specialty brew: This feature brews rich coffee concentrate which you can then create lattes and cappuccinos. You can have your own coffee house right at home!
Cleaning and Maintenance
If you are someone who cleans their machine very often, you will find that this is very easy to do with the Ninja CM401.
Many pieces can be removed for cleaning. The water reservoir, and milk frother slides off easily. The filter holder and permanent filter can be quickly pulled apart.
You can use any homemade solution or descaling solution to clean the machine and remove calcium deposits by activating a dedicated button which takes about 60 minutes.
The brew-through lid, carafe, and water reservoir are all dishwasher-safe on the top rack, but I would suggest hand washing it to extend its life. When washing by hand, the carafe is a bit difficult since the opening is small, but I use a brush.
Pros and Cons
Things I Like
Makes great tasting coffee with multiple brew methods to try out
Don't need pods

Coming from someone who used to own a Keurig and Nespresso machine, the pods added up in cost. I was glad this machine worked without them.
Though you may miss the convenience factor.
Carafe lid has an easy pour and does not drip

This is something I have experienced with other carafes and is a big deal for me.
Intelligent warming plate will adjust its temperature to keep your coffee hot without burning it.

However, I wouldn't try to keep it hot for an extended period of time. I noticed that my coffee did have a slight burned taste after 3 hours.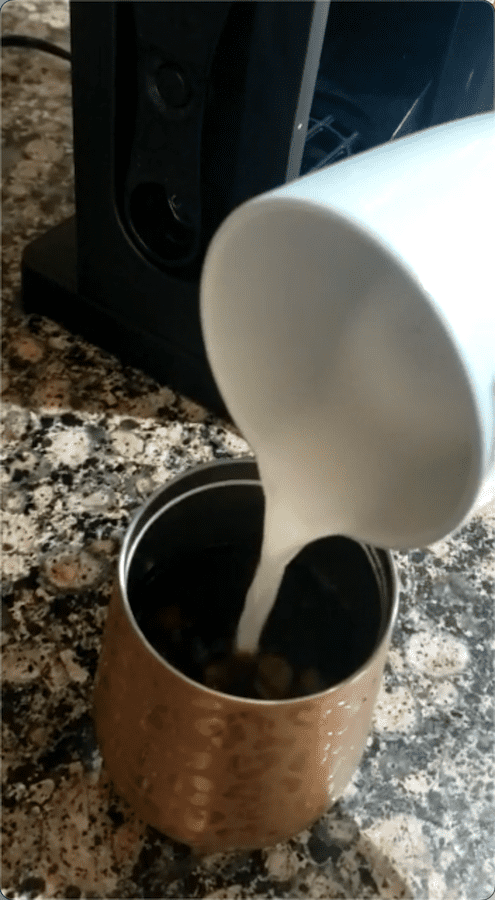 Auto shut off

Will turn off automatically after 2 hours in case you forget. This is a great safety feature to have on those days you are rushed.
Drip pause

So you can remove your cup or carafe for a quick drink.
You will need to push the Drip Stop switch closed. This will completely stop the brewing and illuminate the Drip Stop light.
Add water reminders

If you select a certain cup size and did not add enough water, the machine will let you know to "ADD WATER' once it has used up the amount in the reservoir. I thought this was a neat feature.
Fairly quiet

The Ninja does make a "gurgle" sound but it is relatively quiet overall..like a Ninja. Get it!?
Affordable pricing for the value you are getting
Things I Don't Like
Slightly steep learning curve.

One of the disadvantages about the Ninja CM401 is that it did take me some time to figure out how many scoops to use for each type of coffee. Even with the guide, I had to adjust it to my preference.
There is a learning curve in using this machine. Since it has several options for coffee, it is best to try them one at a time to figure out your preferred settings.
I did notice some coffee did drip from the filter after it was finished brewing.

In order to avoid that, make sure to turn the lever to drip stop once done brewing or before you remove your carafe/cup.
I do wish the carafe was stainless steel rather than glass, which makes it easier to break.

I guess that means considering forking over the extra money for the CM407
Even though most of the machine is made out of stainless steel, there is quite a bit of plastic involved.

This makes the parts less durable and more prone to breaking down. But it could be that you give up some build quality to get more quality performance at this price point.
You can buy parts separately from Ninja and they do provide a 1 year limited warranty.
Final Verdict
In conclusion, the Ninja CM401 is an excellent machine for those looking for hot and cold brews within a budget. It is hard to find a machine that does all this in this price range especially from a reputable brand. There can be some difficulty in first learning how to use the machine, but once you have it figured out, it will be a great addition to your daily routine.
With the easy cleanup and accessories all handy to use, I love using this Ninja coffee maker. It makes great tasting coffee that my family enjoys. My guests also love picking out the specialty coffee they want. It's like having a mini coffee shop right at home!
If you can care for the machine and parts, the Ninja can last you a while. For those that are not ready to invest into high end fancy espresso machines, this may be a great stepping stone!
Ninja Specialty Coffee Maker
The Ninja Specialty coffee maker is a great combo of flavorful coffee with multiple brew styles including hot and cold beverages, a quality brand, and high end features for an affordable value price.
Last update on 2023-09-20
Searching for more coffee maker options?
I have personally bought and tried other well known drip coffee makers that you may want to check out here! (No this doesn't make me a coffee snob…or does it??)
Also see our in depth reviews of other Ninja coffee makers:
FAQ
Can you make espresso with Ninja specialty coffee maker?
Technically it won't be real espresso, since you need pressure to extract an espresso and this Ninja machine doesn't do that. But if you're ok with espresso like beverages made with concentrated coffee and topped with delicious milk foam, then the Ninja CM401 will be just fine for you.
Does the Ninja specialty coffee maker use filters?
It comes with a permanent filter so you don't have to worry about disposable filters. But if you need to, it will also use cone shaped No. 4 paper filters.
Coffee Has Never Read This Good!
Sign up for a FREE newsletter to the best home brewing tips and guides
Thank you for subscribing to The Cup Coffee House Crew! There's a surprise in your Inbox 🙂
Something went wrong.
About the Author
Latest Posts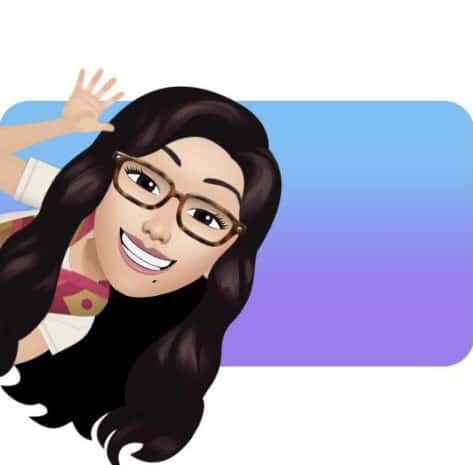 MJ is a full time health care worker, mother, and wife. When she puts her super cape down, she writes occasionally about coffee and how to get a better tasting brew from home.
Chief Editor