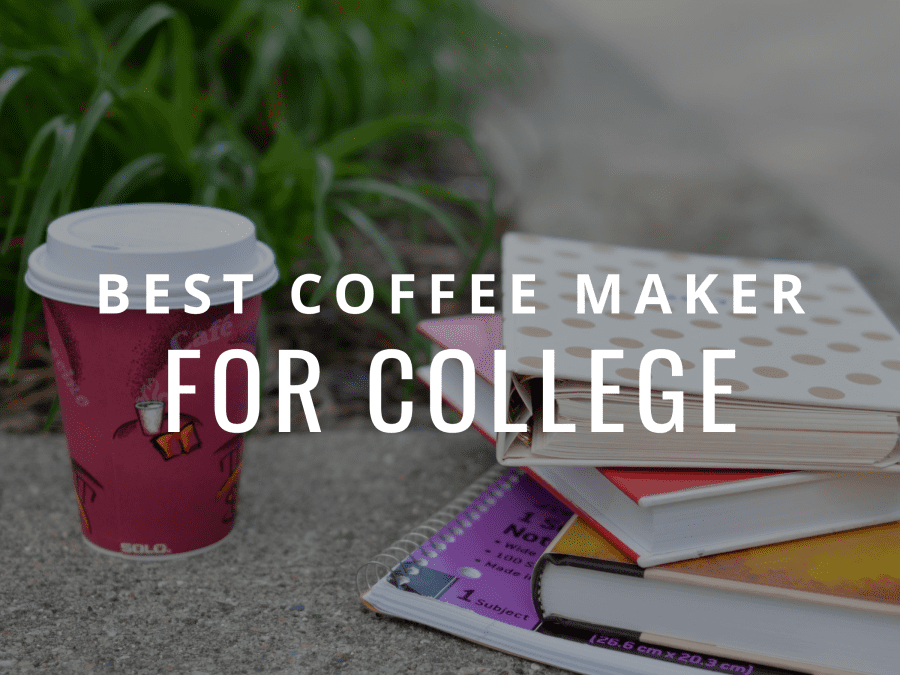 Going off to college. It's a brave new world! You are probably deciding what will fit in your dorm room, what can stay behind, and how you will fit into that twin-sized bed. One thing is for sure, though, you will not be heading into the unknown without a trusty coffee maker by your side.
So, what is the best coffee maker for college? We've put together a list of coffee pots that will fit even in the smallest dorm room. We ranked these best coffee makers based on the amenities it offers, its price, and the overall value for the buyer. On our list you will find:
Machines that can fit easily into a small dorm room.
Single-serve coffee makers
Specialty fast-serve espresso machines
Machines with automatic off functions
And more!
Want the quick summary? (Because you have to study right?!)
Our top pick for the best coffee maker for college is the Cuisinart Single-serve coffee maker. This machine is one of the most versatile on our list and has a mid-range price point. It can brew pods from any brand. And the best part is you can even use the hot water function to make your morning oatmeal or a late-night instant soup.
Cuisinart SS-10CRM Premium Single-Serve Coffeemake, Cream
K-Cup compatible brewer makes one cup at a time, Compatible with any brand of single cup pod...
5 beverage sizes: 4-12 oz, Removable 72-ounce water reservoir, Charcoal water filter
Hot water button lets you enjoy instant coffee, soup, tea and hot cocoa; Rinse feature instantly...
Last update on 2023-03-21
Perfect for the broke college student or well off student needing to keep things efficient while having their coffee for those late night cram sessions.
---
Our List of 9 Best Coffee Makers for College
Standout features:
Brews any pod brand
5 Beverage sizes
72 oz Water tank
32-inch cord
Auto on/off
Adjustable temperature control
Hot water button
Charcoal water filter
Reusable filter for ground coffee
Programmable coffee maker
Things We Like:
Most dorms ban cooking appliances. This means that toaster ovens, hot plates, and coffee makers with hot plates are a no-no. However, this Cuisinart coffee maker has no hot plate and should enter most dorm rooms without a fuss.
You can use it to brew K-cup pods or any other brand of coffee pods. It also has a hot water button, which means you can use this coffee machine to make tea, hot chocolate, and even instant soup.
The drip tray will pull out to accommodate larger mugs or travel mugs. Its extra-long cord makes it easy to plug into the nearest outlet. It will also turn itself off automatically which is a great safety feature for dorm life.
Things We Don't Like:
This machine can do a lot of things! However, it is a single-serve so you can only make one cup at a time. This is not necessarily a bad thing though since it can heat up almost instantly when you want to brew a fresh cup of coffee.
What others are saying about this machine: This machine got thousands of positive reviews on Amazon. Many customers say that this machine works even better than a Keurig.
Our Verdict:
We like the versatility of this Cuisinart coffee maker. Not only can you choose your favorite coffee pod brand, but you can also use ground coffee, or make instant soup or oatmeal with this machine. This machine has a mid-range price and is a great coffee maker for college life.
Can't get enough Cuisinart? Check out our full guide and review of all the best Cuisinart coffee makers on the market.
Standout features:
Coffee, Specialty, Cold Brew, Over ice, Hot Tea, Iced Tea
6 brew sizes
Thermal carafe
Separate coffee and tea filter baskets
Fold-away milk frother
Pauses when it runs out of water
24-hour programmable coffee maker
Things We Like:
If variety is the spice of life for you, the Ninja Hot and Cold Brew System can be a good choice. This machine is in the category of drip coffee makers, but it can do so much more!
You can use this machine to make a faster cold brew, iced coffee, hot tea, or iced tea in addition to regular coffee. You don't have to worry about tea that tastes like coffee, or coffee that tastes like tea, either. This machine comes with two separate filters so that your drink of choice has a rich, clean taste.
The Ninja also comes with its own built-in milk frother to add that coffee shop touch to your drinks. You can choose to brew a full pot or use it as a single-serve. This machine can fit into your life as a college student perfectly.
Things We Don't Like:
This Ninja has a lot of awesome features. However, the price is in the neighborhood of $200, which makes it one of the most expensive coffee makers on our list.
What others are saying about this machine: Most customers agree that the Ninja Hot and Cold works just as advertised and is well worth its price tag.
Our Verdict:
If money is no object (full scholarship maybe with extra cash left?), the Ninja Hot and Cold Brew System can be perfect for a college dorm. This machine allows you to make enough coffee for several friends at once, or you can use it as a single-serve coffee maker. You can get great-tasting coffee or espresso like beverage with this machine.
Can't get enough Ninja? Check out our full guide and review of all the best Ninja coffee makers on the market.
Standout features:
Single-serve coffee maker
No pods or filters required
Reusable filter basket
Regular or bold brew
User friendly
Brews directly into a mug or 14 oz. travel mug
Made from durable stainless steel
Safety features
Easy to clean
Things We Like:
The Hamilton Beach single-serve coffee maker is a great machine for college students who want a quick cup of coffee in the morning. This machine does not use pods or paper filters. This means not only more flexibility on which type of coffee grounds you can try, but also cost savings and less clutter.
It also gives you the option of regular coffee or a bold brew flavor. You can brew directly into a 14 oz travel mug so you can easily take your coffee on the go (Don't be late for class!).
The Hamilton Beach won't brew if you don't have water in the tank. This is a nice safety feature that also protects the life of your machine.
Things We Don't Like:
While some machines allow you to use grounds or pods in the same machine, this coffee maker uses only coffee grounds. So, if you are used to the ease of popping in a pod that contains exactly how much coffee you need, this could be a drawback.
What others are saying about this machine: Many customers found this Hamilton Beach coffee maker easy to use and clean. They liked the fact that you can get two different tastes out of the same cup of coffee with the bold and regular options. Customer service was helpful in resolving any problems customers ran into.
Our Verdict:
If you are looking for a regular coffee maker that can make a single cup, the Hamilton Beach can be a good option. You don't have to worry about finding the right brand or pod size that will fit your machine. This means less money to spend and it gives you the freedom to try different kinds of coffee that you can grind fresh.
Special Features:
15 bar pump
Self-cleaning
Built-in milk frother
One-touch brew selections
Gourmet espresso-based drinks
Things We Like:
If you want to turn your dorm room into a small coffee shop, The Mr Coffee Cafe Barista can help you make your dream come true. This semi-automatic espresso machine can make authentic espressos, cappuccinos, and lattes with its 15 bars of pressure.
Choose between one or two shots of espresso and whether you want to create a latte or a cappuccino. Then the milk frother will do the work for you.
If you want a regular coffee, you can use this machine to make an Americano which is pretty close. You can become your very own barista with this Mr. Coffee Cappuccino Maker. At the end of the day, it certainly beats drinking cafeteria coffee!
Things We Don't Like:
After you finish brewing coffee, and frothing milk you will want to be sure to clean the machine thoroughly and empty the milk tank. There are a few more parts to clean on this machine than other coffee makers and unfortunately, none of them are machine-washable.
What others are saying about this machine: Most users loved the taste of the specialty coffee drinks the Mr. Coffee makes. Many also commented that this machine is one of the easiest espresso machines to use.
Our Verdict:
We love how easy it is to make a specialty coffee drink with this espresso machine. Although it is one of the more expensive coffee machines on our list, this one-time purchase may save you from needing to buy $5 cups of Starbucks. In your college career, it may pay for itself! This Mr. Coffee Cappuccino Maker is sure to make your dorm room the favorite hang-out spot.
For more of Mr. Coffee's best coffee machines, check out our full review and comparison.
Standout features:
Fast water heat-up
Equivalent of 19 bars of pressure
Quick and easy pod machine
One-touch brewing process
Coffee or espresso
Automatic power off
24 oz water tank
Easy to take on the go
Easy cleaning
Things We Like:
If you are a fan of espresso or like the taste of strong coffee, this Nespresso Espresso machine by De'Longhi may be for you. This coffee maker uses pods to make either a long or short espresso. With just the touch of a button, it will quickly brew you up one cup. Nespresso's patented pressure system will give you the equivalent of 19 bars of pressure to make a creamy cup of coffee.
This machine also heats quickly in 25 seconds to give you a fast and simple brew. The 24 oz water tank gives you enough water for 9 cups of coffee without the need to refill.
In 9 minutes, it automatically turns off on its own so you don't have to worry about whether or not you turned off your coffee pot while in class. Most machines even include an Espresso Original capsule welcome kit with a range of capsules to get you started.
Things We Don't Like:
The main drawback to this machine is that the Nespresso pods may be more difficult to find than the K-cups. Also, the cord is shorter than many coffee makers which may limit where you can set up your machine.
What others are saying about this machine: Many other users valued the Nespresso's compact size. Also most agreed that the machine is easy to use and their cup of espresso comes out hot. Replacement parts may be more difficult to find for this model, however.
Our Verdict:
If you enjoy the rich flavor of espresso in the morning, the Nespresso Inissia espresso machine is a great way to get one in a quick, no-hassle way. You also can easily take the machine to a study night since it is lightweight and comes with a handle. However, if you prefer a more standard-sized cup of coffee, you may want to look at another option.
For a more in-depth discussion, check out our full Nespresso Inissia review.
You may also consider the Nespresso Essenza Mini as a compact pod espresso option too.
#6. Keurig K-Mini: Simple Pod Machine with Tiny Footprint
Standout features:
5-inch footprint
Auto-off
Brews a 6-12 oz cup of coffee
Compatible with reusable pod
Easy to clean
Things We Like:
The Keurig K-mini takes up very little space which can be a big plus when you are trying to fit all your belongings into a tiny space. You can use it to brew K-cup pods or your favorite ground coffee.
It is energy efficient and turns off after 90 seconds. This small coffee maker lets you brew the size of coffee you want from 6 ounces to 12 ounces. You can store the cord and take your coffee machine with you to study with a friend.
Things We Don't Like:
This Keurig only holds water for a single cup. So, you will need to refill your Keurig for each cup of coffee you brew.
What others are saying about this machine: Most customers liked that the Keurig K-Mini is easy to use, easy to clean, and fits well into a small space.
Our Verdict:
The Keurig K-Mini is a good coffee maker for fitting into a small space or taking with you on the go. It brews using Keurig K-pods, however, you can choose your own ground coffee favorite when you use the reusable filter. This machine has a pretty mid-range price, as well.
For a more in-depth review and look at the Keurig K-Mini, check out our full beginners report.
For a full list of the best Keurig coffee makers, check out our ranked and reviewed list of Keurig's top machines.
Standout features:
Brews in under 4 minutes
Concentrated coffee
Includes measuring scoop and BPA-free insulated tumbler
Brews directly into tumbler
Brew pause feature
Things We Like:
This Mr. Coffee Iced Coffee Maker is perfect for college students who drink their coffee iced 99% of the time. This personal coffee maker brews concentrated coffee over the ice in your travel mug so you never have a watered-down flavor.
You can get a fresh cup of iced coffee in just under 4 minutes. This machine is compact and lightweight to fit easily into a college dorm room.
Things We Don't Like:
The Mr Coffee Iced coffee maker makes great coffee, but lacks versatility. It brews hot concentrated coffee that is designed to mix with your ice and melt into the perfect cup of coffee. So, this brew may be a bit too strong to drink as regular hot coffee.
What others are saying about this machine: Most customers enjoyed the flavor of their Mr. Coffee iced brew and appreciated its low price tag.
Our Verdict:
The Mr. Coffee Iced Coffee maker is a great low-cost option if you are a fan of iced coffee as your primary brew of choice.
Standout features:
Makes 10 oz of coffee
No-leak, no-sludge coffee maker mug
Durable
Portable
Insulated double-walled stainless steel
BPS/BPA-free
Things We Like:
The Espro travel coffee press is a way to make 10 ounces of freshly brewed coffee while you are on the go. All you need is access to hot water. You simply fill the filter basket with your favorite coffee grounds and add hot water.
After the coffee has steeped, you will want to press down the filter to stop extraction. This can give you a rich-tasting french press coffee while you are heading to your first class of the morning.
You can also use this press as a regular 14 oz. travel mug if you wish. The mug is made out of stainless steel which means that it should be durable for a fast-paced college lifestyle.
Things We Don't Like:
The main drawback we see for the Espro is that it doesn't make its own hot water. This means that you need access to a microwave or stove to be able to make your coffee.
What others are saying about this machine: Most customers enjoyed the taste of this French press brew, however many noted that there was a learning curve to get the right coffee to water ratio. Customers were pleased that this machine keeps coffee hot for up to two hours. Many wished for the mug to leave more room for adding cream.
Our Verdict:
We like that the Espro Travel Coffee Press is a simple brewer and flexible. You can use it to make your coffee, keep your hot chocolate hot, or keep a smoothie cold in it. Perfect for the college student who appreciates a robust pressed coffee flavor on the go and doesn't mind a little bit of trial and error to get it.
Standout features:
BPA-free airtight seal
Borosilicate glass carafe
Rubber base
Labels on carafe
Stainless steel reusable filter
Designed to fit in the fridge
Things We Like:
Cold brews are known for low acidity, rich flavor, and a little extra caffeine. So, if you love the taste of coffee, but the acid is too much for your stomach, this cold brew maker may be a good option for you.
With the Ovalware Cold Brew Coffee and Tea Maker, you can brew your favorite drink without heat. Simply add ground coffee to the filter inside the glass carafe and let your grounds steep overnight in the fridge.
The labels on the outside guide you towards executing the recipe correctly without the need to measure your water separately.
The airtight seal on the pot allows you to keep your one liter of cold brew for up to two weeks. This means that you can have fresh coffee ready in your mini-fridge whenever you need it. You can try this pot out risk-free with its 30-day return policy.
Things We Don't Like:
The Ovalware requires a 12-hour brew cycle which means you will have to plan ahead to make your brew.
What others say about this coffee maker: Most customers loved the sleek look of the Ovalware pot and its price. However, some were expecting it to brew coffee concentrate and found that it brewed coffee instead. An easy fix would be to just adjust the coffee to water ratio you use.
Our Verdict:
We like that the Ovalware Cold Brew Coffee and Tea maker can brew a pot of coffee without needing a plug or heat. This method is one of the simplest coffee makers for college use, requiring the least amount of resources.
Interested in trying a different brew method? Check out our full guide on how to find an automatic pour-over coffee maker that works for you.
A Guide to Buying the Perfect College Coffee Maker
Searching through the hundreds of possibilities out there for the perfect pot can be a bit overwhelming. That's why we like to think first about what we want our coffee pot to do, and then see which coffee machine out there matches our criteria. You want a pot that will last at least 4 years and keep you well-caffeinated while you study. Then once you get your dream job, maybe you'll trade out your machine for the dream espresso machine you've always wanted.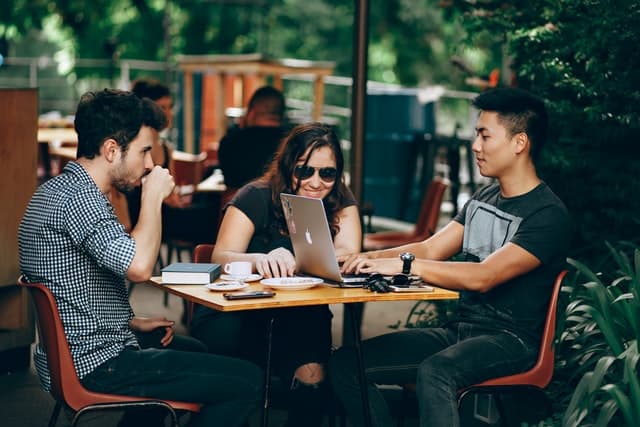 Here are some of the criteria we used to find good coffee makers for college students you may also want to use as well:
Fits easily into a small space
Whether you are living in a dorm room or are moving into an apartment with friends, you will have to share the space. This means that the smaller the footprint of your machine the fewer fights you will have with your roommate over who hogs the most space.
Easy to use
After you spent the night cramming, you probably don't want to be messing around with a tricky coffee pot first thing in the morning. A no-hassle coffee pot that is straightforward to use will save you time and mental energy.
A quick brew time
No one wants to be showing up late to class because of a cup of coffee. However, you also don't want to sacrifice that first cup of caffeine to be on time. Many single-serve coffee makers will brew a good cup in a short amount of time.
Single-serve coffee option
Not only do single-serve coffee makers brew coffee quickly, but they also ensure that you have fresh, hot coffee at any time of day.
No hotplate
Our best coffee machines for a college dorm do not have hot plates. This is because most campuses do not allow you to bring a coffee maker with a hot plate into a dorm room. It would be a shame to invest in your perfect coffee maker for college and then have to leave it at mom and dad's because it has a hot plate.
Can travel easily
We found several coffee makers that brew directly into a travel mug so you can take your coffee with you. Also, some of these coffee makers are lightweight enough that you can pack up the whole machine if you need to.
Can be programmed in advance
Some of the machines on our list can be set up the night before so it brews right before your first class of the day. The smell of that coffee will be better than an alarm clock!
We selected coffee makers that contained some or several of the above criteria to make coffee-making at college the best experience possible. You can decide which amenities are top-priority for your specific needs.
FAQs
Are coffee makers allowed in a dorm room?
Most colleges will allow you to bring a coffee maker to your dorm room. However, many dorms will not accept a coffee maker that has a warmer burner. This is important to keep in mind when you choose your machine. Pro tip: Most coffee makers with glass carafes have warmer burners. However, most brewers with a thermal pot will not have a warmer burner.
How many scoops of coffee should I use per cup?
A coffee scoop is equivalent to 2 tablespoons. On average, coffee drinkers will add one scoop of coffee per 8 ounces of water to make drip coffee. However, if you enjoy a stronger tasting brew, you can choose a higher coffee to water ratio.
Can I froth milk without a steam wand?
Yes! Turns out you don't need an expensive machine to top off your drink with frothed milk. You can use a blender, a whisk, and even a French press to froth your milk to perfection. Or, you may decide to make your own cold cream, instead.
Final Verdict
Starting off to college is a new adventure. And, a good coffee pot can help you start off your college career on the right foot.
There were a lot of great coffee pots on our list, but we decided to name the Cuisinart Single-serve Coffee Maker as our best coffee maker for college. This coffee machine allows you to brew any pod from any brand. It can be programmed in advance. Takes up minimum space and resources. And you can also use it to heat water for an instant breakfast or lunch!
We'd love to hear which coffee maker you decide to take off to college with you and why it's your favorite. May your coffee be strong and your new experiences delightful!
Want more brew styles? For a full list of the best coffee makers to choose from, see our Guide on the Top Coffee Machines for Beginners.
Coffee Has Never Read This Good!
Sign up for a FREE newsletter to the best home brewing tips and guides
Thank you for subscribing to The Cup Coffee House Crew! There's a surprise in your Inbox 🙂
Something went wrong.
About the Author
Latest Posts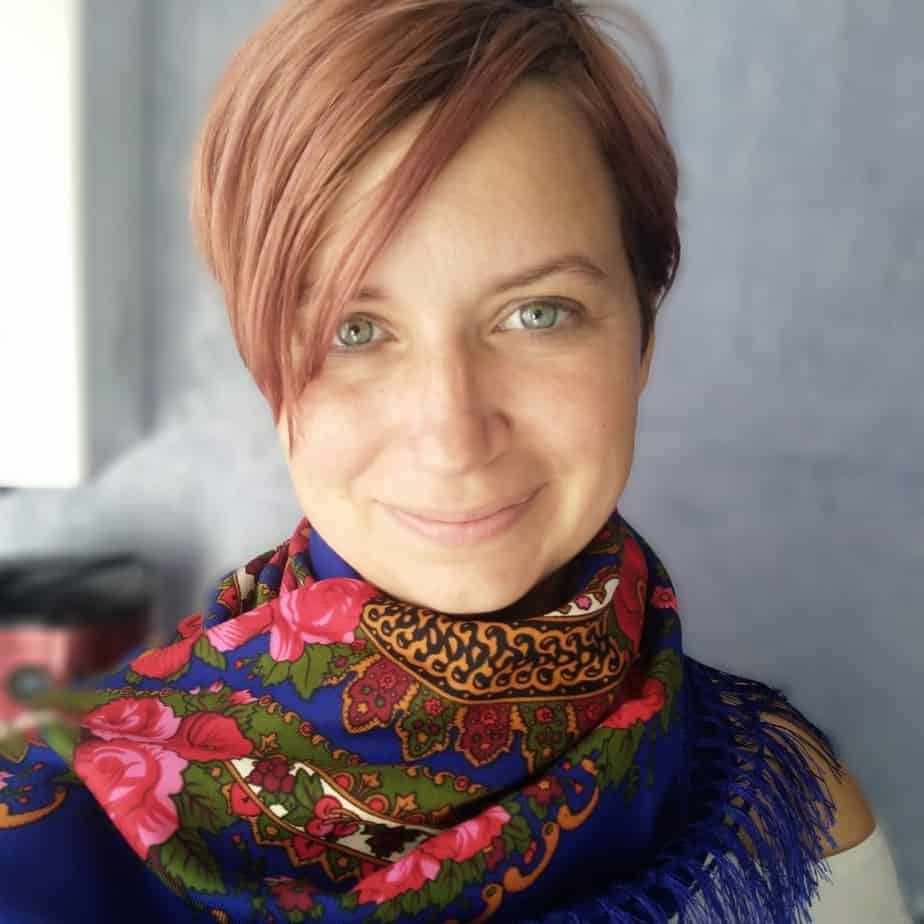 Alex Praytor worked her first job as a barista, finished college, and then took a tour to the other side of the globe. She fell in love with espresso and her would-be husband in Europe. She spends her spare time visiting native Texas landmarks, ancient castles, and all the coffee shops she finds along the way. At home, she is a mom, ESL teacher, and writer, who hones her coffee-making skills daily. She enjoys passing on her coffee findings to fellow caffeine addicts in search of the perfect cup.
Chief Editor