Last updated on June 21st, 2023 by Alex Praytor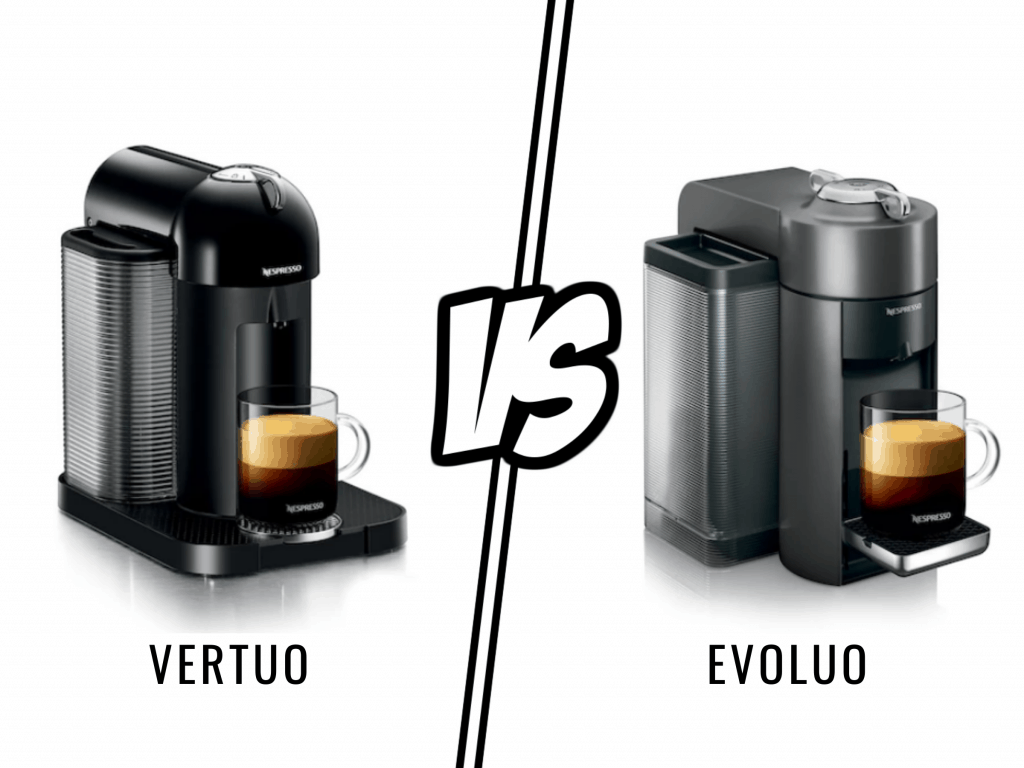 Espresso can be the perfect drink to get you started in the morning. Its rich flavor and smooth texture include everything we love about a coffee packed into a demitasse.
But while we may love the taste of espresso and our favorite coffee drinks, we may not always want to be an in-house barista the first thing in the morning. Nespresso has come out with machines that can fill our need for espresso (and also regular coffee!), with just the touch of a button. 
In this quick article, we will do an in depth review, analysis and comparison of Nespresso's brand and popular Vertuoline machines, discussing the pros and cons of each individual model to help you make the best decision for your lifestyle.
Want the quick summary? In our assessment of the Nespresso Vertuoline vs Evoluo we found both are similar espresso machines made by the Nespresso brand and fall under the Vertuo-line of coffee makers. While the Vertuo and Evoluo have many of the same features, there are some differences as well. 
The Vertuo is smaller in size than the updated Evoluo and may be for the person who is space conscious. But the Evoluo comes with a bigger storage area for water and waste and has a bigger heating unit, ideal for the person looking for the best value. 
---
The Brand: Is Nespresso Worth the Money?
The Nespresso brand is known for its delicious brews and user-friendly machines. As they began their flagship models in the European market, they put a greater amount of effort into the flavor and quality of their espresso drinks than other brands. While other name-brand pod machines simply make a highly concentrated coffee and call it espresso, Nespresso created a pod machine that is capable of creating pressure, without a pump, to create a much more richly flavored espresso drink.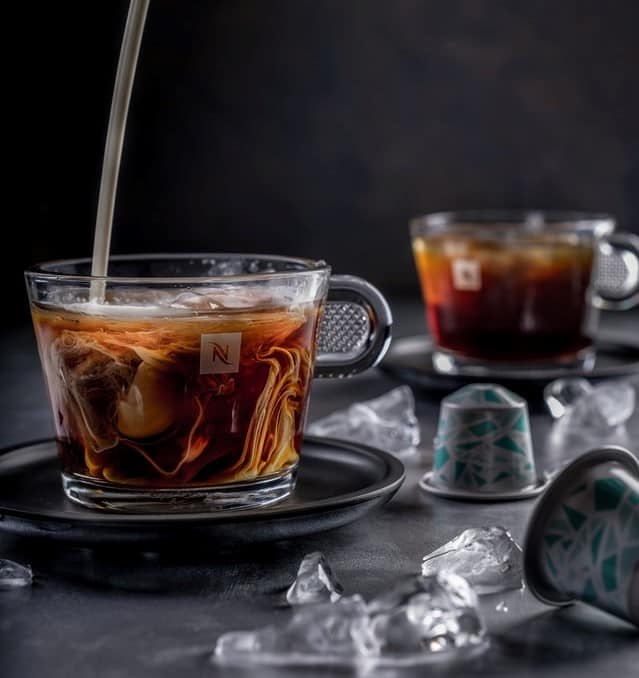 The Nespresso brand also is conscientious about the coffee bean's process from the farm to the pod. Nespresso is much more concerned with quality than quantity, which is part of the reason it comes with a higher price tag. You get what you pay for right?
And while they may not have as wide of a pod selection as other pod brands (ie. Keurig), the coffee pods that they do offer have a deliciously smooth flavor.
Nespresso also partners with other big name manufactures in the coffee genre such as DeLonghi and Breville. These partners share expertise and innovative ideas to continuously make improvements to their coffee machine models.
Is Nespresso Vertuo and VertuoLine the same thing?
There can be a bit of confusion around the "Vertuoline" name. Many use it as the name of a particular machine or as a brand name. So, we are here to help to set the record straight! 
Vertuoline refers to a particular line of machines under the umbrella of the Nespresso brand. Nespresso has a Vertuoline and an Original line. While there is a machine that is called "Vertuo" it seems a bit redundant to call it a "Vertuoline Vertuo", so many shorten it to just "Vertuoline" or to "Vertuo". The Evoluo is another machine in the Vertuoline or Vertuo Line of machines. 
Who the Vertuoline Machines are made for…
For those who enjoy drinking espresso, but don't enjoy worrying about time, temperature, grind size, or cleanup, the Vertuoline machines are worth looking into. Both the Evoluo and the Vertuo offer a smooth, flavorful shot of coffee with a simple touch of a button.
If you have housemates or colleagues that prefer a regular cup of coffee, they can get that too! These machines allow each person to choose the size and strength of their coffee on an individual basis. The Vertuoline machines can be a good mid-range choice for those who want a reliable and quick cup of coffee. 
If you are a stickler for authentic crema, it may be worth your time and money to budget for a traditional espresso machine. Nespresso's Vertuoline is a quality machine for those who appreciate a fast, reliable cup of coffee.
Nespresso Vertuoline vs Evoluo: The Common "Grounds"
There are many features in the Vertuoline that the Vertuo and Evoluo machines both have in common. Some of these features include:
Standout Features
Centrifusion extraction technology
One-touch brewing system
Fast heat-up
Automatic shut-off
Waste ejection and storage
5 cup sizes
Centrifusion extraction technology
The centrifusion extraction technology is the main highlight of the Vertuoline machines. True espressos are formed by using at least 9 bars of pressure to extract coffee with an espresso machine. 
Centrifusion technology is designed to recreate pressure (without a pump) by spinning a pod at high speeds, up to 7000 rotations per minute! This generates pressure to give you a rich-flavored drink and also leaves creamy coffee foam on top.
Many serious espresso fans can tell the difference between the "crema" made by an espressor and that made by a Vertuoline. Still, Nespresso offers a much more simple and reliable way for many to drink an espresso at home. The Nestle brand definitely offers the best pod-version of espresso that I have tried!
When you want a regular American-style coffee, the centrifusion feature will gladly take a backseat.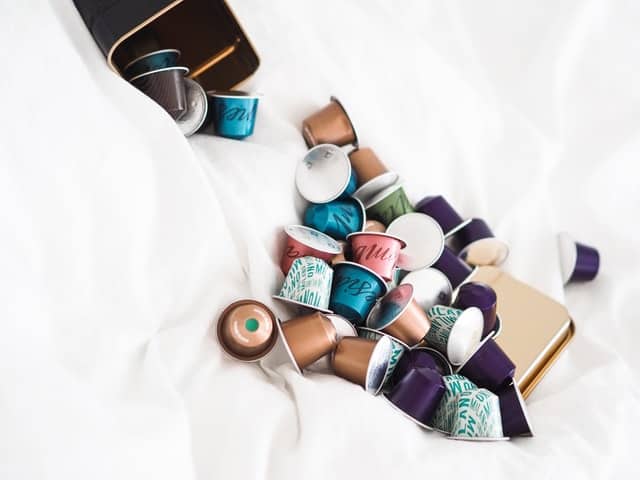 One-touch brewing system
One reason to love the Vertuoline is its ability to make your coffee drink with just a touch of a button! The machine is designed to read the barcode on each capsule and will make your drink accordingly.
So, for mornings when you'd rather be sleeping than waking up to your alarm clock, you can simply pick out your preferred pod and receive a cup of hot coffee in a minute or less. This machine accepts 2 sizes of pods, small espresso pods, and larger pods for regular coffee.
Fast heat-up
The time it takes to heat up the water for your coffee is a fast process with Vertuoline machines. In a matter of 15 seconds, it is ready to make a steaming cup! Since this is a single-serve pot, your cup of coffee can be ready to go in less than a minute.
This is a much shorter timeframe than many of its competitors can boast! The quick turn-around is perfect for mornings when you are needing to get out of the door in a timely manner. 
Automatic shut off
Nespresso's Vertuoline machines save energy by shutting off automatically after 9 minutes of inactivity. While some consumers may balk at such a quick shut-down, the good news is that the water can readily heat back up in just 15 seconds. This feature can also extend the life of your machine through its energy-saving tactics.
5 drink sizes
With the Vertuo and Evoluo, almost any coffee drinker can settle on the size and strength of coffee that is just right for them.
Both models offer 5 different options to choose from for your morning cuppa. You have 2 espresso sizes from which to choose, or you can choose between 3 regular coffee cup sizes ranging from 5 to 14 oz. 
Waste Ejection and Storage
Not only are the Vertuoline machines capable of making your coffee in less than a minute, but they also clean up after! As opposed to other coffee brands which force you to dig out your pods from the machine, the Vertuo and Evoluo eject the waste and store it afterward.
This feature can be especially useful at a workplace or a busy multi-person household. When you are queuing up for coffee, no one will have to hurriedly clean up the coffee machine in order for the next person to have a turn. 
Cons and Limitations
The most common complaints with the Vertuoline are:
The machines are more expensive than their competitors and
Pod selection is limited.
Many consumers have been disappointed to find that their favorite flavors of Keurig K-cups are not compatible with the Nespresso machine. 
For many, Nespresso pods are also more difficult to find on the shelves of their neighborhood grocery store. Some customers resolve this situation by buying their pods off Amazon.
Although it is true that the selection in Nespresso pods is much more limited than other brands, Nespresso pods are made using quality, great-tasting coffee. Also, the pods are recyclable to reduce waste in the environment.
While the Vertuo and Evoluo machines share many of the same characteristics as seen above, they are not identical twins! Let's look at the 2 machines and some of their key differences…
Nespresso Vertuoline vs Evoluo: The Differences
The Nespresso Vertuo
The Nespresso Vertuo has a compact footprint and is a little smaller in size and weight than the Evoluo.
In addition to its size being smaller, its storage capacity is also smaller than the Evoluo. This machine will hold 40 oz of water, which is enough to brew 6-8 cups of coffee.
The Vertuo is also capable of storing up to 13 large coffee capsules to save you some cleanup after you use your machine.
The outer shell is made out of durable plastic. This machine has several thousand positive ratings written by customers who were satisfied with the quality of their machine.
The main issue with the Vertuo machine for many consumers was the fact that their coffee was only warm when coming out of the machine and not hot. This very possibly has to do with the crema-like topping the machine makes. (Espressos are generally not as hot as a regular brewed coffee). Many customers resolved this issue by heating their coffee cups beforehand with hot water. This allowed their coffee to retain as much heat as possible. 
Another issue for some could be the price of the machine. While coming well under the price range of many espresso machines, the Vertuo is considerably higher than an average drip coffee maker. 
The Nespresso Evoluo
The Nespresso Evoluo is slightly larger than the Vertuo (by about 1 inch on all sides).
It also boasts a larger water tank and waste storage capacity. The water tank will hold 54 oz of water, which allows it to make about 3 more cups of espresso or coffee than the Vertuo.
And the Evoluo can eject and store 17 large coffee capsules.
Since there were many consumer complaints about the coffee temperature with the Vertuo model, Nespresso listened to its customer base. When they created the Evoluo model, Nespresso also included an upgraded heating system in the machine. 
There were not many complaints centering around the Evoluo model. The main negative aspect of this model could be the price range. It is often (although not always!) sold at a higher price than the Vertuo model and its competitors.
Summary and Rundown
Both machines are high-quality coffee makers that provide a lot of value to their consumer base. Especially for those who are partial to a morning espresso, the Nespresso VertuoLine machines are some of the best on the market for a high-quality taste and simple brew method. But, for those who prefer a regular mug of coffee, you can also receive a quality cup… and choose your size!  
The Nespresso Vertuo is a more compact design and can often be found at a cheaper price than the upgraded Evoluo.
The Nespresso Evoluo on the other hand is a slightly larger, heavier machine that is able to hold more water, more waste, and has a stronger heating element.
Nespresso Vertuoline vs Evoluo: Our Pick
With so many similarities, you really can't go wrong when deciding between these 2 machines. Both the Nespresso Vertuo and Evoluo have excellent features and make a delicious cup of coffee as simply as possible. 
As I sorted through the pros and cons myself, I would lean toward the side of the Evoluo. This machine offers a hotter cup of coffee, larger water capacity, and more waste storage. 
If space is an issue, the amount of counter space that you would save when going with the smaller Vertuo model is only a matter of about 1 inch. And the difference in price isn't that much compared to the extra features you get with the Evoluo.
Final Thoughts
The Nespresso Vertuoline coffee makers are solid machines that certainly have a wide fan base. Since they were more widely introduced in Europe, the Vertuoline puts extra thought and care into its espresso. The Vertuo and Evoluo are both quality machines with just a few differences. Whether you choose a machine that makes a hotter cup of coffee or decide in favor of your wallet, either choice can be a win.  Once you have a Nespresso Vertuo machine, this article will help you with maintenance and descaling. We hope you find the best machine to fit you and your household! 
If Nespresso is too rich for your pocket book, check out this list of best budget friendly espresso makers. There are even quality espresso makers you can find for under $100! We also love the Gaggia and Verismo espresso makers as other high quality options to consider.
For more Nespresso coffee machines, check out these reviews:
Coffee Has Never Read This Good!
Sign up for a FREE newsletter to the best home brewing tips and guides
Thank you for subscribing to The Cup Coffee House Crew! There's a surprise in your Inbox 🙂
Something went wrong.
About the Author
Latest Posts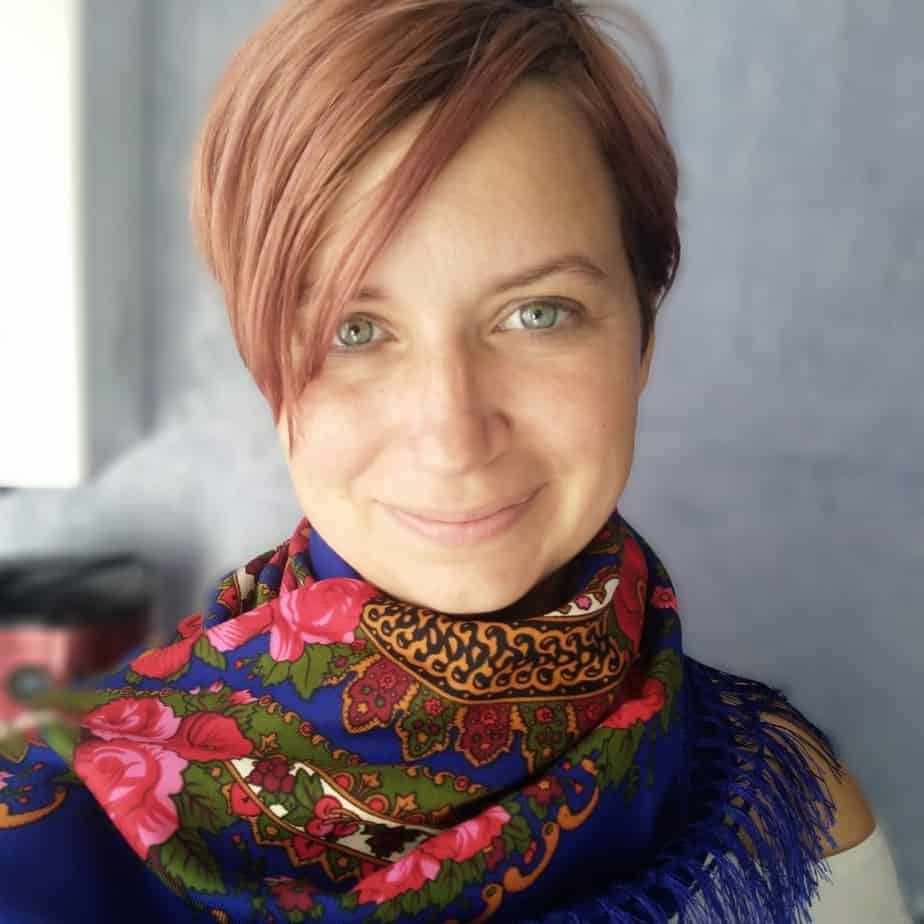 Alex Praytor worked her first job as a barista, finished college, and then took a tour to the other side of the globe. She fell in love with espresso and her would-be husband in Europe. She spends her spare time visiting native Texas landmarks, ancient castles, and all the coffee shops she finds along the way. At home, she is a mom, ESL teacher, and writer, who hones her coffee-making skills daily. She enjoys passing on her coffee findings to fellow caffeine addicts in search of the perfect cup.
Chief Editor