Last updated on December 7th, 2022 by Alex Praytor
The best part of waking up is… coffee, of course. When making the first cup of the day I like to find a machine that makes a reliable cup and is simple to use.
This usually ends up being a drip machine for the morning cuppa. Later on in the afternoon is soon enough for exercising my pour-over skills and other coffee-making methods that are closely akin to alchemy. One design that was attention-grabbing, in a host of other drip machines, is the Hamilton Beach Brewstation.
Want the quick 3 liner summary?
The Hamilton Beach Brewstation falls into the same category as a drip machine, but it has some features that set it apart. This design includes an enclosed tank and a coffee dispenser… which makes it about as simple to get a fresh cup of coffee as it is to get water off the refrigerator door. If you enjoy the idea of a coffee machine that is consumer friendly, easy to clean, and eliminates the need for a carafe, the Hamilton Beach Brewstation may be for you!
Want our full detailed analysis, keep on reading!
---
The Hamilton Beach Brand
If you are in the market for a coffee machine, you've probably come across the Hamilton Beach brand name in your search. This brand has a wide following and is well-known for its  mid-range coffee machines.
Hamilton Beach began in the early 1900's with L.H Hamilton and Chester Beach as founders. Their goal was to find a way to make electrical appliances available, not only for commercial use, but also for the home. They achieved this goal by making lightweight, quality appliances that would go on to become staples in the American home.
Over the last 100 years, Hamilton Beach has expanded internationally and continues to find real-world, innovative solutions to satisfy the needs of its consumer base.
One of their current coffee machines that has created a solid fan base is the Hamilton Beach Brewstation. We heard a buzz about this machine so we decided to check it out for ourselves.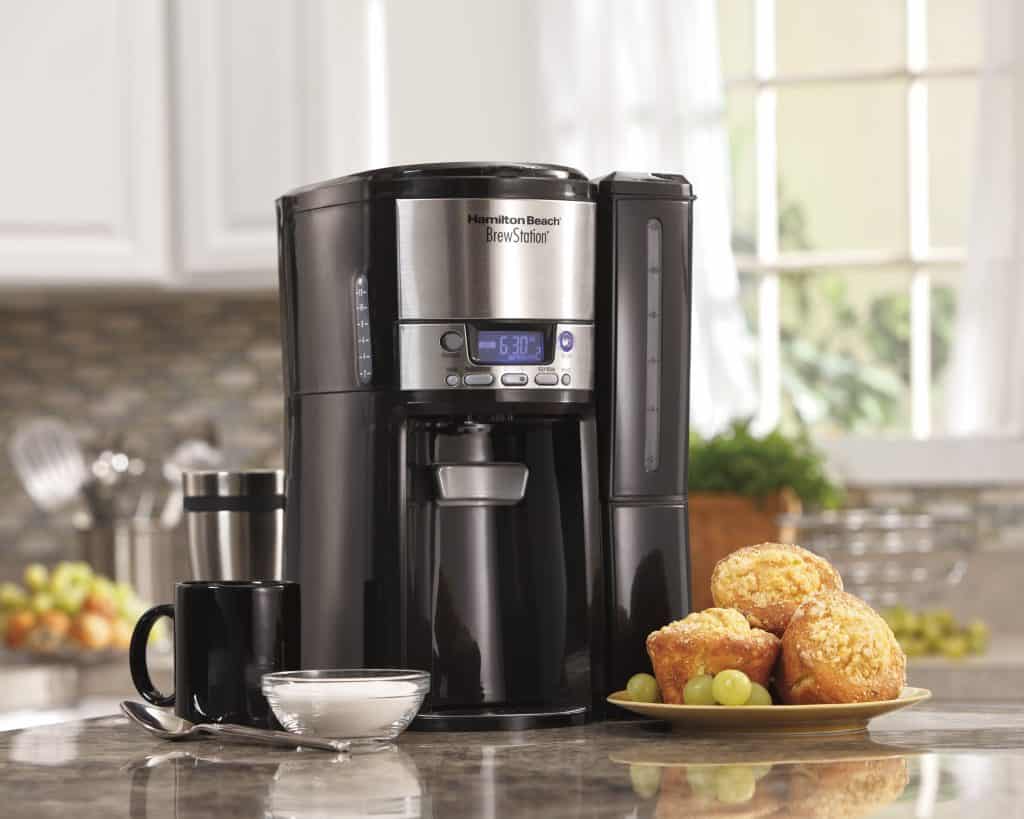 What's So Good About the Hamilton Beach Brewstation?
The features that make the Hamilton Beach Brewstation stand out among its competitors are its:
Enclosed tank 
Automatic Shut-off
Coffee dispenser 
Versatile options 
Iced coffee capabilities
24 hr preset
Important Feature #1: Enclosed Tank
One of the most unique features about this design is its enclosed tank. While most brew machines brew into a separate carafe, the Hamilton Beach Brewstation is designed with the filter just above the coffee reservoir and the brew only leaves this enclosure when it releases into your mug. 
This design should help keep your coffee warmer from the get-go since it drips directly into the warming tank, instead of dripping through the air into an empty carafe like other models. It also eliminates the need for a hot plate (which can create an uneven heating distribution) which saves space for coffee drinkers in apartments or college dorm rooms. The tank can also keep the coffee warm for hours.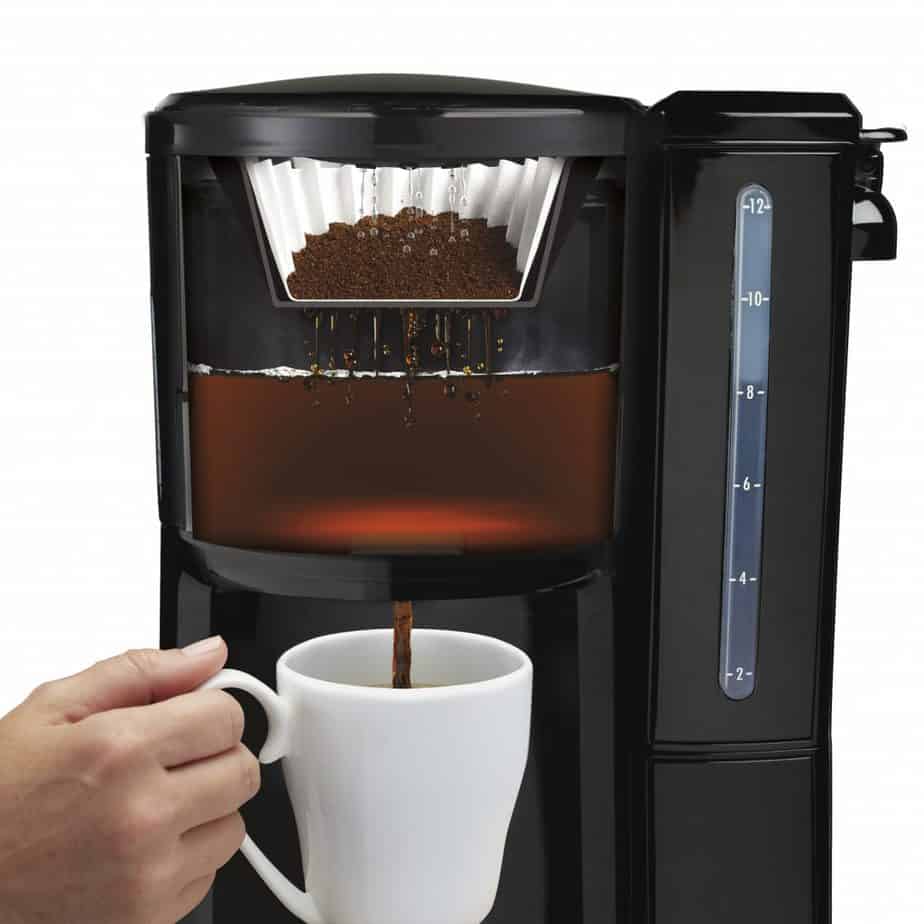 Important Feature #2: Automatic Shut-off
The Hamilton Beach Brewstation has an automatic shut-off as an energy-saving back-up and safety feature. You have the ability to control this feature and program exactly how much time you want to leave the machine running with options ranging from 0-4 hours.
Important Feature #3: Innovative coffee dispenser
A favorite feature on this model is its coffee dispenser, which allows you to fill up a mug directly from the machine. This is a main selling-point for the Brewstation, and helps to eliminate spills and drips you can get with a carafe, or the ever most annoying having to replace a broken carafe.
Important Feature #4: Simple Brew Options
When I am making my first cuppa of the day, I like everything to be as simple as possible. The Hamilton Beach Brewstation allows you a few choices that are relevant to making sure you get your favorite brew, without inundating you with options like some machines.
Who wants to make that many decisions right after waking up? This pot gives you the option of a small batch of coffee, bold or regular strength, and an iced brew option. Done.
Important Feature #5: Makes Iced Coffee
I get excited about iced coffee especially in the summer months, or as a perk-up on a lazy afternoon. While I realize that any coffee can be cooled off and poured over ice, this machine lets you skip a step by brewing your coffee and cooling it all in one step! 
To make an iced coffee in this machine, fill the reservoir up to the 6-cup line and then add ice up to the 10-cup line in the coffee tank. You will want to brew your coffee double-strength. When the brew is done, you can dispense your cold coffee into a carafe or personal cup, and voila! You are ready to drink an iced coffee beverage!
Important Feature #6: 24 hr Preset 
If you want your morning to run like clock-work, you can choose to set up your coffee the night before. This preset option is better than an alarm clock. It can take the stress out of your morning and motivate you to get your day started with the smell of hot coffee ready and waiting for you.
Can/Can't Do (Pros and Cons)
Like every coffee machine, the Hamilton Beach Brewstation has its pros and cons. Here are some of the biggest things we liked and didn't like so you get a well-rounded perspective before you invest in this machine.
One of our favorite features of the Hamilton Beach Brewstation is that it easily dispenses your coffee without the hassle, clean-up, heat-loss, and possible breakage that comes with a carafe. Just press your cup to the dispenser lever and drink up! 
This model also offers a simple selection of options, and is made to be user friendly. I personally love how cleanly all of its pieces pop into place!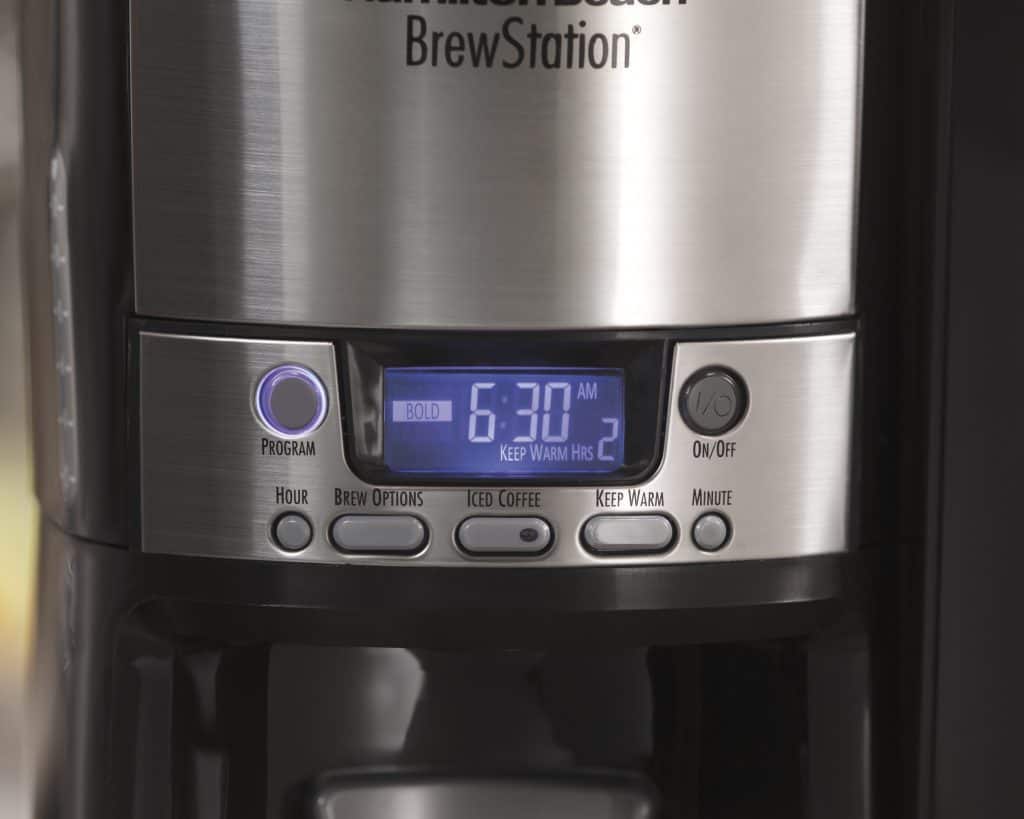 Can use an Even Heating System
Its internal warmer is a big plus. Unlike the usual drip coffee machines' warming burner which tends to scald a pot of coffee, the Brewstation's warmer provides a more even heating system that prevents your coffee from tasting burned. Although I love strong coffee as much as the next person, there is a big difference between a strong, rich brew and a burnt cuppa. 
Can not Allow Individual Preferences
One of the downsides to this machine is that, while it can pour you up an individual cup, it's not capable of making an individualized cup, like a other single serve coffee makers on the market.
For example, in pod machines each member of the household can make their own choice on coffee strength and flavor. When using the Hamilton Beach Brewstation, the early bird gets the worm! Whoever gets to the machine first will set the machine according to their personal preference and everyone that comes after them will be stuck with the choice that was made. On the plus-side, this could be a great motivational tool for becoming an early riser!
Can not Come Without a lot of Plastic Parts
While we love the design of the internal tank, this means your coffee is hanging out longer in a plastic tank instead of a glass carafe. In fact, most of the pieces are plastic on the Brewstation. Depending on how choosy your palate is, this could affect the taste of your brew. 
This machine gives you the option to set a warmer for up to 4 hours but does not allow you to reheat the brew after this time has expired. So, if you are used to turning the burner back on under your coffee later in the afternoon, that will not be happening with a Brewstation.
This isn't a deal breaker for me, though, since my current drip machine has no reheat option (it will just start trying to brew an empty machine), and I own a microwave. Problem solved!
Can not be placed in Dishwasher Safely
While the pieces are removable to better clean out the cracks and crannies, the parts on this machine cannot be washed in the dishwasher.
How to Use a Brewstation Step by Step
The Hamilton Beach Brewstation makes a morning cup of coffee simple and hassle-free. Although this model may look different from other drip coffee makers, you still follow most of the same steps as with a regular machine. Here's a walkthrough for making your first cup of coffee with the Hamilton Beach Brewstation:
Step 1: Fill the water tank
Fill the removable water reservoir at the sink and click it into its place. Using filtered water or distilled water may improve the taste as well.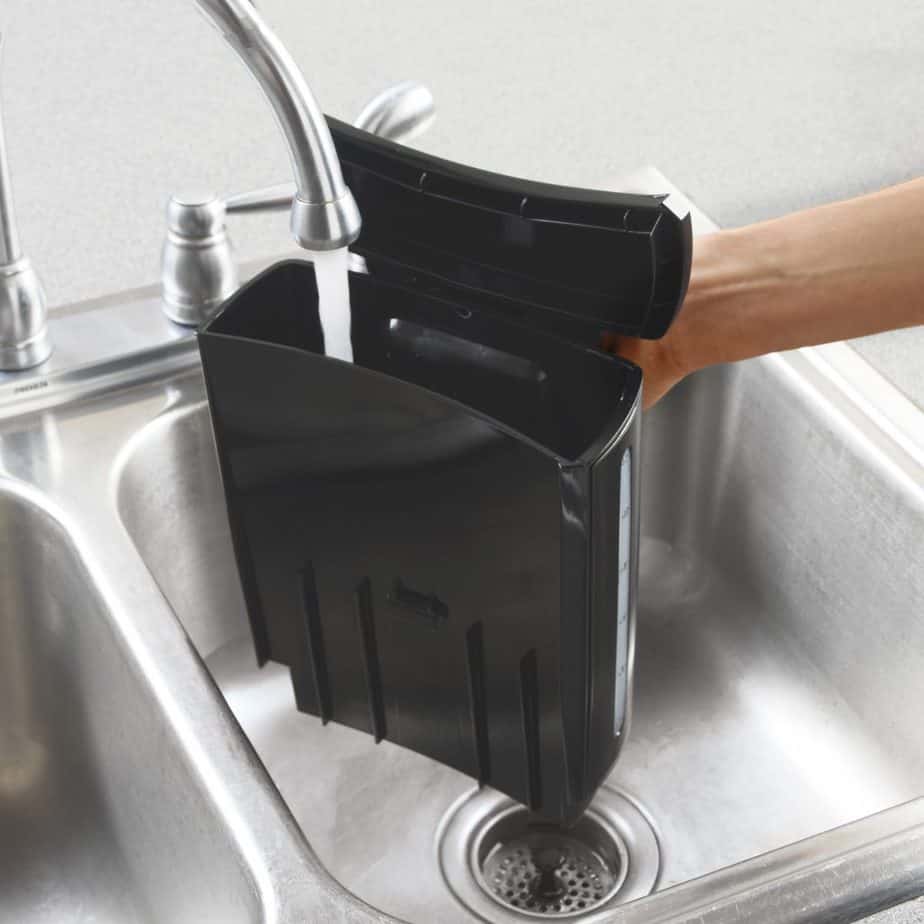 Place a paper filter in the brew basket and choose your favorite coffee grounds (or for the best taste, grind coffee beans fresh!). Paper filter sizes may vary for your version of Brewstation.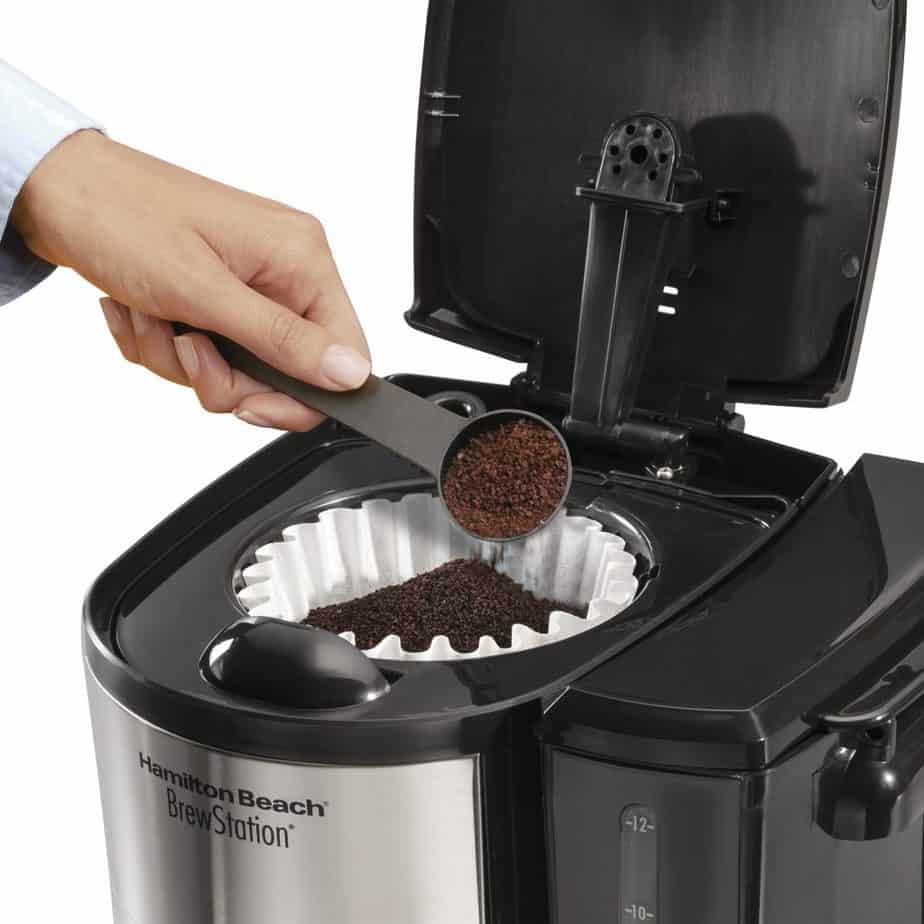 Step 3: Choose your brew option
Add enough coffee grounds for the amount of coffee you wish to make. Then choose from iced coffee, small batch, bold, or regular options.
Step 4: Dispense directly in your mug
When your coffee is done, dispense coffee directly into your mug to get your morning off to a good start with a freshly brewed cup of coffee.
This machine has a design that is easy to operate, and also makes cleaning a breeze! When you are done with your morning coffee, the interior tank and filter basket can be completely removed to be cleaned and set up for the next use! 
What Do the Customer Reviews Say?
After combing through hundreds of reviews, we found most customers are satisfied and even pleased with what the Hamilton Beach Brewstation has to offer! A common thread in these reviews are that:
The machine is easy to clean.
It is simple to use.
They like the fact that there is no carafe to break or to replace.
It fits under a cabinet.
On a negative note, a few customers experienced a leak with their machine. Some said the coffee didn't burn, but over-steeped if left too long with the warmer on.
Also, many customers disliked the rubber feet on the machine. A few found them a hindrance instead of helpful when pulling their machine out from under the cabinet to prepare their coffee.
How Does it Compare to the Competition?
The main competitor vying for the Hamilton Beach Brewstation's spot is the Cuisinart Coffee-On-Demand. Why?
Both the Brewstation and Coffee-on-Demand have a 12 cup capacity, dispenser method, and removable parts included in their designs. They each brew using a filter that fits inside an enclosed tank and neither one uses a carafe or a burner. But there are differences…
The Hamilton Beach gives you options for a stronger brew, or an iced coffee. The Cuisinart does not.
But the Cuisinart does include a helpful tank gauge that shows you how much coffee you still have left to drink in your machine. The Brewstation does too but sometimes not as accurate.
The Cuisinart has an automatic cleaning option. The Brewstation does not.
The Hamilton Beach runs for a price almost half of the Cuisinart. 
While we searched for other models to join the competition, it seems that the Hamilton Beach Brewstation and the Cuisinart Coffee-on-Demand have pretty much cornered the market on machines that brew coffee and are also direct dispensers.
Both these machines are practically the same. But if you want more a few more extra features like auto cleaning and willing to pay the extra price, check out the Cuisinart. But if you like having more brew options, with a cheaper price, then go with the Brewstation.
Final Verdict
Overall, we like the Hamilton Beach Brewstation's unique design. It is hard to find an automatic drip machine that also doubles as a coffee dispenser for this price! 
The Hamilton Beach Brewstation may not be for your if…
If you have a sensitive palate when it comes to coffee, you might not appreciate that this machine is almost entirely made of plastic as this could slightly affect the flavor.
You may appreciate the Hamilton Beach Brewstation if…
We feel that this machine could attract customers who enjoy a reliable cup of morning coffee with a few solid brewing options, and appreciate the easy dispensing method. Also, if anyone has ever struggled to buy a replacement carafe and ended up having to buy a new machine, then the no-carafe Brewstation may be for you!
But if you prefer the carafe based coffee maker, along with quality, then check out the Kenmore Elite. Or maybe you want a solid drip coffee maker that makes quick individualized cups using pop and go pods, then consider a Keurig. If single serve with no pods is your choice, then there are options for that too.
Another option is to also consider a 4 cup or 5 cup coffee maker if you want to still save space but still get the strong brew flavor in a smaller batch. Or start from the top to find the best coffee makers available.
Final Thoughts
The Hamilton Beach Brewstation has a lot to offer in the drip machine coffee corner of the market. We like its user-friendly, no-nonsense approach to coffee. Making your morning cup of coffee just became much simpler with the Hamilton Brew's innovative coffee maker dispenser design! Convinced?
Then Get Your Hamilton Beach Brewstation at Amazon.
Coffee Has Never Read This Good!
Sign up for a FREE newsletter to the best home brewing tips and guides
Thank you for subscribing to The Cup Coffee House Crew! There's a surprise in your Inbox 🙂
Something went wrong.
About the Author
Latest Posts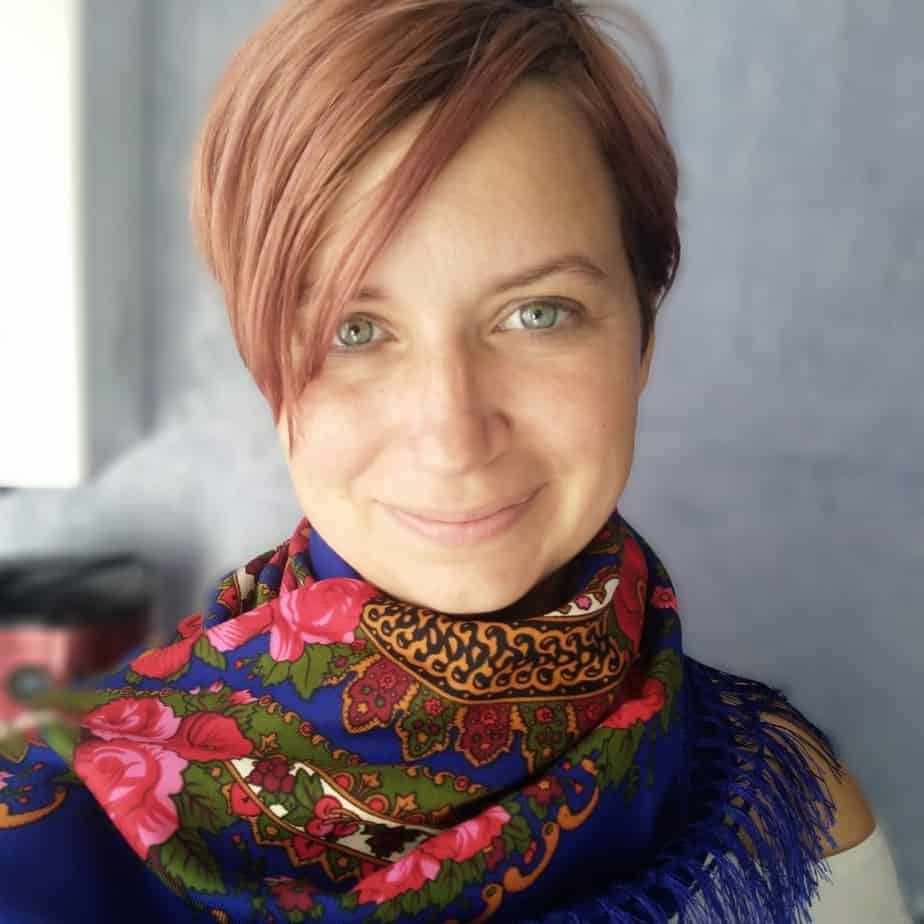 Alex Praytor worked her first job as a barista, finished college, and then took a tour to the other side of the globe. She fell in love with espresso and her would-be husband in Europe. She spends her spare time visiting native Texas landmarks, ancient castles, and all the coffee shops she finds along the way. At home, she is a mom, ESL teacher, and writer, who hones her coffee-making skills daily. She enjoys passing on her coffee findings to fellow caffeine addicts in search of the perfect cup.
Chief Editor