Last updated on November 25th, 2022 by Alex Praytor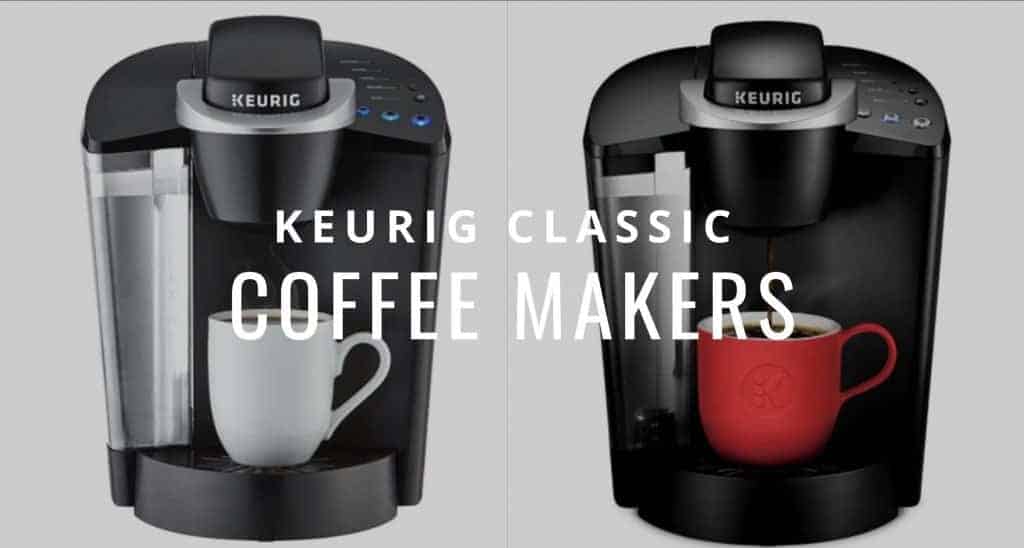 Keurig has been a popular brand on the market since the beginning of their K-cup pods, which deliver a consistent American-style cup of coffee. They have been able to do what other competing brands have not… convince big coffee brands like Starbucks, Dunkin Donuts, Cinnabon, Krispy Kreme, Swiss Miss and others to jump on the bandwagon with them and allow home baristas make a name brand cup of coffee from a pod. 
Keurig has come out with different models over the years to add improvements and keep up with the times. In this article we will be comparing the Keurig K50 vs K55. These are both "Classic" Keurig models, which are simple to operate and cut the frills.
The K50 started off strong but several models had technical problems making this brew machine unreliable for many. The K55 outperforms the K50 in its reliability, filtering options, and brew time. Between these two models, the K55 would be our choice for a brew machine. 
2022 Update: The K50 and K55 have both been discontinued and replaced by a newer version called simply the Keurig K-Classic.
Let's see both models side by side…
Keurig K50 vs K55: The Looks
While both the K50 and K55 look like identical twins at first glance, there are some subtle differences. The K50 is a slightly smaller model and weighs almost 4 pounds less than its newer version. Also the K50 comes in only one color: black, while with the K55 you can choose your preferred color from the choices: red, black, or white. So if you enjoy having all your appliances match, the K55 has got your back. Otherwise, these are some small details that for most, won't make a significant difference when choosing a machine. 
Let's look at and compare some meatier differences in these two models beginning with the Keurig K50.
The Keurig K50
The Keurig K50 was a popular model when it made its debut. However, it left many faithful Keurig followers disappointed with some repeated glitches in the mechanism. Some customers complained that after a few months use, the machine would block up or die. Many customers were able to fix or replace their K50 machine, and many had no mechanical failures. Still, there were enough complaints that the manufacturers sent out the Keurig K55 with its cape on to save the day and take over where the K50 fell short. 
Common "Grounds"
Since the K50 and K55 were both made with the same basic goals in mind, they share many main features. Both the Keurig K50 and K55 are "classic models." This means they both are able to brew the wide variety of pod flavors but they lack the bells and whistles of other Keurig models.
What they both do
The K50 and K55 make coffee in the standard Keurig way: first, place the pod in the machine. The pod is then punctured at the top and bottom as it is closed. Hot water is pumped through to create your cup of coffee. 
Both models also have a 48 oz water reservoir. They offer 3 sizes for your cup of coffee: 6, 8, or 10 ounces. They have an automatic shut-off feature which deactivates the machine after 90 seconds of inactivity. This can keep your machine from overheating and also conserves energy. Both models also have a strong plastic exterior for durability. 
What they don't do
Neither model offers upgraded features, like espresso pods, foamed milk, lattes, or cappuccinos. K-mug pods and K-carafe pods are also incompatible with this machine. While both models are brewed using pressure, you are not able to control the amount of pressure like you can with higher-performance Keurig machines. For at home espresso makers, we prefer the Nespresso Evoluo and Vertuo line coffee makers.
Keurig does make an espresso like machine called the K-cafe. To see how it compares to the Nespresso Vertuoline machine, see this full review.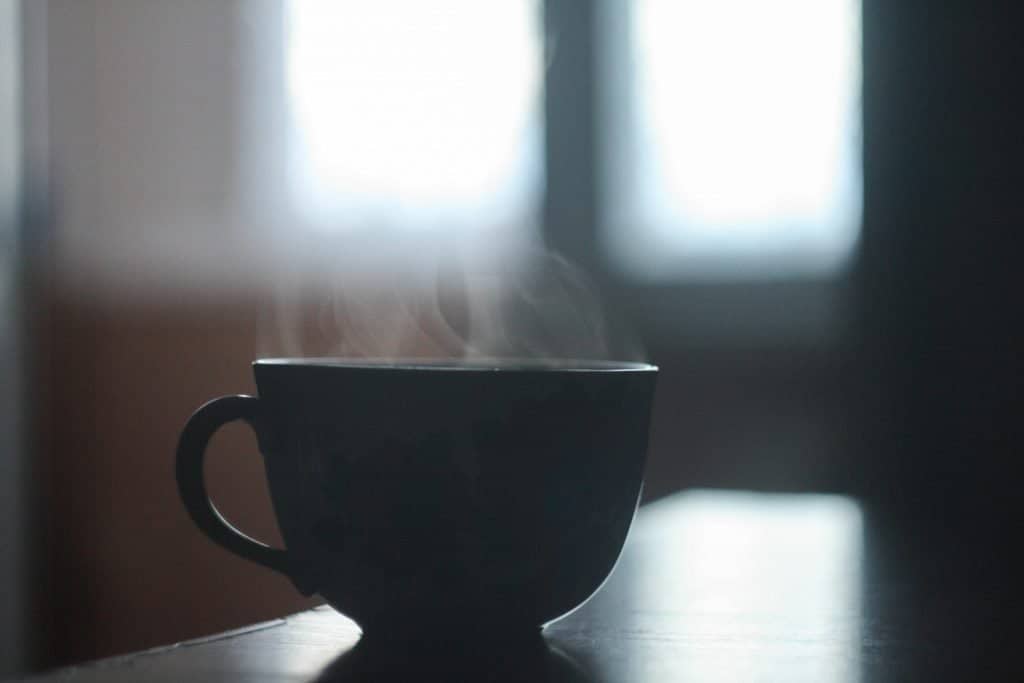 The Keurig K55
The Keurig K55 came into existence because of some of the mechanical problems that some of the K50 models exhibited. For the most part, the K55 model shares similar functional details with the K50. But the K55 brought a few new tricks to the table. 
Things We Like
Quieter Brew
The K55 comes with a "Quiet Brew Tech," which purportedly makes for a more silent brew experience than its K50 counterpart. For some, this machine is still too loud even with this added feature. Personally, I like hearing my coffee machine brew because it signals something yummy is in the process of happening! So likely, the sound issue will just come down to personal preference. 
Automatic Descaling 
Although both models clean up similarly, the K55 actually signals you when it is time to be cleaned! This is an important feature for keeping your machine ready for action. Over time, calcium and bicarbonate deposits can build up in your machine and begin to block up its filters. Descaling with vinegar or with a specially formed descaling solution will keep your machine running smoothly.
With the K50 model, you would have to remember on your own to clean it every 3-6 months. Also it does not have a filter like the K55 to help reduce deposits in the machine. 
Activated Charcoal Water Filter
The K55 model also is compatible with the activated charcoal  water filter. This may not seem like an exciting feature, but it can actually enhance the flavor of your coffee by ensuring that you are beginning with the cleanest water possible.
Depending on your area, water can contain many minerals that can create faster build-up in your machine and cause it to malfunction. Charcoal filters help to eliminate odors in your water and also impurities, such as chlorine, and minerals. Many customers have noted that the K50 coffee (which has no filter) sometimes ended up with a bit of the plastic flavor, while the K55 coffee gave a cleaner tasting coffee.
Brew Time
Classic Keurig machines generally take 4-5 minutes for the machine to heat the water for the first cup. After the first cup, the Keurig is ready to go until it times out to save energy.
Although both machines are supposed to make your preferred brew pod in a minute's time, many found that the K50 tended to stall a bit and it takes closer to 1 ½ minutes to brew one cup. This may not seem like a big deal until there is a line up at your house or office for morning coffee.
Things We Don't Like
Although the K55 is winning in most categories, there is one area where many would side with the K50. The K50 had a "strong brew" option for those who wanted that extra coffee taste and a caffeine burst. This was the closest thing to an espresso that these models had available. The K55 did away with this feature and added an extra charcoal filter instead.
So here there is a bit of give and take… the K50 had a strong brew, but in the K55 model, customers are no longer complaining about a plastic taste.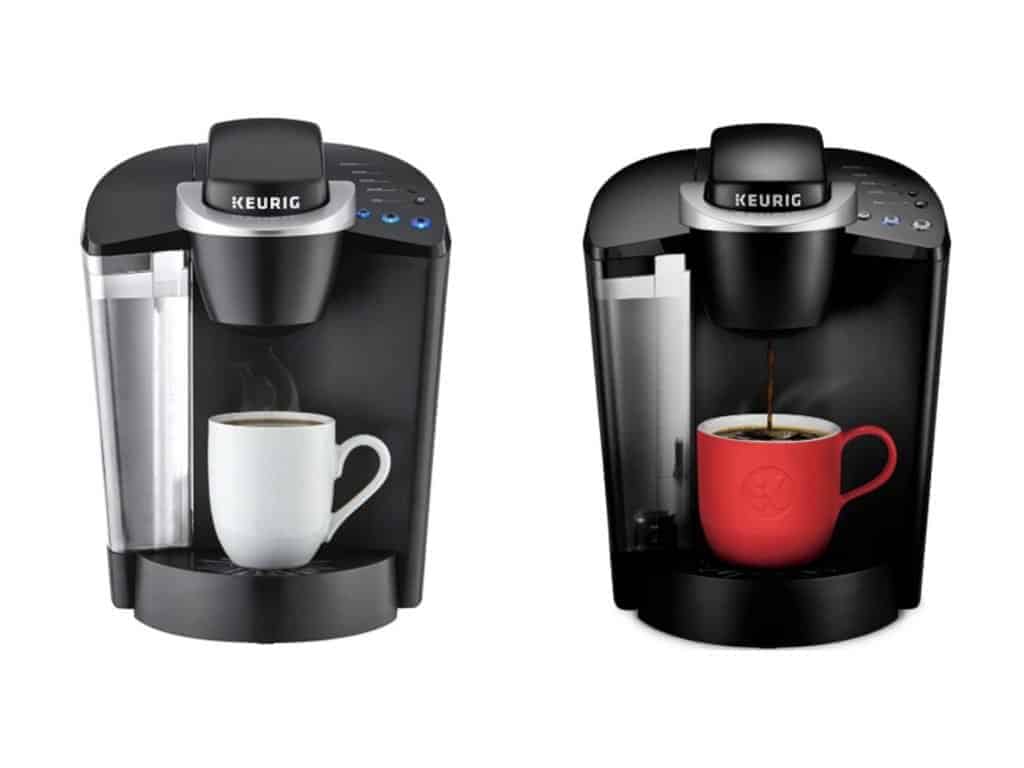 Customer Thoughts and Reactions
Overall customers have seemed to prefer the Keurig K55 model as it fixed many of the technical problems that came with the K50. Customers who did not receive a "lemon" K50 were generally also very happy with their machines. 
Although both the K50 and K55 are more basic Keurig models, customers  generally did not seem to mind the lack of frills. They were mainly concerned about getting a regular cup of coffee without needing to tinker with their machine. Sounds like my spouse in a nutshell!
While other Keurig machines are able to control temperature, pressure, and have LCD screens, the K50 and the K55 are still using push buttons. With these Classic Keurig models, the machine is the mastermind behind temperatures, pressure and brewing techniques.
Some coffee drinkers may want to be able to control their brew as much as possible, but most K50 and K55 users just want a reliable pot that will do all the hard work for them and make their brew in a minute…or a minute and a half. 
---
Keurig K50 vs K55 FAQ's
After you bring your Keurig home, there are bound to be some questions as you pull your new machine out of its box! Here are our answers to some of the most frequently asked questions about classic Keurigs and the Keurig K55 model:
How do I set up my Classic Keurig for its first use?
After taking your classic machine out of the box, you will want to check your machine to make sure there are no packing pieces or tape left inside. Clean the removable pieces (such as the water reservoir, lid, and drip tray) with soapy water. Attach the water reservoir and add water. Put the drip tray in place. Plug in the machine and place a mug under the drip. Run a cycle without coffee first to clean it before use. Note: Keurig pieces are not dishwasher safe.
How do I reset my Keurig K55?
To reset your Keurig K55, you should first turn the machine off and leave it unplugged for a few hours to give it time to cool down and rest. Remove the water reservoir and allow the machine to sit unplugged and without its reservoir. Plug the machine back in and replace the water reservoir. This should give your machine a nice reboot. For more information you can consult your Keurig manual!
How do I prime my K55 charcoal filter for its first use?
The charcoal water filters actually shouldn't be going directly from the box into the filter compartment. First you will need to prime your charcoal filter by rinsing it under water for a minute (until it begins to soak up water). Then you will want to soak it in water for approximately 5 minutes.  After it has soaked, gently rub the filter so that loose charcoal particles won't accidentally be finding their way into your cup of coffee.
These are our tips for some questions that are often asked about the K50 and K55 models. 
Now that you have been introduced to these Classic Keurig machines and were able to compare the K50 and K55 models, it's time to make a final verdict!
The Final Verdict
The Keurig K50 and K55 are both great machines for coffee-drinkers who are wanting to have a solid-tasting morning brew without having to worry too much about all the variables that go into a cup of coffee. Both machines are simple to use… simply pick your pod (from your 200 choices!) and choose which size brew you want for your morning drink. 
Although the K50 and K55 have both been discontinued and replaced by a newer version called simply the KClassic, all three versions can still be found on Amazon for those that are looking to buy. These three models share the same basic price range and are generally found priced at $100 up to $130, although you can find some used models for as low as $80.
The Classic model Keurigs are for the coffee-drinkers that know what they like and want a standard American-style coffee with a simple touch of a button and no fan-fare. If you are looking for a predictable cup of coffee in a short amount of time, a classic Keurig model will be a good choice.
If you are a coffee-drinker that likes to control your brew by adjusting the temperature, time, and pressure you may want to keep looking for another higher-end model. You may consider an SCA certified coffee maker so you can dial in the exact settings for your ideal cup of brew or even a Zojirushi coffee maker for a consistent authentic flavor.
Another option is to also consider a compact Keurig or 4 cup or 5 cup coffee maker if you want to still save space but still get the strong brew flavor in a smaller batch.
Final Thoughts
In this article we discussed the Keurig K50 vs K55 and their similarities and differences. 
Let's quickly summarize the pros and cons of the Keurig K50 vs K55: 
Keurig K50 Pros:
Simple to use
Lightweight
Strong brew option
Keurig K50 Cons:
No descaling reminder
Plastic Taste in coffee
Several "lemon" models
Keurig K55 Pros: 
Simple to use
Machine reliability
Charcoal water filter
Brew time
Quiet brew tech
Cleaning reminder
Keurig K55 Cons:
As you can see the Keurig K55 stacks up with a lot of pros next to the K50. 
Although we miss not having the strong brew option, we appreciate that the K55 coffee does not come out tasting like plastic. The new filters can keep the K55 coffee tasting fresh and keep the machine from becoming blocked up with mineral deposits. This can give us a longer lasting machine! 
Between the Keurig K50 vs K55 we would choose the K55 because of its reliability and filter options. We like our morning cup of coffee to be simple and to be there for us when we need it! 
For other options, we also like the K1500 as a commercial alternative. And if you want a dual single brew plus coffee batch option, the K-Duo is a nice option.
We hope that these stats can help you find the best coffee-making model to suit your needs! 
Coffee Has Never Read This Good!
Sign up for a FREE newsletter to the best home brewing tips and guides
Thank you for subscribing to The Cup Coffee House Crew! There's a surprise in your Inbox 🙂
Something went wrong.
About the Author
Latest Posts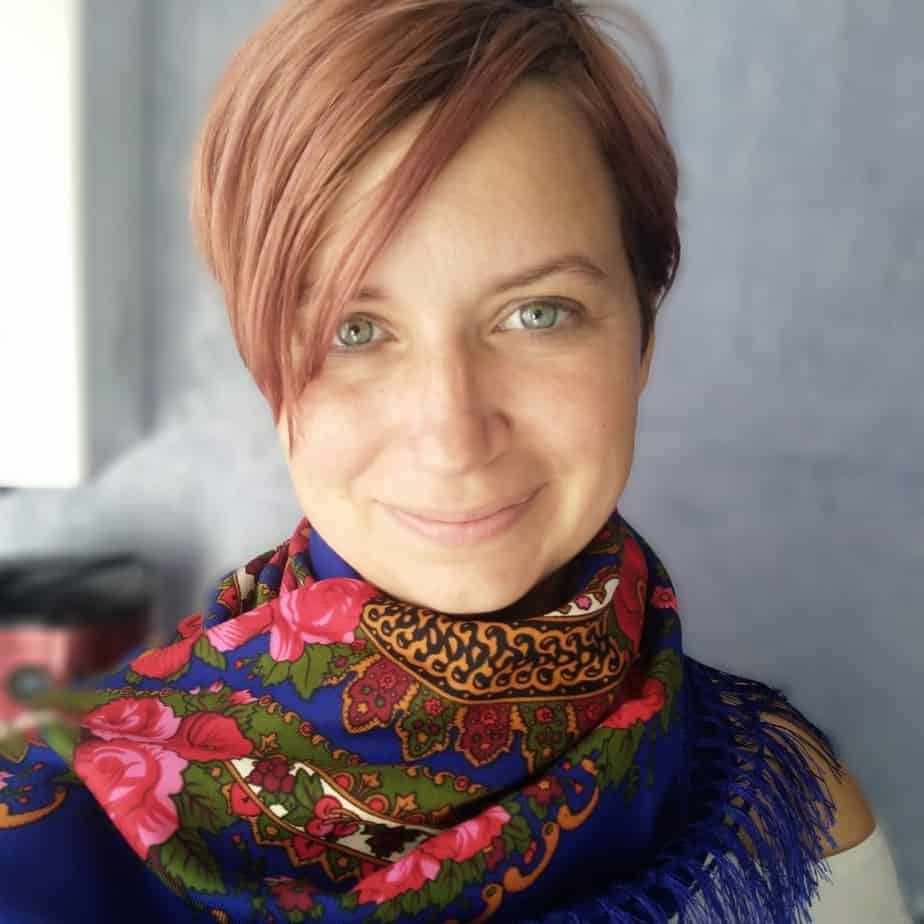 Alex Praytor worked her first job as a barista, finished college, and then took a tour to the other side of the globe. She fell in love with espresso and her would-be husband in Europe. She spends her spare time visiting native Texas landmarks, ancient castles, and all the coffee shops she finds along the way. At home, she is a mom, ESL teacher, and writer, who hones her coffee-making skills daily. She enjoys passing on her coffee findings to fellow caffeine addicts in search of the perfect cup.
Chief Editor