Last updated on September 4th, 2022 by Jules Winnfield
Life for most people is hectic. So at some point its necessary for you to just get away. Go on that long retreat in the mountains with your spouse to reconnect, or go on that adventurous road trip with your friends you've always been talking about. Maybe take the family on that camping experience so the family can connect with the natural beauty of the outdoors…even if its just a tent in the backyard!
Either way, you may not want to leave your great tasting coffee behind. That would mean settling for the blandness of hotel coffee or worst…no coffee at all! So a battery operated coffee maker comes to mind as a must have option. Its ideal for travelers, campers, and commuters.
We spent 25 plus hours combing and researching all the best battery operated coffee makers on the market. We categorized and organized the best 5 here based on particular scenarios so you can decide which is the best fit for you. So whether you want something that is affordable, has longer battery life, super easy to use or makes an incredible cup of coffee on the go, this review will steer you toward your ideal battery operated coffee maker.
Carry on reading or jump straight to our number #1 pick on Amazon here.
---
What Should I Look For When Buying the Best Battery Operated Coffee Maker?
At the end of the day, all you really want is a coffee maker you can take with you as you travel via car, truck, RV, or boat that will make you feel like you never left home in the first place. But to do that, there are surprisingly a few things to consider before you make your buying decision. Like living in your first home, there are things you don't realize are important to you until you've gone through the experience.
In general, battery operated coffee makers are designed for convenience. So while they are portable, small and easy to pack, it means they don't generally brew more than 1-3 cups at a time. Battery capacity can be limited. Coffee quality is not as good as other outlet powered coffee makers, but that is par for the course when it comes to battery operated coffee makers. What you give up in delicious quality you make up for the convenience of pouring a cup anywhere your heart desires.
With that being said, what factors exactly should you think about before buying the best battery operated coffee maker for you?
Criteria 1: What kind of coffee does it accept and brew?
If you are the kind of coffee drinker that enjoys a very specific roast profile and ground size for your home brew, you may be disappointed if you purchased a battery operated coffee maker that only accepts pods and capsules. Can you imagine the let down!
So pay attention to the type of coffee each battery operated coffee maker brews. Some use Nespresso brand capsules and pods. You may even be able to hack it and use K cups, but like one of our manual picks the manufacturer explicitly says you cant use K cups…so yea. Pre made pods and capsules mean easier cleanup which is a big deal if you are traveling. But accepting coffee grounds means a more robust flavorful and familiar tasting experience.
Criteria 2: How many cups of coffee does it make?
The size of coffee each of these battery operated coffee makers produce is another factor. Because these are battery operated, you can expect you won't get a huge amount. Many of these conserve power by making only 1-2 2 oz. cups at a time. You will want to pay attention to the size of the water container/tank to get an idea of how much coffee each produces in one brew. If you are traveling with a group vs by yourself than this can be significant.
Criteria 3: How much space does it take up?
Given that you will be traveling, camping, and just overall adventuring, the size of your battery operated coffee maker can be a deal breaker. Some are very light and compact, the size of a large mug in some cases. Some may come in a little bigger but offer more features.
Criteria 4: Does it heat water for you?
Probably one of the biggest factors to consider that stumped many buyers from our research. As mentioned before, many of these battery operated coffee makers have to conserve power where ever they can. Heating water takes ALOT of power.
So pay attention to which ones will heat water for you and which do not. If you are using your battery operated coffee maker for traveling, camping, then consider if you will be close to a heat source to boil water. Per our research many people were able to utilize hotels, microwaves, even a camp fire to boil water.
But if you use it for emergency situations like a power outage, then this may be a problemo.
Criteria 5: How easy it is to clean?
If you're like me, cleaning is my least favorite part of any task. So the easier and more hassle free it is to clean and maintain, the better. I'm sure you would agree. This means, how many parts are there? Is it cumbersome? Can the machine be easily broken down? Will rinsing with water do the trick? If you are on a campsite or in the car, you need to be able to quickly break down your parts, pour water over it, and reassemble in a hot minute and be on your way.
Criteria 6: How easy is it to use?
If its early in the morning, you don't want to have to feel like you're doing a laparoscopic craniotomy just to get your coffee. So you want to look for a coffee machine that has simple steps: load coffee, load water, press button. Done.
Criteria 7: Does it come with any special features?
Depending on your needs this could be helpful. Sometimes all we want is a nice espresso to start our day. But if there is an additional feature one coffee machine offers over another that could make your life a little easier its worth noting.
For example, one of our picks includes a scale to help measure out your coffee grounds and water so you get the perfect brew ratio for your pour over coffee. If replicating the flavor and aroma you love the most means a lot to you, then you may consider those features as a must have.
Criteria 8: What kind of batteries does it use?
The batteries used in your battery operated coffee maker play a large role in almost every part of your experience. As we mentioned before, power is key. Smaller batteries means less power, which could mean less features. Bigger batteries means more power, maybe more quality coffee, but bigger in size and less portable. Also consider if the batteries are rechargeable. Can you use a 12V charger from your car? Do you need a battery at all? This could mean a world of convenience.
Criteria 9: What's the price? How much does it cost?
You would think this was the first criteria, but if the battery operated coffee maker you are eyeing has all the features and benefits that work perfectly for you comes in at a higher end price, wouldn't it be worth it to you? The key is to identify which provides the most value for you and then determine if the price is reasonable for that exchange. Some come in at a very affordable price with just the minimum features. Others are more pricier but enhance the coffee brewing and sipping experience.
Here's How We've Determined the Best Battery Operated Coffee Maker.
There is a lot to consider when it comes to choosing the best battery operated coffee maker that will meet your needs. You may want one that produces a higher quality cup of coffee or you may favor convenience such as size and ease of use. You may even want it for emergency use and require a water heating function. Either way, there are a few options that stand out in the marketplace.
We determined which battery operated coffee makers would make our top 5 list by looking at the different advantages they provide. We also paid close attention to the reviews for each product to get a real-life indicator of whether or not these were legit battery operated coffee makers that actually work for people.
If you are looking for a great cup of coffee while traveling or camping the outdoors that makes you feel like you never left your home, that's simple to use, carries a lot of power, boils water for you, and makes an impressive cup of espresso, then allow me to introduce you to the CONQUECO Portable Espresso Maker. Like their brand says, you can't conquer life without having a satisfying power shot to start the day. What does CONQUECO bring to the table to assist you in your conquest?
Will heat the water for you. Worried you wont be near a hot water source with some of our other battery operated coffee maker picks in this list? Well the CONQUECO solves this by having to 2 functions to brew your coffee. One for hot water (hold the button 5 seconds), and one for cold water (hold button for 2 seconds). Just awesome…
Ease of use and simple design. The CONQUECO makes it simple for you to get your hands on a rich cup of finely pressed espresso without all the work. Simply place a Nespresso cup, pour water inside, press and hold the button for hot or cold water, and in 8-12 minutes (cold water) the machine automatically pumps your coffee good to go!
Portable and light weight. Need to travel lean and light but can't do without your liquid fuel? With the CONQUECO coming in at 1.94 lbs. and about a foot long, you can pack this thing easy and forget you even have it on you…until its time to get pouring of course!
Rechargeable battery. Another game changer is that the lithium 12V battery this battery operated coffee maker comes with is rechargeable. So you can leave it charging in your car during your outdoor adventures and come back to it ready to serve you barista style coffee. Be sure to have it fully charged before brewing as it won't work while charging according to some reviews.
Clean up is a cake walk. If you hate cleanup as much as I do, then you will appreciate that the CONQUECO has an effortless cleanup process. Just wash the coffee cup. Then pour water into the water tank with no coffee pod/cup, press the switch button for 5 sec, and the machine goes into an auto wash process.
Uses Nespresso capsules only. So if you have your favorite flavor of coffee grounds, this battery operated coffee maker will not let you use it. Also you're not going to get a full cup of coffee. This is a 2 oz espresso shot.
Higher end price. Compared to our other battery operated coffee maker picks, the CONQUECO is priced higher at almost $100 bucks. But it seems to warrant that premium price point given its available features…I mean seriously…it heats water for you!
Bottom Line: This compact and light battery operated coffee maker is simple and easy to use. It comes with its own rechargeable battery that heats the water for you. It makes an aromatic 1-2 ounce espresso shot fast using Nespresso capsules only. It's easy to clean. This is for you if you travel frequently, on vacations, and don't like using the hotel coffee or just want to whip up a cup right from the car with no frills and don't mind paying a little extra for the convenience.
For more info, see this full review of the CONQUECO portable espresso maker.
If you are on the go with your family or a group of people and want to brew up a few cups of coffee fairly quickly, then you may want to take a good look at the Makita DCM 501Z Lithium Ion Cordless Coffee Maker. We have it listed at number 2 because of its stellar quality build and high reviews. Its not going to win any beauty pageants for its design but it has enough features to keep you looking. Why?
Brew capacity. With just one charge of the 18V LXT 5.0 Ah battery, it can whip up a maximum of 3 cups of coffee for your crew in 15 minutes, one cup at a time. Now that's what we call coffee service!
Ease of use: The Makita is notably one of the easiest coffee devices to use, too. Add the water, then the coffee grounds, and hit start. It's that easy!
No paper filter needed. The Makita battery operated coffee maker comes with a permanent coffee filter built in. So no fiddling with paper or cloth filters to make you coffee hangry! Just pour in your coffee grounds and you're good to go.
Heats the water for you. One delightful feature of this battery operated coffee maker is that you get hot water with it. This is especially advantageous when you may not be close to a heating source during your travels. This makes the Makita a nice all in one battery operated coffee maker.
Built in safety mechanisms. Such as the boil dry protection feature. This causes the coffee maker to shut off if it detects not enough water. This feature isn't as big of a deal since you'll be on the go, but its nice Makita thinks safety for its consumers.
Strong and sturdy design. The Makita was designed originally for on the job construction site workers. So naturally, this battery operated coffee maker is not the most fashionable in design, but its built sturdy, and to last. At only 8-9/16″ tall with a 3-1/2″ cup clearance, weighing 3.04 pounds, its not the lightest coffee maker but it is compact and just works.
Rechargeable batteries. Tired of carrying a bunch of batteries around that may or may not work? Well with the Makita you can charge its 18V LXT battery. In fact, their batteries have the fastest charge in the industry, similar to their power tools. This means more time on the field brewing up a rich cup of coffee instead of on the bench charging! Only drawback is the battery is not included and must be purchased separately.
Easy to clean. The no fuss clean up makes the entire brewing experience just that much better.
Brews from coffee grounds and tea bag like pods. So that means unfortunately you cant use Keurig type pods with the Makita which may take away from its convenience rating. So be sure to always have coffee grounds available with you on the go
Not the cheapest coffee maker on the block. The Makita does run on the higher end of the budget. But for the consistent hot cup of coffee it produces on a sturdy platform no matter where you go, it may be worth the investment.
Bottom Line: This study compact battery operated coffee making machine is a great overall all in one option. It can hold enough charge to brew several cups of coffee, while heating the water for you. No filter is needed. Cleanup is effortless. If you are traveling with a group then this may be a good fit for you to get a hot cup of coffee for everyone which may be worth the investment.
For more info, see this full review of the Makita coffee maker.
If you want your cup of warm decadent coffee to take you on a physical and mental experience through the terrains of Italy without actually being there (one day soon right?!) then the best way is to consider pour over coffee. Manual brewing as its often called is known to unleash the hidden deep flavors and aromas of each espresso bean compared to typical drip methods. But who says you can't have this experience while on the go in your car or traveling. Enter the Gourmia GCM3250 to possibly save you. According Gourmia, this battery operated coffee maker is the Pour-fect pour over coffee solution on the go. But is it true?
Individual control or automation. If you are the ultimate coffee snob and want to replicate that perfect brew, then you can! The Gourmia has a manual mode so you can control the exact pour over ratio you desire. If you're not in the mood, then switch it to the automatic mode so the computer determines for you the water to coffee grind ratio for the perfect pour over coffee.
Has a built in scale. Nice little added feature which is super welcomed! Because we all know that measuring your water and coffee grinds is key to replicating that perfect flavorful brew once you discover it. The ribbed walls in the filter also help to extract more flavor.
Larger brewing capacity. At 20 ounces, that's plenty of coffee to satisfy your morning, afternoon, brunch, and evening coffee fix!…well almost
Battery operated. All you need is 3 AAA batteries to get this machine to slave over your cup of brew in the morning. Easy trade! Although you actually don't need the batteries to brew your coffee as they are only used for the digital lights and scale.
Decent size and compact, fairly light weight. At 2.3 lbs. and about 11.5 x 7.5 x 6.8 in., the Gourmia is fairly light but not as compact as our other battery operated coffee makers on this list. But can still be packed easily for camping, travel trips.
Doesn't heat the water even if it has batteries. But this should be expected given this battery operated coffee maker works better for manual brewing. And generally you provide your own hot water when you make pour over coffee. So you will have to be sure you have access to a hot water supply which may be a challenge while on the go. If camping, you likely could heat your water over a fire as an alternative.
Uses coffee grounds only. So no easy peasy cups or pods for the Gourmia. This also makes sense so you can measure the exact amount of grounds you want.
Clean up is super easy. One of the benefits of pour over coffee is there isn't much to clean. Top and bottom come off easy. Wash and rinse and you're done
Good price. At an MSRP of around $30, the Gourmia is pretty good value for the price.
Bottom Line: This simple design, easy to use pour over coffee maker delivers control and customization with a scale for the coffee fanatic who wants to replicate their perfect brew even while on the go. If you need a battery operated coffee maker for camping or traveling that will delight you with the richest flavors and have hot water available then this may be good fit for you.
For more info, see this full review of the Gourmia Pour over coffee maker.
If you're convinced the pour over coffee method is the superior way to enjoy the nectar of the Gods (coffee is divine of course!) while traveling or enjoying the outdoors, and staying in your budget, then the Linkind Automatic Pour Over Coffee Maker may be worth your consideration as well. Why?
Automatic pour over. If you haven't quite perfected your skills as a barista, then the Linkind is kind enough (see what I did there!) to simulate the perfect pour over ratio for you to get the perfect balanced pour over brew.
Makes 120 ml or 4 oz. at a time in 2-3 minutes. This is better than some of our other battery operated coffee makers that make only a single 1-2 oz. espresso shot at a time.
High quality cup of coffee. Pour over coffee brewing can be annoying because of the strict attention to pour over coffee to water ratio, water temp, and rate of pouring. The Linkind automates all of that so you get a consistent high level of extraction each time you brew.
Portable, lightweight compact design. The Linkind comes in at 6.1 x 4.9 x 4.8 inches and weighs 11.2 oz. This makes it incredibly lightweight and easy to travel with. Plus its made with sturdy materials so it has lasting potential.
Battery operated. All you need is 2 AAA batteries to unlock the rich bold flavors of a great pour over up of coffee anywhere in the world. Delicious!
Requires Hot water. So like our last pour over battery operated coffee maker, the Linkind wont heat your water for you. The batteries are for making the Linkind rotate and work its automated pour over magic.
Comes with a reusable stainless steel fine mesh filter. So no worrying about paper or cloth filters before you brew. One less thing to pack!
Simple cleanup. Breaks down fairly easily. Wash, rinse and you're done. Easy peasy.
Great price. Coming in at about $15, this really is good value for your money.
Bottom Line: This automated battery powered pour over coffee maker is light, compact and simple to use. Creates the perfect pour over coffee without worrying about water and coffee measurements. Easy cleanup. If you travel alot and cant stand the idea of drinking hotel coffee, and appreciate a quality cup of coffee (really its half a cup at a time) while on a budget, then the Linkind is a good fit for you. Just remember you need hot water to brew with this bad boy.
For more info, see this full review of the Linkind Aroma pour over coffee maker.
So what if you're ok with no batteries at all? While this is a best battery operated coffee maker discussion, who says YOU can't be your best battery (see The Matrix). Yep there are manually operated options to brewing your favorite espresso beverage in seconds that require only a minimum amount of your own manual force. We discuss many of them here in this article. But the Wacaco Minipresso Portablle Espresso Machine stands out as one of the best ways to whip up a steaming aromatic cup of coffee before embarking on your weekend hiking trip. Why?
Battery not required, manual pumping system. If carrying around batteries is such a chore, then all you need is a bit of manual action with the Wacaco Minipresso to get the job done.
Simple to use and efficient. Seriously, just throw in a compatible capsule into the outlet head, add hot water into the tank, unlock the piston from its convenient travel position, pump a few stroke, and voila! A perfectly extracted espresso even your local barista would be impressed by!
Super portable, lightweight and versatile. Talk about the ultimate travel espresso maker. Since it doesn't use any electricity, it comes in at only 0.78 lbs. and about 7 inches in length, saving you crucial space when you have to be light and flexible on the go.
Quality shot of espresso. The tank comes in at about 70 ml. So you can get about 2 shots of finely pressed espresso in less than 10 minutes. So nice when you need a pick me up while commuting or traveling… Don't judge me…Maybe I cant wait till I get home to get my fix!
Won't heat your water. So as you can imagine, no batteries means no way to heat your water. This may limit the Wacaco's applications for you so something to consider. Also for best results and hotter coffee, we learned to run hot water through the machine before using to pre-heat the innards.
Uses Nespresso original size pods only. If you have your own favorite grounded beans, you will have to save it. This could mean a cleaner experience though. But if you really want to use your own grounds the Minipresso does have a another version that uses grounds only.
Makes proper espresso shots only. These tend to be 1-2 oz. So if you want a full 8 oz. cup of coffee then this wont do it. But you can hack this bad boy and make an Americano espresso, which is just manually adding hot water to your espresso shot to make the consistency of coffee. Genius!
Easy to clean. Since your not using grounds, all you need is water to clean out the outlet head and water tank and you are ready to go for your next coffee making experience.
Great reviews. With over 2000 positive reviews, the Wacaco Minipresso is a coffee crowd favorite for getting a nice creamy cup of espresso anywhere on the go.
Reasonable pricing. Coming it about $50, this non battery operated coffee maker doesn't break the bank to add the convenience of espresso shots in your life either.
Bottom Line: This non battery operated coffee maker is a powerful but lightweight easy to use espresso maker. It uses manual operation. Makes quality espresso shots with Nespresso pods. Easy to clean and efficient. But won't heat your water. If you travel and appreciate being on the go without carrying a grinder, beans, or even batteries, and can access hot water, this may be a really good option for you.
For more info, see this full review of the Wacaco Minipresso portable espresso machine.
Additional Mentions
While these battery operated coffee makers did not make our top 5 list, they may be worth considering as well. Many of them have desirable features such as enhanced portability, battery power, convenience, enhanced brewing times, and pricing. However, as of the time of writing, many of these battery operated coffee makers are not currently available for purchase. Hence we left them out. When they do become available, we will dive into them for a closer review.
Weoola Battery Operated Coffee Maker
Mounchain Portable Travel Coffee Maker (Best Portable Battery Operated Coffee Maker)
Mobibrewer Coffee Maker
Cupvenient
The AICOK Portable Espresso Machine
Verdict: Your Best Battery Operated Coffee Maker
If you want the best value for your money, then go with the CONQUECO Portable Espresso Maker Travel Coffee Maker.
If you want the best overall battery operated coffee maker that can whip up batch cups for your group on the go, then go with The Makita DCM 501Z Max CST Lithium Ion Cordless Coffee Maker.
If you want the best portable quality cup of coffee with rich flavor and aromas while on the country side, then go with The Gourmia GCM3250 Digital Touch Pour Over Coffee Maker.
If you want a budget friendly low cost option without losing quality, then go with The Linkind Automatic Pour Over Coffee Maker.
If you want super convenient, manual style with no battery at all, then go with the Wacaco MiniPresso Portable Espresso Machine.
Final Thoughts
Whether you are traveling the coastlines, boarding planes and ships from one country to another or just navigating the treacherous commuter highways, adding a battery operated coffee maker to your utility belt is something you may want to consider. All of these options will be valuable.
But of course depending on your needs this will vary. For example, if you want a really good cup of pour over coffee, then you may go with Gourmia. Those who have larger groups may consider the Makita. You can also consider under the cabinet space saver options if you travel in tight spaces.
If you will have access to some electricity, you could consider a 4 cup or 5 cup coffee maker if you want to still save space but still get the strong brew flavor in a smaller batch.
Want more brew styles? For a full list of the best coffee makers to choose from, see our Guide on the Top Coffee Machines for Beginners.
Look through each option and decide which fits your needs the best. Happy shopping and happy coffee drinking!
And remember, there's always time for one cup…
Coffee Has Never Read This Good!
Sign up for a FREE newsletter to the best home brewing tips and guides
Thank you for subscribing to The Cup Coffee House Crew! There's a surprise in your Inbox 🙂
Something went wrong.
About the Author
Latest Posts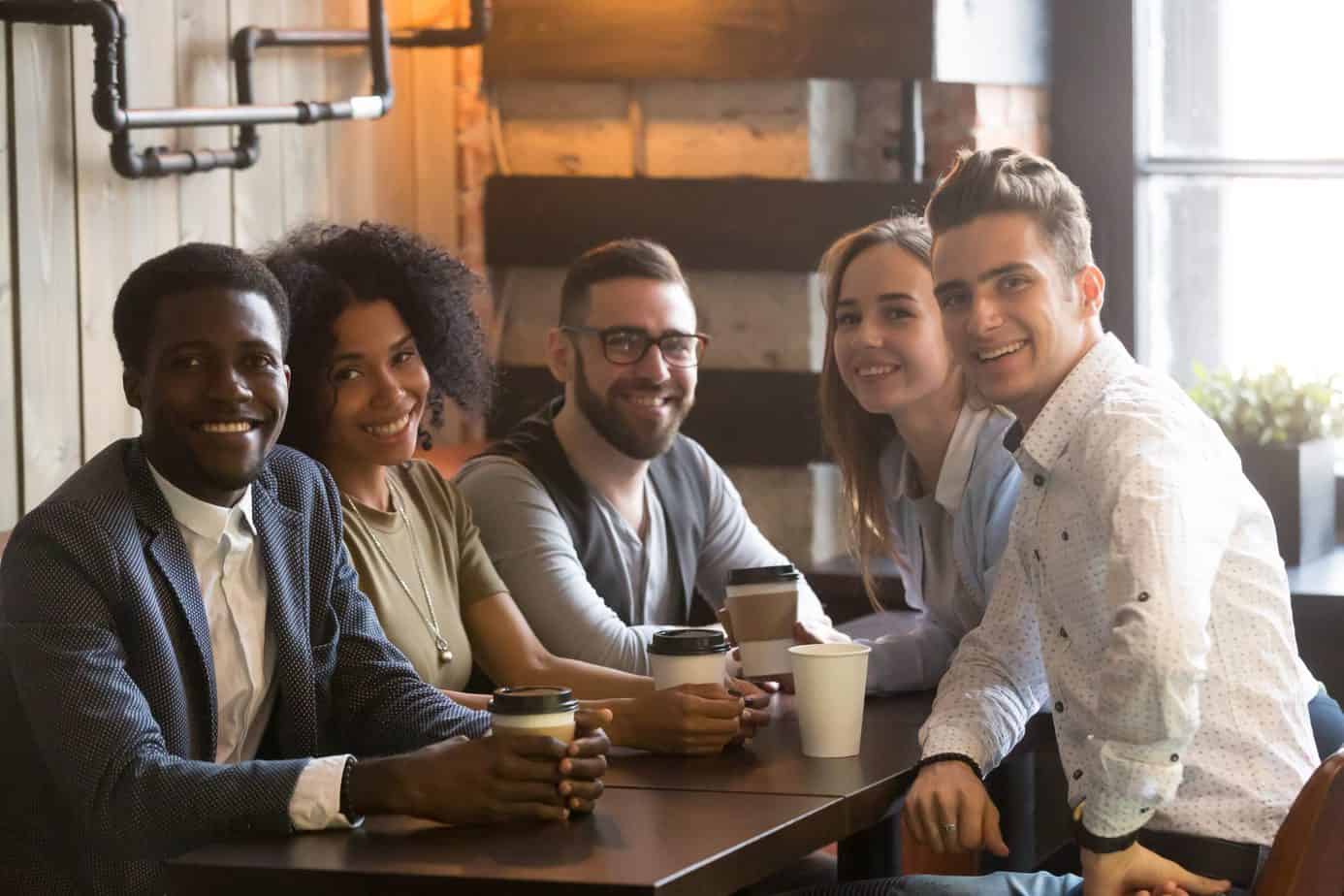 "Jules" is a pharmacist by day and investor, writer, and health nut by night. When he's not sipping on some coffee laced with MCT oil during an 18 hour fast, he is writing about how to get your coffee grind on or playing Monopoly with his 2 boys and wife. Ahh…life is good!