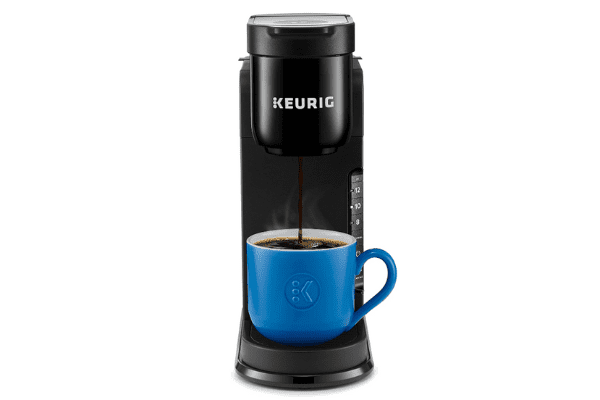 The name Keurig is practically synonymous with coffee. And while it may not be the coffee purists go to brew, it stands alone as one of the most popular ways to get a convenient hot cup of fresh coffee as you bolt out the door to start your day.
Amongst all of Keurig's variations of coffee brewers, lies their line of compact single cup coffee makers, including the Keurig K Express.
But if you're looking for a new brewer, should you consider the K-Express? Well it depends on your needs of course. In this quick Keurig K Express review, we will help you decide the answer to that question.
We like the Keurig K-Express for its unique cross between a single cup coffee maker (less coffee waste and takes up less space) and a larger coffee brewer (has a 42 oz. removable water reservoir). A great option for lone coffee drinkers who need a cup fast without having to worry about refilling for each brew.
Last update on 2022-06-25
---
What's so special about the Keurig K Express?
With so many different Keurig coffee makers on the market, what makes the Keurig K Express so special?
1. Space saving single cup coffee brewer
If you're a lone coffee drinker and you don't like the idea of wasting coffee after making a pot, then the K-Express is a nice solution. It brews a single cup of coffee per run and doesn't take too much space on your countertop either.
Coming in at about 5 inches wide and foot long and high, the K-Express takes up little real estate. A good fit for small apartments, dorm rooms, or even in an office work cubicle. But maybe too big to travel with.
2. Strong fast brew
Let's remember that the whole point of a Keurig is a fast fresh cup of coffee. And the K Express does that. Pop in your favorite K-cup flavor, hit a button and your coffee is good to go in a few minutes.
You can even strengthen your cup by hitting the strong brew option. This is usually a premium feature on Keurigs other single serve coffee makers like the K-Mini.
But even more interesting, is the K-Express's ability to heat up water almost near instantly. This is a step away from its other siblings in the Keurig line which usually take a minute or two to heat up.
3. Convenient 42 oz. water reservoir
The other cool thing is that the K-Express has a removable 42 oz. water tank. This means even though it's a compact single serve brewer, you can still get about 4 cups of coffee per tank and you don't have to refill as often.
Pros and Cons to Consider
Ok so let's speed round our way through the pros and cons of the Keurig K Express so you can easily determine if it's the right coffee machine for you.
Things We Like
Can make 8, 10, or 12 oz. of coffee fast (2-4 minutes)
Uses K cup pods
Strong brew option
Can dispense hot water fast
Will work with My K cup universal reusable coffee filter (you can use coffee grounds too!)
42 oz. removable water reservoir
Lightweight (<5 lbs.), compact, space saving
Fairly quiet
Will fit taller mugs (up to 7 in)
Auto shut off feature after 5 min of non-use
Reasonably priced
Things We Don't Like
Brews only a single serving at a time
May not brew the exact cup amount you specify
Made of mostly plastic
Warranty only good for a year
Doesn't make specialty drinks
No special tech features
Our Ranking
Quality, Build – Simple, slim and compact. Made of plastic mostly. Average durability.
Ease of use – Very easy to use; pop in the pod and choose your cup size, and voila!
Performance – Makes a hot cup coffee, tea, or cocoa fairly quietly. Heats up fast. You get a single cup (8, 10, 12 oz.) per brew in a bout 2-4 minutes. Taste is good for this type of brewer.
Maintenance – Fairly simple, simply toss your K-cup pod away after each brew (not recyclable currently); May require regular descaling every few months.
Reviews – high customer reviews
How to use the K-Express
The K-Express operates pretty much the same as any Keurig. We've talked about the specifics of operating a Keurig before.
But in general:
Fill or top off the water reservoir (filtered water preferably)
Place your favorite pod in to the receptacle and close
Place your mug in position
Choose your cup size. Press a button
Wait a few minutes for your coffee to brew
Enjoy!
Maintenance and cleaning is the same as all other Keurig coffee makers, including regular descaling as needed. Consider running vinegar every couple of weeks and descaling solution every few months to keep your K Express running smoother longer.
What customers are saying
After looking through the thousands of customer reviews its pretty clear the vast majority of people enjoy their K-Express for its quick hot brew, slim size, and simplicity. Tack on the good price and theres not much more people want.
However, some people did mention that the Keurig K-Express doesn't always produce exactly 10 or 12 oz. of coffee. And a few had issues with its durability because it stopped working after a short period.
How does it compare?
First up is the Krups Simply Brew to Go. Like the K-Express it's a single serve coffee maker that's easy to use with a one button start and makes good coffee pretty fast. But there are a few features that stand out in differences.
Krups Simply Brew to Go only uses coffee grounds in a permanent coffee filter. No pods. So depending on your circumstances that could be a problem.
Krups doesn't have an auto shut off feature.
Krups comes with a nice stainless steel travel tumbler.
Krups is much cheaper than the K-Express
Personally the lack of pods option is a bummer to me when it comes to the Krups. If you don't plan on using pods at all, then the Krups is a better deal for you at a cheaper price. But if you're like me, the K-cup pods is a big selling point on the convenience of a single cup brewer in the first place.
Now this matchup may be a little tougher to decide on. The Chulux, like the K Express has a lot of features to like. Both are compact single serve coffee makers, brew coffee in minutes using K cup pods, and are easy to use and maintain. Here are the slight differences:
The Chulux is much smaller, almost half the size of the K Express.
The Chulux doesn't have a sizable reservoir. In fact its very similar to the K-Mini in that the water you pour is exactly what you get out in your cup
The Chulux therefore doesn't give you an option to choose cup sizes like the K Express.
The Chulux wont fit as large of a travel mug as the K Express (5 in vs 7 in)
The Chulux is almost half the price of the K-Express
So if you looking to travel more, need portability, and like the idea of refilling each time for only the coffee you need, the Chulux is a good pick for the price you pay. But if the larger water reservoir, strong brew option, and near instant hot coffee is worth the price, then stick with the K Express.
Final Verdict
Surprisingly, it seems like Keurig got something right when it comes to the Keurig K-Express. Not only is it easy to use and maintain, brews fast, hot coffee with a strong brew option, but it's compact and a space saver.
If you have a small apartment, RV, or just lack counter space, the K Express can slide in fairly easily wherever you put it. This slim modern design is also aesthetically pleasing too.
With the price its going for, it's a great affordable option for coffee drinkers looking for the mix of a single cup coffee maker that also comes with a nice size reservoir to minimize refilling every session.
On the other hand, the K Express, like most Keurigs doesn't have the greatest reputation for durability and may not brew the exact amount of coffee you request.
So, if you don't care for the average quality build, or you need more coffee than a single brewer can provide, or just want more features in your machine, then the K Express may not be the best fit.
Maybe consider other good coffee makers from Keurig, like the K-Slim or K-Supreme. Or even check out their rival the Nespresso.
Until then, hopefully this report helped you make a decision!
FAQ
Does Keurig express use K Cups?
The Keurig K Express, like all of their single serve coffee makers, uses K-cup pods to brew coffee. You can choose from the vast assortment of flavors to conveniently brew hot coffee from home.
Does the K Express have a water filter?
The K Express uses charcoal water filters that keep the water clean and your coffee tasting great. Place it inside the water reservoir and consider changing your filter out every 2 months or so.
Coffee Has Never Read This Good!
Sign up for a FREE newsletter to the best home brewing tips and guides
Thank you for subscribing to The Cup Coffee House Crew! There's a surprise in your Inbox 🙂
Something went wrong.
About the Author
Latest Posts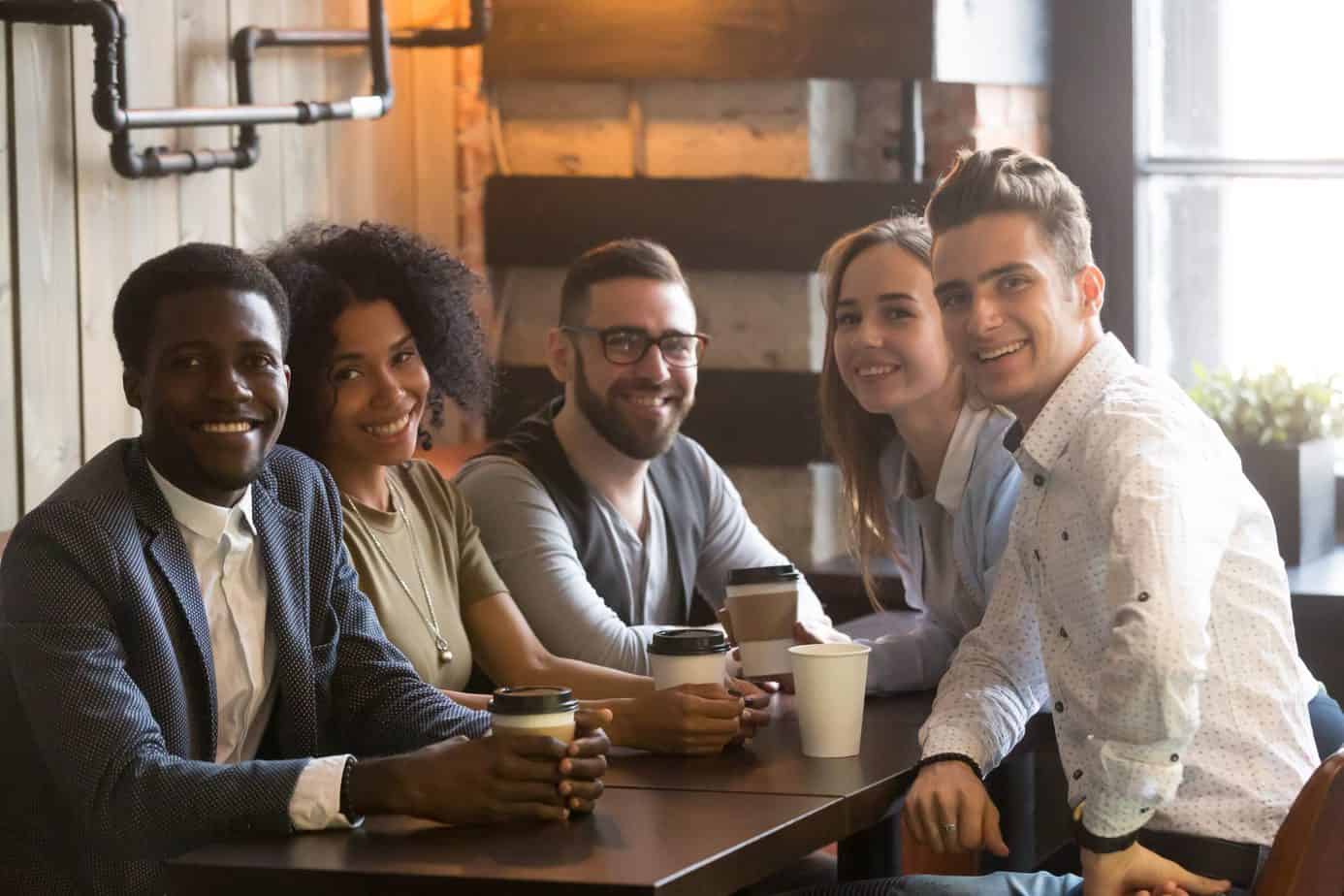 "Jules" is a pharmacist by day and investor, writer, and health nut by night. When he's not sipping on some coffee laced with MCT oil during an 18 hour fast, he is writing about how to get your coffee grind on or playing Monopoly with his 2 boys and wife. Ahh…life is good!