Last updated on August 12th, 2023 by Jules Winnfield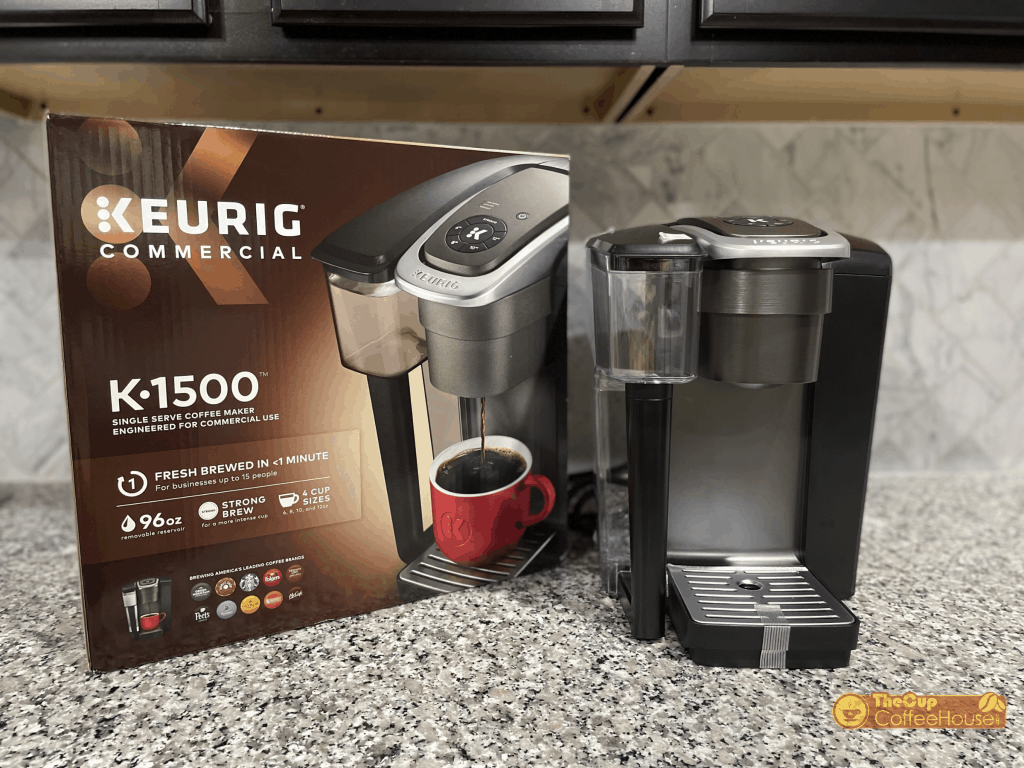 Before I started using the Keurig K1500, my wife and I was using the Keurig 2.0. Honestly it worked just fine. The 2.0 K300 made a great cup of coffee. It wasn't always as hot as I would like. But it was fast and consistent.
Then I noticed we were drinking alot more coffee. My wife especially. So I decided it was time for an upgrade.
The Keurig K1500 just jumped right out. For reasons we will discuss in depth in this review article, the K1500 makes some of the best coffee we've had. Keep in mind that we love the taste of our coffee, but we aren't coffee snobs who demand every cup be brewed with the artistry and finesse of a highly trained barista…
We got kids. So no time for all that…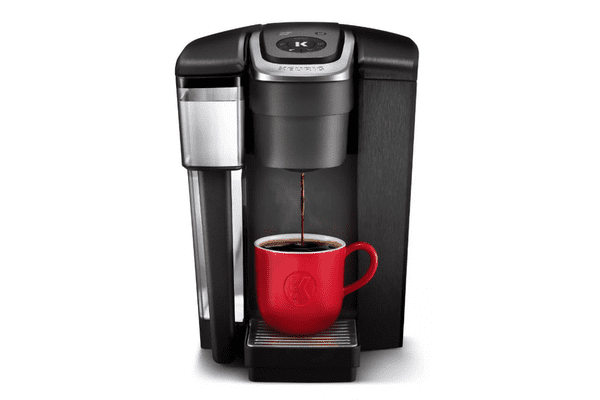 So after a month of using the K1500, what stood out the most? If you're in a hurry, here's our overall impression:
The Keurig K1500 is a commercial developed coffee brewer designed for small businesses that can serve 10-25 people. But it doesn't mean you can't grab this bad boy to use in your own home too! We liked the K1500 for its ease of use (really no different then the 2.0), the HOT cup of coffee it makes, the easy clean up, and sleek high tech design with high grade durability.
The Keurig K1500 is a good fit for coffee drinkers or businesses who like the option of brewing 4 different cup sizes fairly fast using a single serve brewer. Good if you value convenience over impeccable flavor. The price may set you back a couple hundred bucks, but you may forget all about that after your first few cups.
Sale
Keurig K-1500
The Keurig K1500 is built commercial grade, with a 96 oz reservoir, and brews coffee in less than a minute quietly.
Last update on 2023-09-18
---
Whats So Good About Keurig?
Keurig coffee machines are known by coffee and non coffee drinkers alike. Their brand is probably the largest recognizable name in the coffee space. When you talk about single coffee brewers, that are quick and and get the job done for the average coffee drinker, you probably think Keurig.
I actually knew about Keurig long before I started indulging in their coffee. Since I follow the stock market, I remember when Keurig Green Mountain merged with Dr. Pepper Snapple in 2018. They were good dividend stocks so I followed them closely.
Now Keurig Dr. Pepper is a juggernaut in the beverage space. With 11 BILLION in revenue, and over 100 distribution sites in their network, they are a behemoth when it comes to making coffee and putting it in the hands of coffee drinkers all over the world.
Why the Keurig K1500?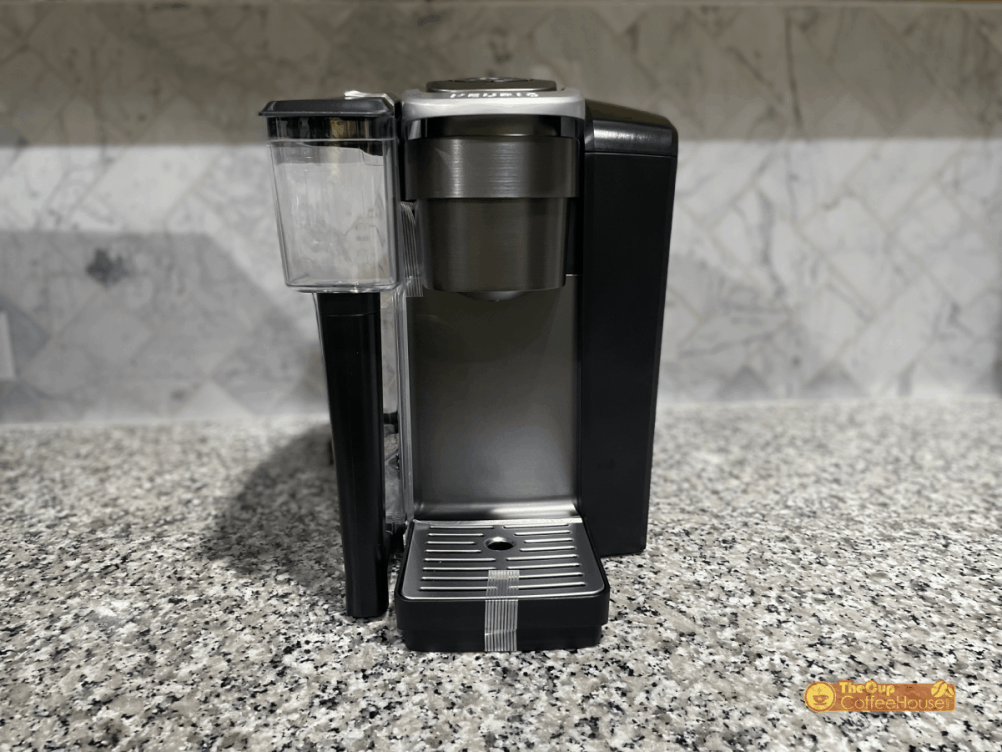 So what were the factors we thought about before choosing the K1500?
First, Keurig has both a consumer household coffee maker section, and a commercial business use coffee maker section. Honestly when I look at the Keurig household brands like K-Select, K-Elite, K-Classic, and K-Mini, there aren't alot of differences. Yes there are a few differences in features, but overall they produce about the same quality cup of coffee.
So we decided to consider the commercial side. And the K1500 seemed like a good fit. The K1500 is a good mix of commercial use and household use. Being a commercial coffee maker, it's designed to last longer due to more consistent use by staff and customers. But its also sleek and compact enough to be stationed in a nice spot on your counter tops at home.
What other features stand out the most?
Important feature #1: Fast single serve brewer
The K1500 does exactly what every Keurig does: make a nice cup of coffee fast. When you have to be out the door, you can rely on your 6 oz, 8 oz, 10 oz, or 12 oz cup being ready to go in less than a minute. But the K1500 is also adds the additional benefit of brewing hot, which is something I noticed the Keurig 2.0 didn't always do consistently. I like my coffee hot and the K1500 does this pretty well.
For businesses, having a single serve brewer that delivers a hot fresh cup for each person fast is beneficial for a number of reasons. First, it means not having to make a large carafe of coffee that can get burned, or cold and then eventually wasted. Secondly, people don't have to worry about the whole sharing of coffee thing. The Keurig K1500 is a more hygienic and clean option. Your staff and customers will appreciate that.
Important feature #2: Option to brew a "strong" cup
If you feel like its been one of those days or your craving a more intense flavor profile, the Keurig K1500 lets you choose a strong brew. This means a deeper brew and a full bodied bolder flavor. It's almost like having a shot of concentrated coffee. The bad news is the volume is a little less. So if you want a larger concentrated cup, you may have to brew twice.
Important Feature #3: Larger water reservoir
The K1500 is built with a 96 oz water reservoir. This is twice the size of the 48 oz in our previous Keurig 2.0. It also comes with a handle for easy carry and refill. The capacity is a nice luxury because we don't have to refill the reservoir as often. Its convenient but not a huge make or break benefit for me personally.
However, for a business it's probably a bigger deal. With the high traffic of staff and customers using the coffee maker, its a huge benefit to not have to leave your business to tend to trivial things like adding more water in the coffee maker.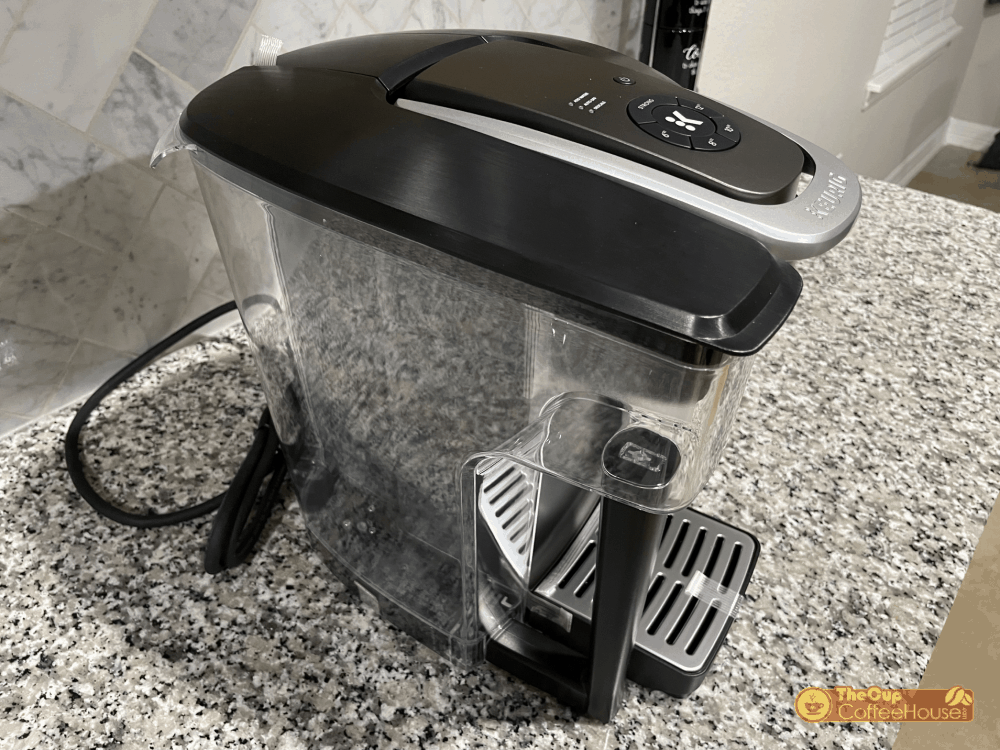 Important feature #4: Brews quietly
If you value peace and quiet in your early morning, then you will likely appreciate the K1500's quiet brew technology. From warming up to actual brewing, its pretty noiseless.
If you're like me, I actually dont mind the noise of my Keurig gearing up each morning when I plug it in. The brewing sound is actually relaxing to me!
But if you're in a business setting, then this is a benefit as it limits excess noise which could distract staff and clients.
Important feature #5: Has a convenient drainable line
If you ever need to move your K1500 or clean it out completely, the drainable line on the back of the machine will be your best friend. All you have to do is pull the line out and it will drain all the water from the internal tank easy.
But even though the K1500 has this water line, it actually can not be plumbed…or connected directly to your water line to supply endless water for your coffee maker.
If you want a list coffee makers with a water line, you can check out this full list of the best plumbed coffee makers.
Important feature #6: Commercial grade quality and durability
I think one of the few common drawbacks to Keurig machines is their durability. Just going through a few reviews you will notice that Keurig machines tend to not last as long as you would like. After 2-3 years these coffee makers can begin to give out.
The Keurig 1500 is part of their commercial grade lineup. Keurig commercial coffee makers are built with a UL commercial certification. This means they can withstand more rigorous high traffic use than their standard household machines. The outer build also uses non porous material, so nothing can leach in or out of your coffee.
After brewing for a month, we didn't notice any appreciable differences in the flavor and taste of the coffee.
Personally if I can get the same quality of brewing, and all the fancy nice features plus the strength and durability while paying a similar price to the household lineup, I would choose the commercial K1500 every single time. Just seems like a better deal.
Can Do/ Can't Do
Now, lets break down everything the Keurig K1500 can do and can't do. I tried to list as many things as I can so you can read this list and know within seconds after finishing if this commercial machine is worth your investment or not.
It can be used for household and commercial use
It can be used easily – with just the press of a few buttons its pretty simple. I'll share our step by step process below.
It can brew a strong bold cup
It can brew 4 different size cups up to 12 oz – But it may taste a little watered down when you brew a larger cup.
It can brew quietly
It can hold 96 oz of water at a time – large reservoir with a handle
It can last for a long time – at least compared to household Keurig machines.
It can shut off automatically after a period of non use
It can brew with a ton of K cups – one of the big advantages of Keurig…the endless assortment of flavors you can choose from.
It can use Keurig 2.0 K cups as well as other 3rd party manufacturers – We haven't tested this just yet, but the older K pods we used for our Keurig 2.0 worked perfectly with the K1500. Other reviews have said they didn't have a problem either.
It can use the My K cup reusable coffee pod – according to some reviews. So if you want to use your own manual grinder to whip up some coffee grounds, that is your best option. Once again we haven't tested this either, but we suspect it will work.
It can be bought on a reasonable budget – but it is more expensive compared to most other Keurig machines
It may brew coffee that has a plastic taste and smell – more on this in the reviews section.
It can brew single serve only. So no large coffee pots.
It can not brew an iced coffee
It can not be auto-programmed – So you have to turn it on manually each time.
How do You Use a Keurig K1500? (Step by Step)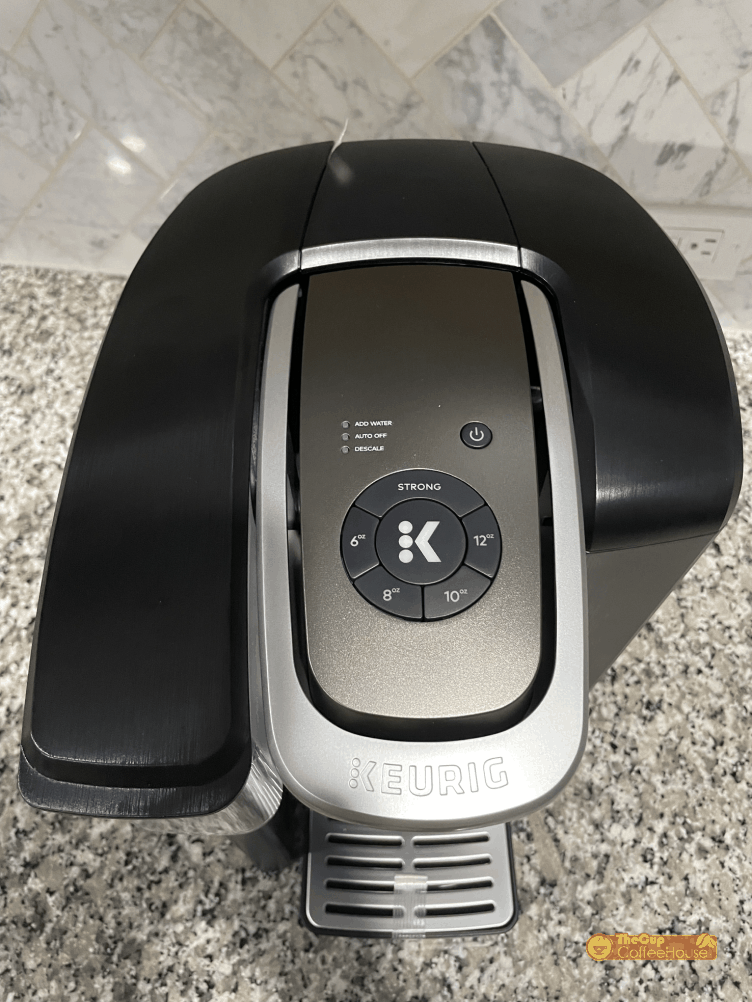 One of the joys of using the Keurig K1500 was not just the nice hot cup of joe it whips up, but also how simple it is to use. Much like the Keurig 2.0, it's really not rocket science. But I'll share with you a few tips we picked up along the way.
Step 1: Be sure your water reservoir is full or at least has enough water for the amount of brew you want. The handles make it pretty easy to carry and refill.
Step 2: Plug in your Keurig K1500. We chose a spot that was spacious on our counter top, that fits under the cabinet, so we wouldn't have to move it too much. And even though the K1500 will turn off on its own, I like to unplug the machine right after each use.
Step 3: Typically you would have to wait for the Keurig to warm up. With the K1500 you're good to go almost as soon as you plug it in!
Step 4: Choose your favorite K pod flavor (can even be hot chocolate or tea!) and open the top of your Keurig. Place your K cup in the pod holder and close the top firmly.
Step 5: Choose the size of cup you want to brew. Choose if you want it strong. Place your mug underneath. Then press start.
Step 6: Collect your hot cup of fresh bold flavored coffee in less than a minute. I like to also add non dairy coconut creamer and MCT oil to make a keto friendly high energy fat burning cup of joe! But feel free to dress yours up as you please.
Step 7: Take out the old K cup and place another to brew as many cups as you need. Pro tip: If you are brewing coffee and tea, use a cleaning pod in between each brew to preserve the flavors.
Step 8: Clean up – The K1500 will let you know when its time to do some cleaning. The nice thing is Keurig has a cleaning kit with cleaning pods you can get separately to help with descaling and sanitizing. For the old used K cups, you can get a recycle box and set it next to your machine. This makes cleaning up afterwards as simple as a drop in the bucket!
Alternatively, you can just use vinegar to clean and descale your Keurig 1500. You should probably do this every 3 months or so to keep it running smoothly and the coffee tasting great. Here's a great tutorial to help you.
What Do the Customer Reviews Say?
Before we bought the K1500 we combed through a ton of reviews on the Keurig site as well as Amazon and other coffee product sites.
What we learned is on par with our own experience. Overall most people really enjoy the Keurig K1500. People love how simple it is to use, the large water reservoir for less frequent refills, and the strong brew option to make a fast hot cup of coffee.
If you use it at home, the luxury of a commercial coffee maker that takes up a minimum amount of space is really nice. But at the office is where it really shines. Most reviewers mentioned that almost all the staff loved how fast and easy to use it is. They also love that it's quiet and cleans up really easy.
Some did mention that you may get a plastic taste and smell in your coffee when you first get the machine. To get rid of it you can run a cycle of water and vinegar solution through the machine. And you may also have to run an additional 2 full reservoirs of water through the machine as well.
Before we used ours, we added a water filter inside the reservoir, and ran 3 hot water cycles through the machine. No problems with the taste.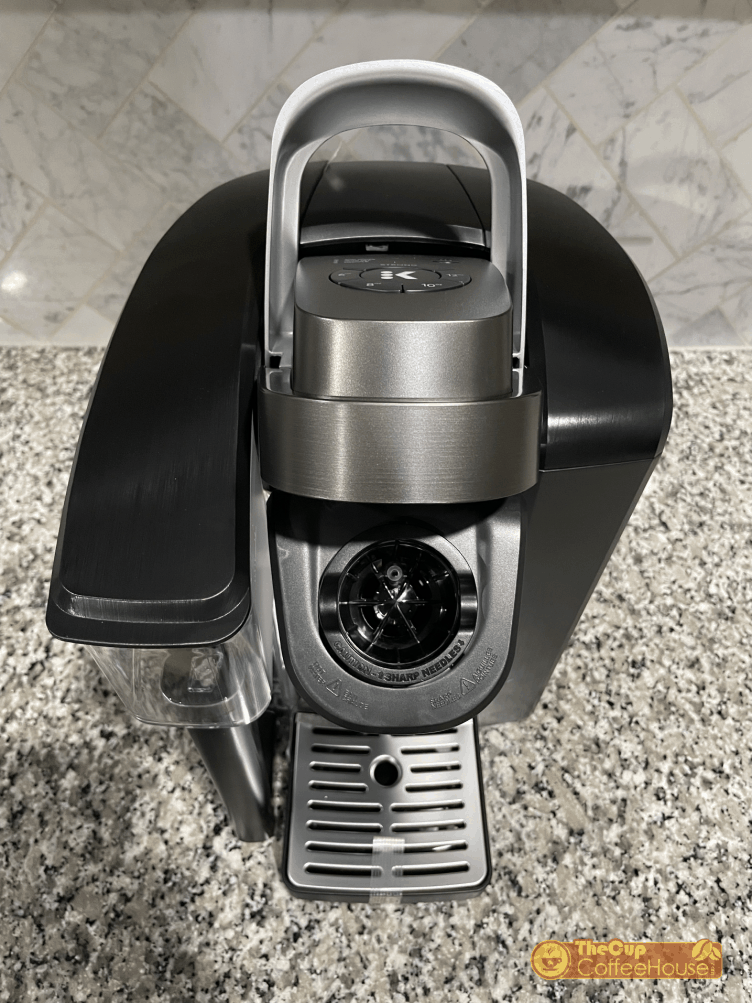 How Does it Compare?
As we usually do at The Cup Coffee House, we also wanted to compare the Keurig K1500 to its best competition in the market to see how it stacks up. Is there a better option that does all the same stuff with quality for a better price? Let's see.
The first coffee maker we looked at was the K155 Office Pro. Yes its another Keurig. But it's hard to ignore this one because there really aren't that many commercial single serve coffee makers on the market. Best you can find are commercial coffee makers made by Bunn. Bunn are known for much higher quality but they look like the traditional boring "The Office" work coffee maker with a carafe. Looks terrible on your kitchen counter.
The K155 Office Pro actually does alot of the same things the K1500 does. Both are built for high traffic commercial use, come with a 90+ oz water reservoir, and can make bold cups of coffee, tea or hot chocolate pretty fast using K cup pods. The differences?
The K155 Office Pro offers 4 cup sizes up to 10 oz. The K1500 can go up to 12 oz.
The K155 is bigger and heavier compared to the K1500. We're talking about 6 lb, vs the K1500 which clocks in at only 1 lb!
The K155 Office Pro can not use the My K Cup refillable pod. So no coffee grounds here. The K1500 apparently can use the My K Cup but its not been tested on our end.
The K155 has more tech features like the auto programming and adjusting your brew water temp. The K1500 is a little more basic and requires manual brewing each time.
The K155 is a bit more expensive compared to the K1500, about $100 bucks more.
If you want a great looking designer coffee maker for the office or home, that is programmable and makes a great cup of coffee fast then go with the K155 Office Pro. But if you want a lighter, space saving machine that does all the same things without the fancy display and more affordable price tag, the Keurig K1500 is your choice.
Even though the Cuisinart DC 3000 isn't exactly considered a commercial coffee maker, we chose to compare it to the K1500 because both offer a quick and easy way to get hot coffee to a larger group of people fairly fast, albeit in 2 different ways.
The Cuisinart DC 3000 brews coffee using coffee grounds and stores it in a temperature controlled inner reservoir tank. When you want coffee, you just pull a lever and it dispenses it to you. You can brew a larger batch (up to twelve 5 oz cups at a time) that will stay hot for 4 hours or you can brew a smaller amount on demand. The K1500 uses K pods to brew a single cup each time.
The Cuisinart DC 3000 is programmable and can prepare a cup for you just before you get out of bed. The K1500 doesn't have programmable features.
The Cuisinart DC 3000 isn't as easy to keep clean compared to the K1500. Also the coffee gauge doesn't always work as well.
The Cuisinart DC 3000 is half the price of the K1500 and may even be more cost effective given it doesn't require the use of pricey K cup pods.
If you want to make fresh tasting coffee in batches that stays hot for the family or business staff and lets you program your brew at a great price, then the Cuisinart DC 3000 may be a good option. But if you value simple brewing with K pods, and easy cleanup and maintenance then just stick with the K1500.
The Final Verdict
The Keurig K1500 is the best of both worlds: household and commercial use. Its a commercial made single serve coffee maker that is easy to use, easy to clean and brews a hot cup of coffee or tea really fast. Whether its you and your loved ones at home, or your clients and staff at your place of business, everyone will appreciate a larger reservoir and quieter brewing!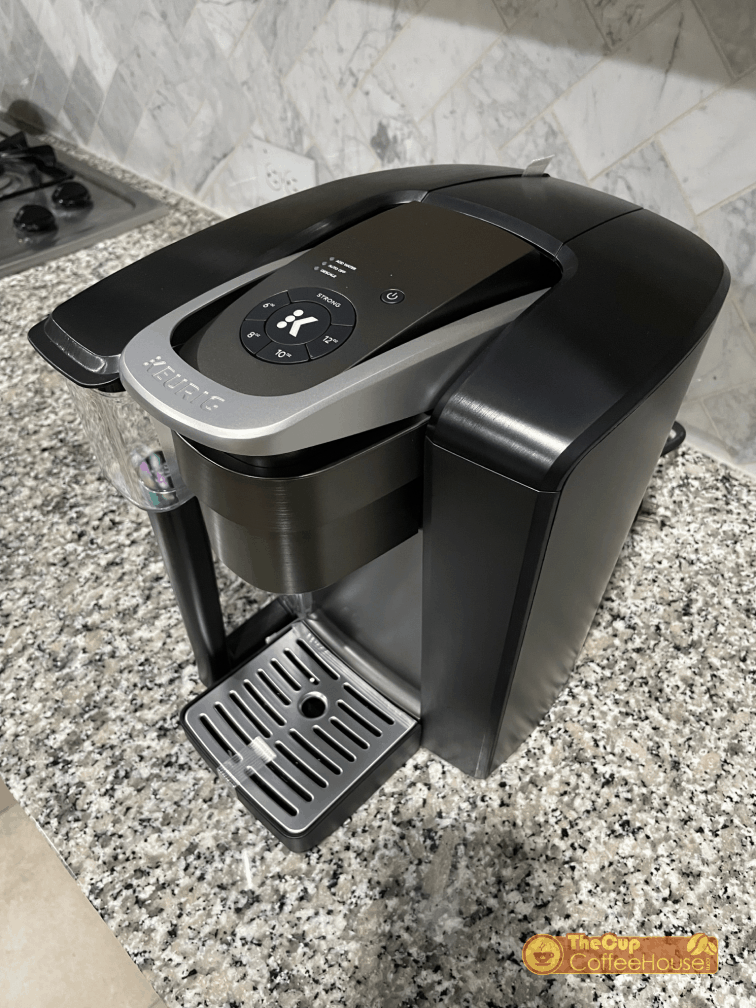 On the other hand, the K1500 is a single serve coffee maker and cant make a whole carafe of coffee if you had a large group to serve at one time. It also may have a plastic taste when you first purchase it (but that can easily be cleaned out). Its not programmable and does cost more than your typical Keurig single serve coffee maker.
One of the biggest issues with Keurig's in general is their lifespan. But I think it's a tradeoff that one has to live with. You trade the quick fast easy to use and easy cleanup coffee maker for a shorter shelf life.
Personally for the K1500, I'm not sure of the shelf life yet because we just got it. My bet is it will last longer given its a commercial made coffee maker. Maybe 5-10 years. But I suspect it depends on how much you use your Keurig. So far it works really well.
Sale
Keurig K-1500
The Keurig K1500 is built commercial grade, with a 96 oz reservoir, and brews coffee in less than a minute quietly.
Last update on 2023-09-18
But if Keurig's aren't your thing and you still want a high quality pod based beverage, consider the rich foamy quality of a Nespresso machine or check out some of the best high quality coffee makers from Breville. They even have coffee makers with internal tanks if you want fast coffee that is batched without a carafe.
Another option is to also consider a 4 cup or 5 cup coffee maker if you want to still save space but still get the strong brew flavor in a smaller batch.
But overall, we love our Keurig K1500. It looks great on our counter top. It brews fast and HOT, and it tastes great. And the cherry on top is I don't have to think about cleanup either. Just the way I like it!
Coffee Has Never Read This Good!
Sign up for a FREE newsletter to the best home brewing tips and guides
Thank you for subscribing to The Cup Coffee House Crew! There's a surprise in your Inbox 🙂
Something went wrong.
About the Author
Latest Posts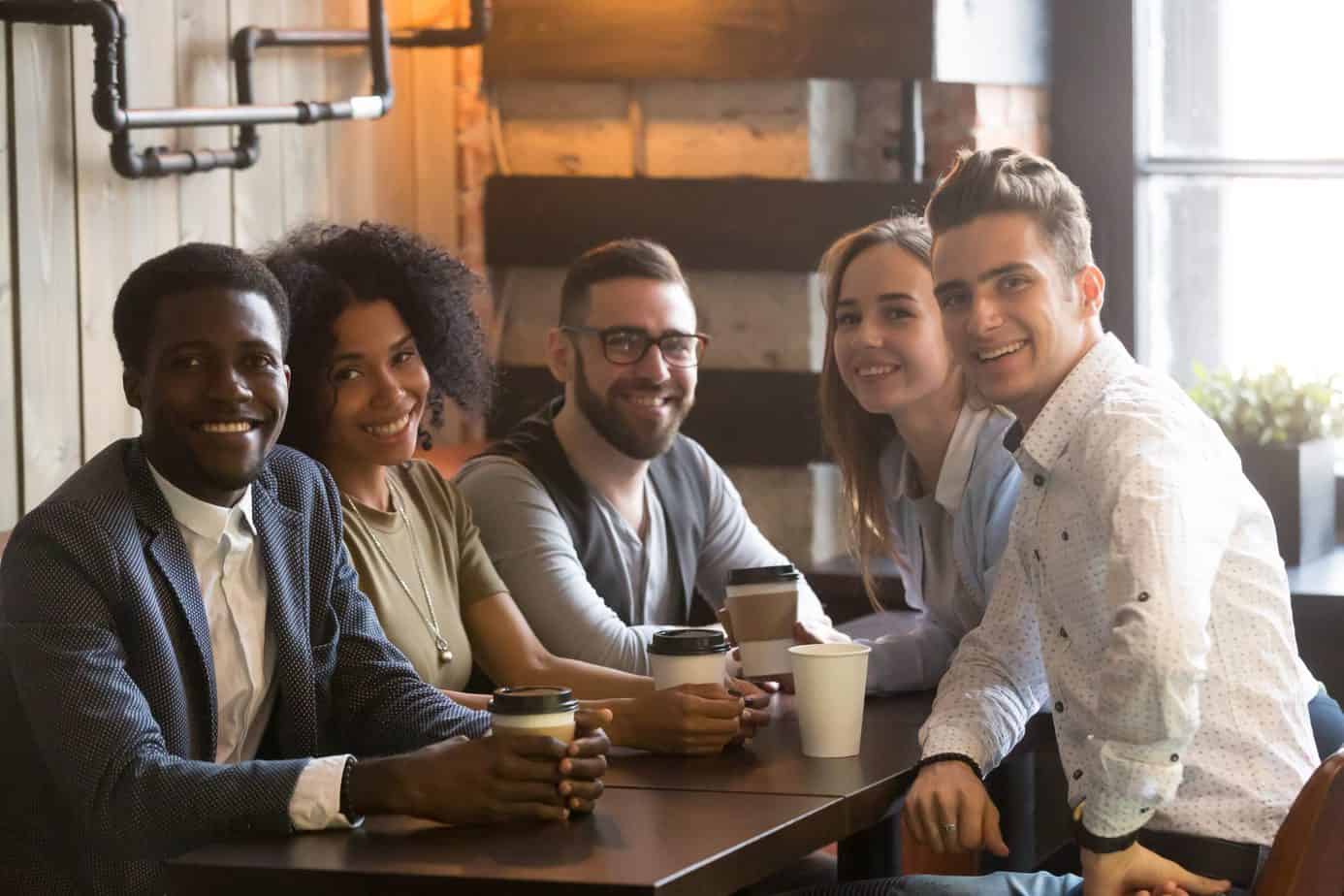 "Jules" is a pharmacist by day and investor, writer, and health nut by night. When he's not sipping on some coffee laced with MCT oil during an 18 hour fast, he is writing about how to get your coffee grind on or playing Monopoly with his 2 boys and wife. Ahh…life is good!