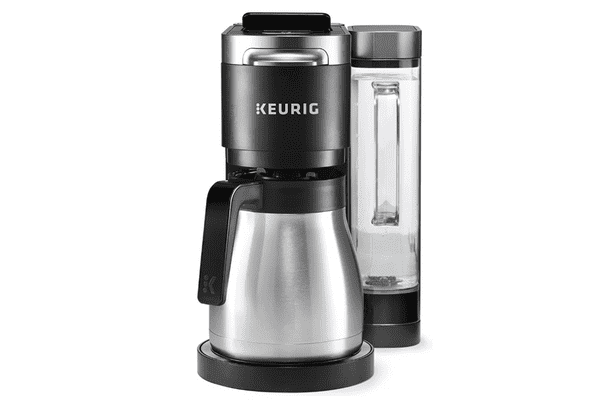 During the weekdays, you need your single cup of coffee hot and fast. You're already late! But on the weekends, you may like to relax a bit with a whole pot of coffee with the family. Until recently, that meant having 2 different coffee makers taking up space on your counters.
Then Keurig unleashed the Keurig K-Duo Plus.
If you're looking for a new brewer, should you consider the K-Duo Plus? Well it depends on your needs of course. In this quick Keurig K-Duo Plus review, we will help you decide the answer to that question.
In a hurry? Heres the TL;DR version:
The Keurig K-Duo Plus is a combo carafe k-cup machine that makes delicious hot coffee fast either with your favorite coffee grounds or with K-cup pods. The Plus gives you a slimmer compact design while brewing into a stainless steel carafe. Add on the programmable and pause and pour features, and you have a great coffee maker perfect for the solo coffee drinker at home who occasionally entertains or for a small group at the office.
While it isn't the cheapest Keurig machine and it may brew less coffee compared to the water you put into it, the ease of use and convenience makes it a great value to consider.
Sale
Last update on 2022-08-08
---
What's so special about the Keurig K-Duo Plus?
We've talked about what the Keurig K-Duo brings to the table before, but this is the plus version. So it stands out in a few different ways that make it unique:
1. Dual batch coffee and single serve coffee
Maybe you are someone who drinks coffee alone and appreciates a quick single serve coffee but sometimes entertains or has a group who occasionally want coffee too. Maybe you like to experiment with various blends of coffee grounds for the perfect flavor.
With the K-Duo's option to brew a pot of 2-12 cups using coffee grounds or 2-12 oz. using K-cup pods, your coffee drinking experience becomes more flexible.
2. Techy features
The K-Duo Plus comes with a programmable feature so you can have coffee when you want it…early in the morning waiting for you! If you want to sneak a cup before the brew is done, the pause and pour is really nice so you don't make a mess.
3. Slimmer compact design
For many coffee drinkers, kitchen counter top space is of high value…because its scarce! So the fact that the K-Duo plus not only utilizes the same compact slim design as their other single serve coffee makers like the K-Slim and K-Supreme, but it also combines a batch and single serve machine together, means more great tasting coffee while taking up minimum space.
It also works great as an under the cabinet coffee maker since the grounds basket slides out to the side.
4. 60 oz. multi position removal water reservoir
A larger reservoir means less time spent refilling and more time brewing a quick cup of coffee or a nice batch brew. You can also move the water reservoir to either side of the machine or to the back depending on what fits your kitchen setup the best.
5. Thermal carafe
If you've had a glass carafe before, then you will appreciate the 12 cup stainless steel thermal carafe the K-Duo Plus comes with. It can keep your coffee hot for up to 2-5 hours in some cases and is easy to hold and use.
The K-Duo Plus doesn't come with a hot plate. But honestly you don't need one, since the carafe works pretty well. Also this avoids drinking burnt tasting coffee that has sat on the hot plate for too long.
Pros and Cons to Consider
Ok let's take a look at the pros and cons of the Keurig K-Duo Plus so you can easily determine if it's the right coffee machine for you.
Things We Like
Can make 6, 8, 10, or 12 oz. single cup of coffee fast (2-4 minutes)
Can brew a 6, 8, 10, or 12 cup batch of drip coffee
Uses K cup pods (lots of flavors to choose from!)
Uses a semi-permanent gold tone mesh reusable filter
Strong brew option
60 oz. multi position removable water reservoir
Comes with stainless steel 12 cup thermal carafe
Relatively space saving (7.68 in. wide, 14.19 in. tall, 15.88 in. deep)
Fairly quiet
User friendly with digital display, LED screen, and light up buttons
Will fit taller mugs (up to 8 in.)
Auto off safety feature
Maintenance reminders – like add water, or descale
Things We Don't Like
May not brew the exact cup amount you specify
Made of mostly plastic
May splatter as it brews
Pod does not come out easily
No temperature control
Warranty only good for a year
Doesn't make specialty drinks
A bit pricey, runs $200 plus
Our Ranking
Quality, build – Slimmer design for a batch machine. Made of plastic mostly. Average durability
Ease of use – Very easy to use; pop in the pod and follow the prompts; simple button interface; LED screen and lighted buttons
Performance – Makes hot coffee at great strength in a timely manner. Quiet. Tastes good. May not brew exact amount of cups expected.
Maintenance – simple, easy to clean; simply toss your K-cup pod away after each brew (not recyclable currently); or clean out filter basket and carafe
Reviews – higher level of satisfaction compared to other Keurig machines
How to use it
The K-Duo Plus operates pretty much the same as any Keurig with some slight differences. We've talked about the specifics of operating a Keurig before.
But in general:
Fill or top off the water reservoir (filtered water preferably)
For either the pot option or single-serve, you want to make sure the water tank is full.
Many customers noted that the water tank seems to run out fast. Sometimes it even uses more water than what you programed it for.
The water reservoir is 60 oz., so it should be able to make several single serve cups.
If you choose to brew a pot, it is pretty similar to a regular drip machine, and brews the amount of water you add to the machine.
You also need to install a water filter for your Keurig K-Duo Plus, which it comes with.
Place your favorite pod in to the receptacle and close, or add coffee grounds into the filter basket
Be sure its closed all the way or the machine will not start
Wait for lights to come on
Place your mug or carafe in position
For a single cup brew, you may have to position you mug closer to the back of the machine since the spout is positioned that way.
Choose your cup size for the single serve. Or choose the pot for a batch brew.
HINT: For the strongest coffee, choose the 8 oz. option on strong setting.
Choose if you want a strong brew
Press the center K button
Wait a few minutes for your coffee to brew and enjoy!
This may take several minutes. Longer if it's a strong brew.
Brew into a cup for travel. Remove the drip tray for a larger travel mug. Or brew into a thermal pot. The thermal pot will hold the heat for up to 2 hours.
If you get a plastic like taste on your first go, then try running several carafes full of water through the system.
Cleanup
For maintenance, cleaning is simple. Wash all your parts and your good to go. Also consider running vinegar or descaling solution every few months to keep your K-Duo Plus running smoother longer.
You will need to descale the single cup side and then the coffee pot side in two separate steps.
What customers are saying
Overall the majority of users loved their Keurig K-Duo. They appreciated its dual coffee making features, ease of use, simple maintenance, and the adjustable water reservoir positioning.
However, some customers noted you may not get the exact amount of coffee for the water you put in. Keurig apparently categorizes a "cup" as being a bit smaller than we're used to. And the strength varies depending on the number of cups you brew.
How does it compare?
Keurig isn't the first to innovate the dual coffee pot and single serve coffee maker. Let's see how the K-Duo Plus stacks up to the competition.
Our first challenger is the Cuisinart single serve brewer coffee center. Honestly it looks almost exactly like the K-Duo Plus. Both will brew a full pot or a single cup using K-cup pods into a stainless steel carafe (the SS-20P1), and uses programmable and brew pause features. The difference?
The Cuisinart has a slightly smaller water reservoir at 40 oz.
The Cuisinart has a self-cleaning feature that the K-Duo Plus lacks
The Cuisinart comes with brew strength and water temperature controls
Since both machines are just about the same price, $200+, the difference will be in the details. If you like the extra brew customization go with the Cuisinart. But if you want more brew for your money, then maybe opt for the K-Duo Plus.
Once again theirs not a lot of differences in these machines. The Hamilton Beach FlexBrew will brew a full 12 cup pot or single serve coffee fairly quickly, with a bold brew option, using a programmable timer just like the K-Duo Plus. But…
The FlexBrew can brew 5 cup sizes up to 14 oz. on the single serve side compared to 12 oz. for the K-Duo Plus
The FlexBrew uses 2 separate water reservoirs for the carafe and singe serve side.
The FlexBrew only has a glass carafe option
The FlexBrew is bulkier and less accommodative to space compared to the K-Duo Plus
The FlexBrew is practically half the price
If space is not an issue for and you're on a budget, the Hamilton Beach FlexBrew is your best bet. But if you need a combo coffee maker with a smaller footprint that keeps your coffee hot with a thermal carafe, the cost of the K-Duo Plus may be worth it you.
Final Verdict
For coffee drinkers looking for the best of both worlds, the Keurig K-Duo Plus seems to answer the call. The K-Duo Plus is a combo carafe kcup machine that makes delicious hot coffee fast either with your favorite coffee grounds or with K-cup pods. The Plus gives you a slimmer compact design while brewing into a stainless steel carafe and a multi position water reservoir to adapt to any kitchen style.
The K-Duo plus works perfectly for coffee drinkers who need a quick cup of coffee fast as they run out the door in the morning, but want to slow it down on the weekends and make a nice full pot to relax to.
Or if there are 2 different coffee drinkers in the house and buying 2 coffee makers doesn't make sense. The versatility gives the K-Duo Plus an edge over most other Keurig coffee makers.
But you may not always get the exact amount of coffee you expect from each pot you make, and the price on the K-Duo Plus isn't exactly on the cheap side.
If those things concern you over the more positive pros, then consider another best Keurig coffee maker to choose from, like the K-Express, K-Mini, or K-Elite.
Until then, hopefully this report helped you make a decision!
FAQ
Can you use a reusable K-cup in a Keurig K-Duo Plus?
The My K cup universal reusable coffee filter is compatible with the Keurig K-Duo Plus. So this means you can enjoy your own coffee grounds either as a batch brew on the carafe side or as a single cup serving on the pod side.
Are there 2 different Keurig duos?
Technically there are 3 different Keurig K-Duos: The K-Duo Essentials, K-Duo, and K-Duo Plus. The K-Duo Essentials is a very basic version of this combo coffee maker. The K-Duo and K-Duo Plus have more features and customization, with the biggest difference being the K-Duo Plus is more compact than the K-Duo.
Coffee Has Never Read This Good!
Sign up for a FREE newsletter to the best home brewing tips and guides
Thank you for subscribing to The Cup Coffee House Crew! There's a surprise in your Inbox 🙂
Something went wrong.
About the Author
Latest Posts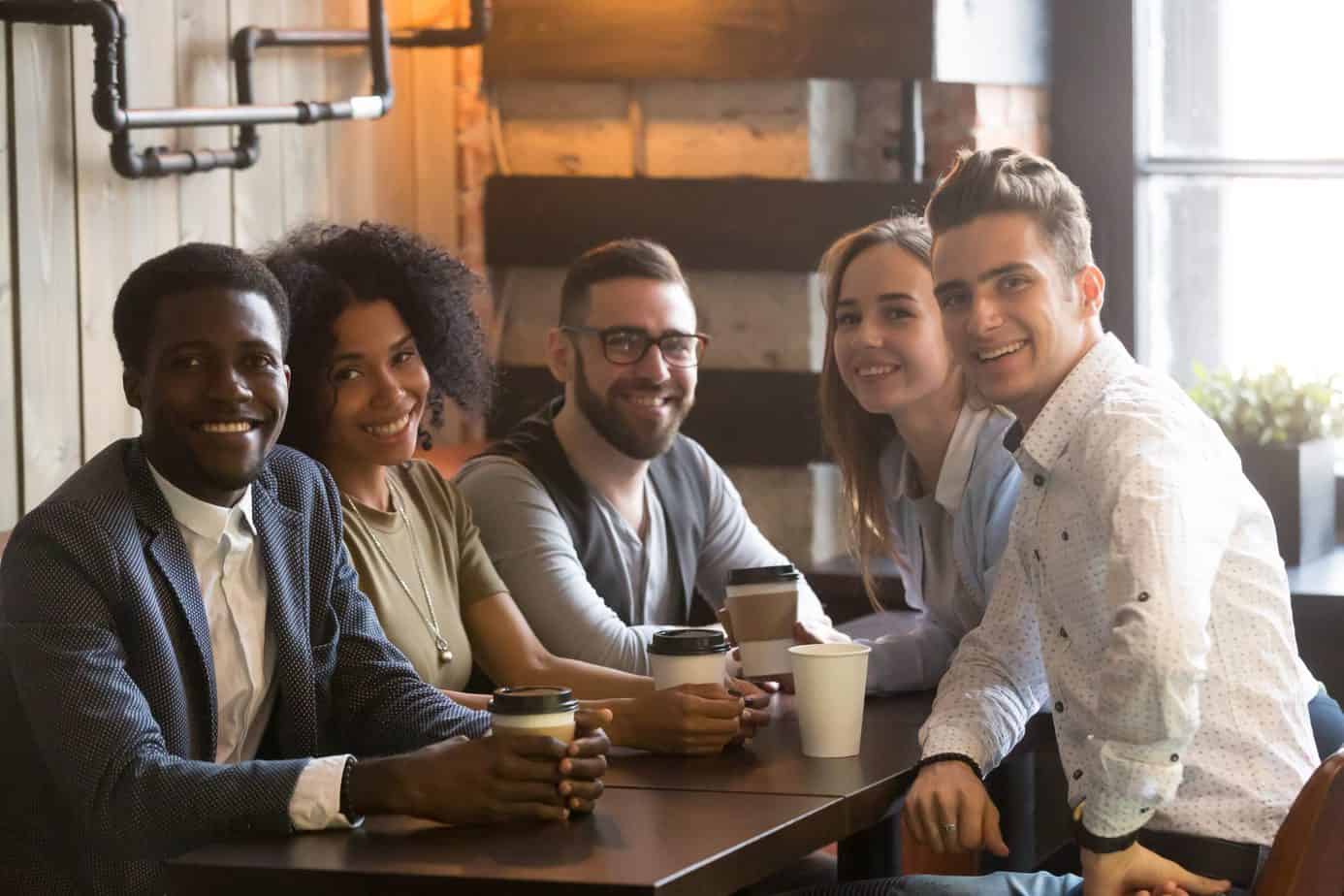 "Jules" is a pharmacist by day and investor, writer, and health nut by night. When he's not sipping on some coffee laced with MCT oil during an 18 hour fast, he is writing about how to get your coffee grind on or playing Monopoly with his 2 boys and wife. Ahh…life is good!