Last updated on May 10th, 2023 by Jules Winnfield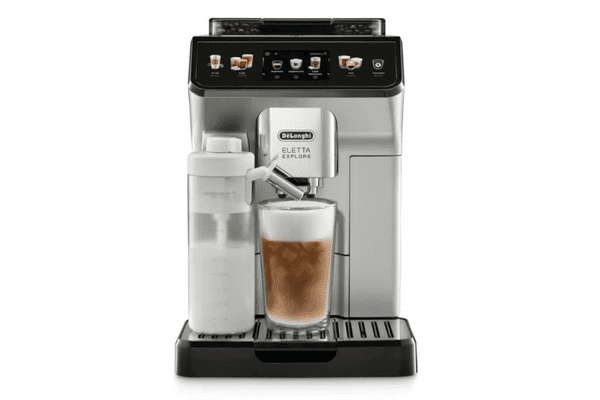 If you're like me and you want to explore espresso but don't have the time or inclination to get into the weeds of roasts, grinding, temperature, and extraction times then a fully automatic guide is your best bet.  
DeLonghi Eletta Explore ECAM45055
Performance -

9.6/10

Ease of Use/Maintenance -

9.4/10

Build & Quality -

8.7/10

Design & Features -

9.5/10

User Satisfaction -

9.1/10
Final Verdict
We think the DeLonghi Eletta Explore is one of the best and brightest super automatic espresso machines on the market right now.  We especially love the To-Go function and 16 oz. mug so you can enjoy delicious hot or cold espresso beverages from either the 40+ preprogrammed recipes or your own customized drink.   But where it truly stands out is its flawless adherence to user friendliness. From the easy on the eyes intuitive LCD color touch display, to the ease of startup and use, to the saved custom drink profiles, to the included app, to the near automatic cleanup and rinsing, the Eletta Explore keeps you enjoying tasty espresso endlessly like a pro.    And yes, its pricey but come on…for what you're getting, the price is insanely good value. Perfect for coffee drinkers willing to splurge on a personal barista for the best tasting cup ever.  
And just as the great Indiana Jones can't go on his adventurous explorations without his trusty tools, you too can't explore the world of espresso without the right tools and guide.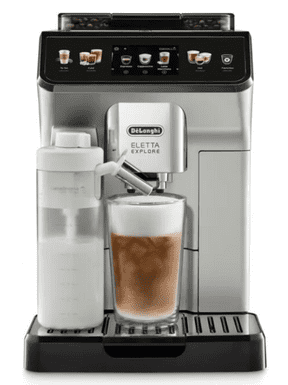 And the DeLonghi Eletta Explore has the potential be exactly what you're looking for.  
But is it right for you? 
In this quick straight to the gist DeLonghi Eletta Explore ECAM45055 review, we answer the question and give our overall rating to help you decide.
---
DeLonghi Eletta Explore Review and Rating
Build/Quality (8.7/10)
What is it made of?
Painted plastic exterior with metal parts and sleek sophisticated look and design. 
How durable is it? 
This machine is relatively new to the market, so the jury is still out. 
But so far, it seems if you put in the required regular maintenance, the Eletta Explore could last as long as De'Longhi's other fully automatic machines, 10+ years.  
Performance (9.6/10)
What brew modes does it have? 
40+ preprogrammed recipes including: 
Hot:
Espresso, 2X Espresso, Coffee, Dopio, Long, Americano, Coffee pot, Cappuccino, Latte Macchiato, CaffeLatte, Cappuccino Mix, Espresso Macchiato, Flat White, Cappuccino+, Cortado, Milk, Tea, Hot water 
Cold:
Americano, Over Ice, Cappuccino, Latte Macchiato, CaffeLatte, Cappuccino Mix, Flat White, Milk 
Makes twin shots to share with a friend. 
Pressure? 
19 bars 
Strength control? 
Yes, the Eletta Explore calls it aroma settings and there are 5: 
Extra mild taste 
Mild taste 
Standard taste 
Strong taste 
Extra strong taste 
Temperature control? 
Yes, 4 settings from low to maximum. 
How fast does it brew one cup or batch? Heat up time? 
For a cup you're looking at a few minutes. Heat up is fast. 
For a pot of coffee, 10 min.  
How many cups does it make? 
Any espresso beverage can be made into 4 various volumes, depending on your preferences. But the ranges are: 
Espresso: 0.7-6 oz. (20-180 ml) 
Coffee: 3.1-8.1 oz. (100-240 ml) 
Long: 3.9-8.4 oz. (115-250 ml) 
Doppio+: 2.7-6 oz. (80-180 ml) 
Americano: 2.4-16.2 oz. (70-480 ml) 
Tea: 0.7-14.2 oz. (20-420 ml) 
Hot water: 0.7-14.2 oz. (20-420 ml) 
Steam wand for frothing? 
No, but does come with an automatic milk foam jug system called LattaCrema, which pours milk froth for you into your beverage. 
The LatteCrema Hot froths milk foam for your hot beverages.
The LatteCrema Cool, a separate milk carafe, makes foam for your chilled drinks.  
Both come with adjustable foam (3) settings, and can easily be stored in the fridge after use. 
Self-cleans with an auto clean function  
How quiet is it? 
Fairly quiet. Can be noisy first use out of box, but manageable afterwards.  
Also the standard noise you would expect from a grinder is always there 
How is the taste and flavor?  
Practically everyone agrees the espresso coffee you get from the DeLonghi Eletta Explore is as rich, creamy, foamy and delectable as what Starbucks or any other coffee shop will make.  
Combine that with its easy to adjust and customize features and it's probably the tastiest beverage you'll get your hands on outside of getting into the weeds with a manual machine.  
Be sure to run 4-5 cups of coffee through the machine the first time you use it so you get the best taste. 
Ease of Use/Maintenance (9.4/10)
How big is it? 
At 10.3 in. wide, 17.5 in. long, and 15.1 in. high, the Eletta Explorer is a little more compact than your typical fully automatic machine, but it is a bit tall too. 
How heavy? Portable? 
24.6 lb., so it's pretty heavy and not easily moved 
LCD display or push buttons or both? 
Comes with a very fancy looking TFT 3.5 in full touch color display with soft touch icons.  
How easy is it to use? 
The nicest thing about the DeLonghi Eletta Explore is how simple it is to touch a few buttons and get café quality hot or cold beverages almost instantly.  
– For hot beverages:
Simply pour in your water, your coffee beans, select a grind setting, press the start button, select a beverage from the very easy on the eyes display, and optionally select a dose strength, and volume, then hit the brew button and follow along as your brew goes from grinding to brewing, to you sipping! 
– For cold beverages:
all the above plus select if you want iced or extra iced, add the suggested amount of ice cubes and hit start. 
For milk based drinks, fill your milk jug, attach to machine, set your froth setting and hit button for the beverage you want. 
From bean to cup to froth, the whole thing is a joy to operate and watch!
Maintenance reminders? 
Yes, a ton of reminders including: 
Energy saving active 
Milk carafe cleaning required 
Descaling required 
Filter exhausted 
Drain drip tray 
Clean out coffee grounds container 
How easy is it to clean?  
Cleanup is what you would expect, not difficult but involved: 
– Simply clean out the drip tray, drip tray grill, coffee grounds container, water tank, and pre-ground coffee funnel.  
– Wipe down coffee spouts, control panel
– Throw into the washer the coffee pot, travel mug, milk carafes 
Less frequently, the brewing unit, and internal circuit need to be cleaned. 
Also comes with an automatic preheat and rinsing cycle before and after each use.  
The LatteCrema milk jugs have a self-cleaning feature: Simple turn the froth dial to clean setting. Or, if there's no milk left, throw it into a dishwasher and wipe down nozzle. 
Descaling is pretty simple too, just follow the machine instructions. 
Design/Features (9.5/10)
Does it use pods or ground coffee or both? 
Coffee beans, either whole or pre ground 
Heating mechanism 
Dual thermoblock 
Built in grinder? 
Conical steel burr grinder with 13 settings. 
Bean hopper capacity of 10.6 oz. (300 g) 
Programmable autostart? 
Yes, via the Coffee Link app you can actually program it to brew automatically at the time you want. 
Auto shut off, energy saving mode? 
Yes, can be set to auto turn off between 15 min and 3 hours of non-use. 
Any other notable tech features? 
– Customer profiles for easy access to your custom drinks 
– Connects to the DeLonghi Coffee Link App, so you can remotely control your espresso machine via wifi. 
– Built in statistics function – so you can see how many coffees you made and other maintenance tasks. 
– Bean adapt technology and Espresso Soul – an automated program that chooses the best grind and brew for you based on the type of beans you use 
Removable water reservoir? How big? 
Yes, 60 oz. (1.8 L) 
Come with accessories? 
Yes, comes with 16 oz (about 473.18 ml) travel mug, coffee pot, ice cube tray, measuring scoop, and removable waterspout.  
You also get a water filter, cleaning brush and descaler. 
Can it dispense hot water? 
Yes, just choose the Hot water option from list of beverages. There's even a special beverage icon for tea too! 
Drip tray removable to accommodate larger mugs? 
Yes, also coffee spouts height is adjustable to get up to 6.7 in. mugs in place. 
Plus there's a To-Go function for optimizing your beverage in travel mugs vs regular coffee glasses 
Any other unique features? 
Water hardness settings – helps customize when you should descale based on your water hardness 
Water softening filter – for the best tasting coffee 
Come in different colors? 
No, just silver 
Pricing 
A large investment of $1799.95 
User Satisfaction (9.1/10)
Warranty? 
2 years plus 1 extra when you register your machine 
Specific customer feedback, good AND bad  
Most people love the DeLonghi Eletta Explore for its easy one button coffee shop quality drinks, plethora of options, ease of cleanup and savable drink profiles. 
People don't have too many issues other than the app doesn't seem to connect with the Eletta Explore. 
Pros and Cons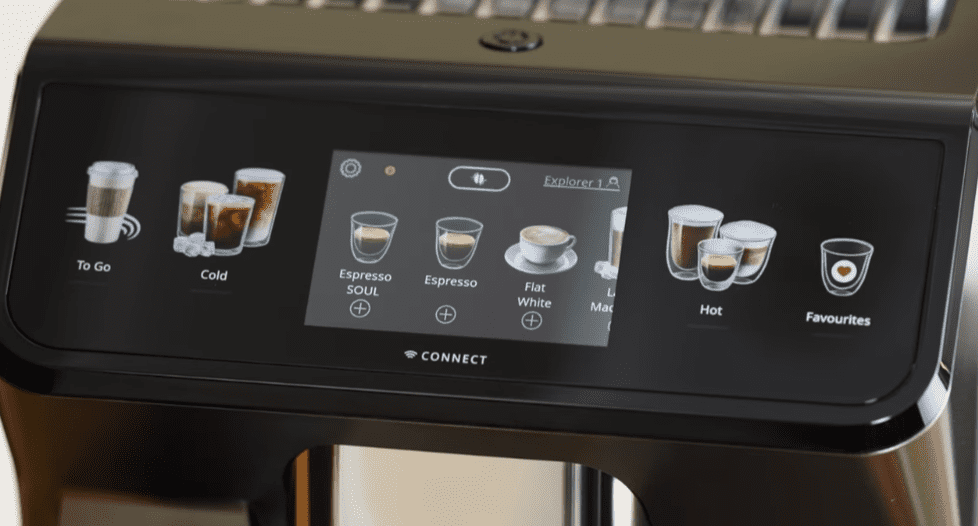 Being in the espresso drinking game means you know who the real players are, and DeLonghi is definitely one of those players. Its brand is high end enough to win prestigious awards but mainstream enough that average coffee drinkers are familiar with it.  
And the DeLonghi Eletta Explore follows in that line. Sure, it's an iF design and Red Dot design winner. But what are the nitty gritty features that make you oohhh and ahhh?  
Things I like
Built in grinder for fresh coffee each brew, but can use preground coffee too 
Comes with over 40 different preprogrammed coffee drink recipes. No more having to imagine it all yourself! 

Also customizable to your liking too (strength, temp, volume) 

Hot or cold milk foam 

The LatteCrema milk jug system is a crowd favorite we've talked about before.  
But with the addition of separate hot and cold foaming jugs, you can really tap into your winter and summer barista spirit! 

To Go shot sizes 

Perfect for getting the right amount of brew in your favorite travel mug 

The luxurious feel of full color displays with easy navigation icons 
Water tank slides out in front for convenient access 
Fits larger travel mugs 
But can also make a whole pot of coffee too 
DeLonghi Coffee Link compatible so you can work your machine from your phone 
Automated barista like brewing and adjustments via the Bean adapt technology 
Things I don't like
The automatic rinsing function uses a lot of water so would be nice if water tank was bigger 
Daily cleanup is simple but long-term maintenance can be very involved; so you need to set aside time for this 
The Connect App isn't available for US buyers for some reason 
Very pricey 
How Does it Compare? 
To get an idea of how serious business the Eletta Explore is, we decided to compare it to a similar caliber super automatic espresso machine, such as the Philips Seaco Xelsis SM7684. 
In terms of similarities both machines: 
Deliver a large list of delicious creamy rich espresso beverages like lattes and cappuccinos already preprogrammed  
Utilize an easy to use and navigate LCD full touch screen 
Come with a built-in burr grinder for fresh coffee daily 
Utilize a milk carafe system for automatic milk foam and froth 
Will let you customize your settings (grind, strength, temp, volume) and save them for later 
Pretty much the same price range 
But the differences: 
The Eletta Explore comes with 40+ recipes while the Philips Xelsis only 15 
But the Philips Xelsis lets you save up to 6 user profiles, while Eletta Explore only 2 
The Philips utilizes a ceramic burr grinder vs the Eletta Explores steel. Ceramic generally is better for less heat and better flavor retention.
Winner? 
Honestly both are superior super auto machines. You practically could pick either and come up with the same amazing experience.  
The reviews, user experience, and quality seem to be equal. At this price point, it should be practically perfection regardless.  
Final Verdict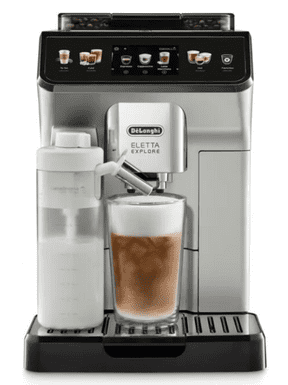 We think the DeLonghi Eletta Explore is one of the best and brightest super automatic espresso machines on the market right now. Not only does it help you explore the world of espresso with its plethora of coffee drinks recipes, but you can also explore your own personal style by customizing the grind, strength, temp, volume, and froth options.  
We love the To-Go function and 16 oz. mug so you can explore your way out the door fast with a delicious brew of hot or cold espresso or a coffee pot option if you just want to keep it drip. 
While Katy Perry doesn't really dig Hot N Cold guys, the Eletta Explore makes it perfectly ok to be incapable of picking your favorite hot and cold beverage! 
But where it truly stands out is its flawless adherence to user friendliness. From the easy on the eyes intuitive LCD color touch display, to the ease of startup and use, to the saved custom drink profiles, to the included app, to the near automatic cleanup and rinsing, the Eletta Explore keeps you enjoying delicious espresso endlessly without a lot of headaches along the way.  
And yes, its pricey but come on…for what you're getting, the price is actually insanely good value. The closest you could possibly get to a personal barista without actually having one.
For other high end Eleta machines there are others to consider:
You may still consider the Dinamica and Magnifica machines if fully automatics that provide a hands-off bean to cup experience but still give you the delicious coffee house aroma and taste you can't live without at a more affordable price is your thing.
For a more semi automatic feel that gives you a little more involvement in the brewing process, consider the La Specialista series.
If you want to keep things more basic, then check out the Dedica or ECP series. These machines are manual semi-automatics that are much simpler with no grinder built in.
Coffee Has Never Read This Good!
Sign up for a FREE newsletter to the best home brewing tips and guides
Thank you for subscribing to The Cup Coffee House Crew! There's a surprise in your Inbox 🙂
Something went wrong.
About the Author
Latest Posts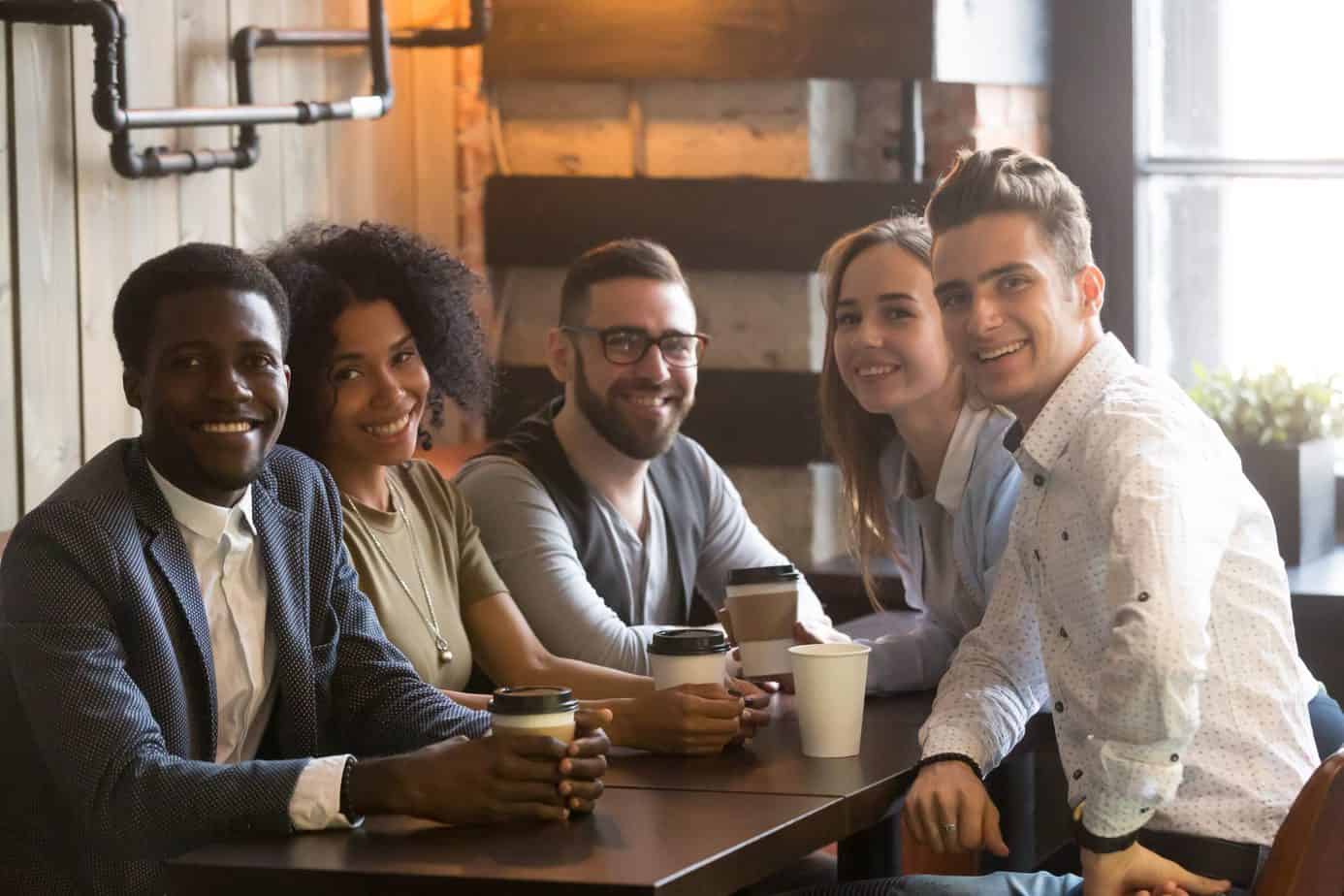 "Jules" is a pharmacist by day and investor, writer, and health nut by night. When he's not sipping on some coffee laced with MCT oil during an 18 hour fast, he is writing about how to get your coffee grind on or playing Monopoly with his 2 boys and wife. Ahh…life is good!