Last updated on October 20th, 2022 by Catherine Cervone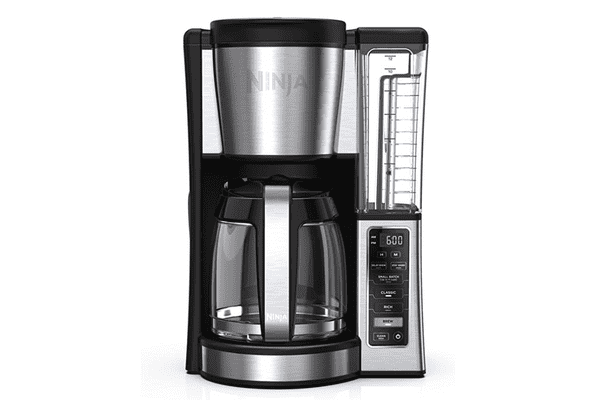 Do you enjoy a good quality, great-tasting cup of coffee? If you love a drip coffee with a bold, rich flavor that's reliable for everyday use, you're not alone. The Ninja CE251 Programmable Brewer was made for coffee drinkers like you.
Ninja CE251 Programmable Brewer
Performance -

9.2/10

Ease of Use/Maintenance -

9.1/10

Build & Quality -

8.8/10

Design & Features -

9.1/10

User Satisfaction -

8.7/10
Final Verdict
The Ninja CE251 is a sleek drip coffee maker that brews tasty pour over quality coffee. It's simple to use, has programmable features, easy to maintain, and affordable. It may not come with specialty coffee beverages, or use of pods but its a great brewer for larger or smaller crowds on a value price.
Want the quick summary?
The Ninja CE251 is a sleek drip coffee maker that brews quality coffee. It's a great machine if you want the taste of a pour over without the hassle and if you want the affordability that comes with using ground coffee vs costly pods. It may not come with a specialty coffee experience like espresso, over-ice or tea options, but its an easy to use and maintain brewer for a value price. 
If you're looking for something simple yet effective that makes a delicious cup of drip for a larger or smaller crowd and you don't mind missing the extras of an all-in-one or pod machine, this coffee maker is right for you.
Ninja CE251 Programmable Brewer
The Ninja CE251 makes great tasting hot coffee, in a 60 oz carafe, that is programmable anytime you want it, easy to use on an affordable price.
Last update on 2023-09-18
---
Whats So Special About the Ninja CE251 Programmable Brewer?
Ninja is part of SharkNinja Operating LLC, with the CE251 Brewer being one of many coffee maker models Ninja has created. There are a wide variety of appliances to suit your needs, from simpler models like this one, to the Ninja DualBrew Pro Specialty coffee maker.
The Ninja CE251 Programmable Brewer is comparable with many other similarly-priced models on the market. But there are a few standout features included with this Ninja coffee maker:
1. Two Different Brew Modes
With this brewer, you have the ability to choose either Classic or Rich modes. Classic brews a great, everyday cup, while Rich brings out the flavor and tastes for a bolder palette. Both settings are designed to be hot and flavorful and never bitter. 
2. Programmable Delay Brew
Like many coffee makers on the market, the Ninja CE251 comes with a delay brew setting so you can prepare your morning cup of coffee before you go to sleep the night before. It can be programmed up to 24 hours in advance for ease and flexibility in your coffee routine.
I love using the delay brew setting because it's one less thing I have to do in the mornings as I'm rushing out the door. What's better than waking up to a fresh cup of coffee?
3. Small Batch Setting
The Ninja CE251 Programmable Brewer has been specially designed to create small batches of 1-4 cups that are just as delicious as a full 12 or 14 cup carafe. This makes the brewer perfect for making an afternoon pick me up or a large pot for your morning all while preserving the flavor and strength. 
4. Sleek Look
If you're like me, you also care about your countertop kitchen aesthetic. This gorgeous, industrial appliance from Ninja checks that box, too. For a sleek, stainless steel look on the counter, it's got a great appearance for a tool you'll use every morning.
How to Use the Ninja CE251 Programmable Brewer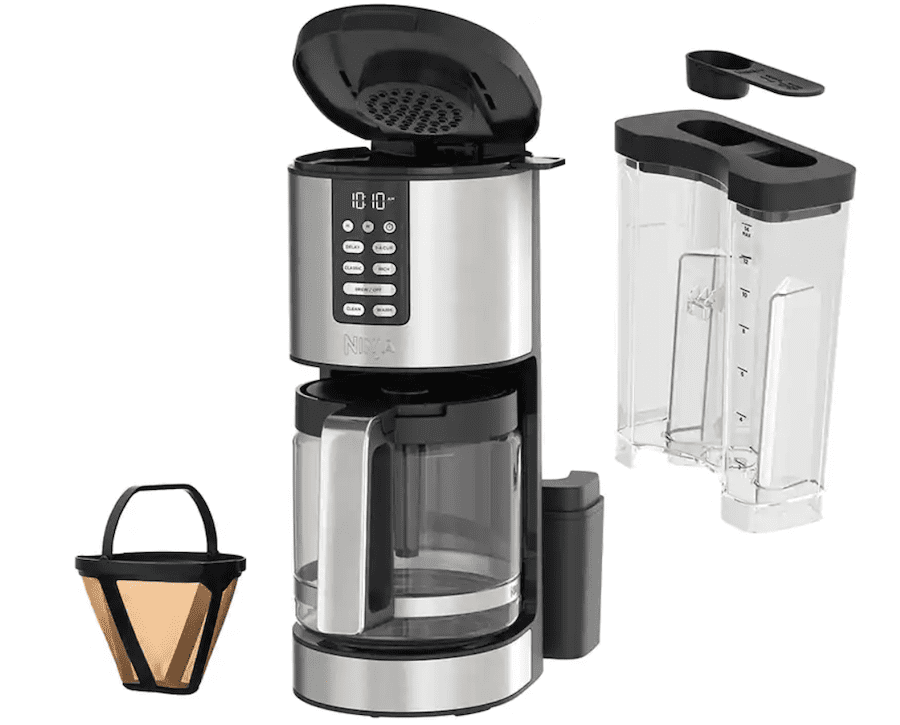 The Ninja CE251 is simple to use, so don't worry if you're not the most technologically savvy. It's got one of the cleanest, most streamlined displays out there, with just a few buttons necessary to get you on your way to your perfect brew.
Remove the water reservoir and fill it with water. It's portable for easy filling.
Plug in the machine and turn it on with the power button on the display. Let's get ready to brew some delicious coffee!
Select your brew mode. Classic provides a quality cup with a great, milder taste, while Rich is perfect for the person who loves a bolder flavor. Mix it up and experiment to find your favorite. 
Watch the magic happen! Within minutes, you'll have freshly-brewed coffee waiting for you. Can't wait until the pot is done? This machine has an auto-pause feature that makes reaching in to grab a fresh cup quick and easy.
Utilize the Stay Warm function to keep your coffee fresh, hot, and never bitter for up to four hours. This is great for having company over or for keeping a carafe fresh all day long.
Cleanup in a breeze with dishwasher safe parts. The permanent filter, water reservoir and carafe can all be placed in the top rack of your dishwasher for easy cleaning. 
Pros and Cons to Consider
Things We Like:
Brews up to 12 cups or 14 cups at a time – depending on the model you choose
Small Batch Setting – formulates a smaller batch (4 cups) so it tastes just as great as a full carafe
Larger Carafe – This model has a 60oz glass carafe
2 Brew Modes – Choose between Classic and Rich
Hotter coffee – The boiler has been redesigned to brew coffee at an even hotter temperature to ensure a delicious, steaming cup.
Pause for a Cup – With the auto-stop feature, you can pull the carafe out mid-cycle to pour yourself a cup without wasting a drop.
60 oz Removable Water Reservoir – The reservoir can be lifted off for easy, mess-free refilling that slides right back under the cabinets when you're done.
Programmable Delay Brew – Set the timer up to 24 hours in advance to have hot coffee when you come home or when you wake up in the morning.
Flavor Straw – Located within the carafe, the flavor straw works to circulate the coffee while brewing for a more even flavor.
Comes with a permanent filter
Keep Coffee Warm for Hours – With the adjustable warming plate, which can be set for up to four hours of heat. 
Dishwasher Safe Materials – Make cleanup easy and quick with parts that can be safely put into the dishwasher. 
Sleek Finish – The machine features black and stainless steel covering for a sleek look in the kitchen.
Small Countertop Area – This compact design won't take up a lot of space on the countertop, leaving you plenty of room for cooking space and other appliances. 

Measures out 8 in long, 10 in. wide, and 14 in. high
Things We Don't Like
No Pods Compatibility – Unfortunately, this machine only used ground coffee, not pods or K-cups.
Unstable Water Reservoir Seal – Some reviewers have mentioned the seal on the water reservoir coming loose over time. Their solution was to not unseat the water reservoir to fill it, instead bringing water over to the machine to fill it.
Tall Design – While the machine itself only stands at 14" tall, the lid covering the brew basket must be lifted up, not slid out, to fill. This could be a problem for kitchens with lower cabinets. 
How Does it Compare
Both machines:
Brew drip coffee and don't brew pods.
Brew high quality drip coffee using precise temperatures
Come with programmable functions to preset your coffee
Have both lower strength and higher flavor settings.
But the differences:
The Calphalon takes up less counter space with a more compact design. 
The Calphalon has an upgraded warming plate with low, medium and high settings
The Ninja model is slightly cheaper, coming in at $99.99 regularly priced vs. Calphalon at $109 regularly priced.
The Winner?
The Calphalon model is the better choice if you want a more compact design and some updated features.
The Ninja appliance is the better choice if you're looking for a lower price and simple, yet useful, design functions.
Final Verdict: Who Should Buy the Ninja CE251 Programmable Brewer?
The Ninja Programmable Brewer is a Good Choice if…
You want a sleek machine for your countertop that brews a great cup of drip coffee from grounds. This machine has a number of features that will make your morning brewing easier and more delicious, like hotter boiler power, a stay warm function, and delay brewing so you can prep your coffee hours ahead of time. At a regular price under $100, it's very comparable with other brands and models on the market and represents good value. 
The Ninja Programmable Brewer is the Wrong Choice if…
You value the convenience of coffee pods. Or if you want even more features that would come with an upgraded, higher-end model or an all-in-one machine, such as the ability to brew espresso-like beverages and cold drinks.
Ninja CE251 Programmable Brewer
The Ninja CE251 makes great tasting hot coffee, in a 60 oz carafe, that is programmable anytime you want it, easy to use on an affordable price.
Last update on 2023-09-18
For more Ninja coffee makers to consider, check out our reviews on the:
Coffee Has Never Read This Good!
Sign up for a FREE newsletter to the best home brewing tips and guides
Thank you for subscribing to The Cup Coffee House Crew! There's a surprise in your Inbox 🙂
Something went wrong.
About the Author
Latest Posts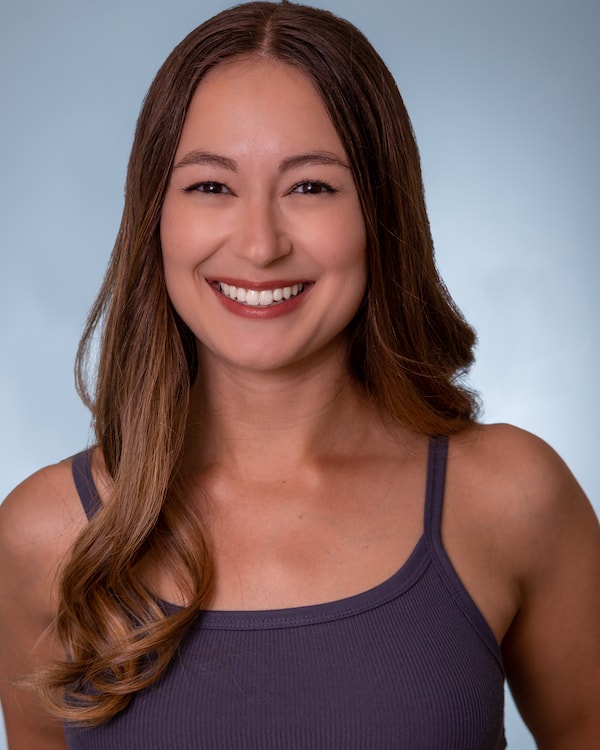 Catherine Cervone is thrilled to be writing about coffee, one of her favorite things! When not sipping an iced americano or writing, she's busy working as a musical theater performer performing in theaters and theme parks all around the U.S.
Chief Editor